Maradona by Kusturica
Directed by Emir Kusturica
The two-time Palme D'Or winner Emir Kusturica traces the remarkable story of soccer legend Diego Maradona in this documentary featuring music by composer Manu Chao and Sex Pistols. Maradona's rags-to-riches tale of a fallen anti-hero is classic Hollywood material yet Kusturica doesn't deliver a good film here. He is perhaps a great film-maker but a horrible journalist.
Undisciplined, uncritical and an uninformative picture of a legend, by a man who clearly thinks he's something of a legend himself. In fact director Kusturica seems more concerned with cutting his other films into the action and making sure that he appears on screen at least as much as the Argentine legend. Self-indulgent but fans of Maradona will find something to appreciate and it remains a curiosity for cine-philes.
The Miracle Match
Directed by David Anspaugh
Profiling the famous American victory over England in the 1950 World Cup, writer Angelo Pizzo and director David Anspaugh, who brought audiences to cheer for the basketball team in Hoosiers and for the football player known as Rudy, somehow failed to demonstrate how the game made a difference in their lives. For a movie that had all the makings of a classic underdog tale, it comes up short of a goal. Framed as a flashback story and narrated by Patrick Stewart, although with it's heart in the right place, the film plays more like a eulogy than an adventure.
The odds at the time for USA beating England was of 500-1. In fact, no one showed any interest in the match except for one American journalist, Dent McSkimming of the St. Louis Post-Dispatch, who had taken time off of work to cover the event. His report of the match was the only one to appear in any major American newspaper. When the publications in England received the result they presumed that the 1-0 scoreline was a typing error and so it was reported that England had won on a scoreline of 10-0.
The production of the film was plagued with many problems. Studio executives cut the budget from $65 million to $27 million. Thus, the film's running time had to be reduced from almost 2 hours 10 minutes to 1 hour 41 minutes leaving no room for character development. Alas, something went very wrong en route to its finished product: composer Jerry Goldsmith, died during production, and the movie had a hard time finding a distributor – fitting, perhaps, for a production chronicling such an unlikely event.
Miracle Match used to be known as The Game of Their Lives and has been re-titled for its DVD release.
Victory
Directed by John Huston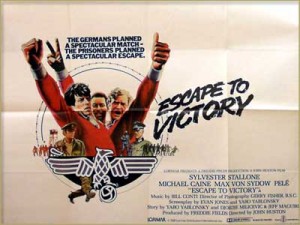 In World War II, a group of Nazi officers come up with a propaganda event in which an all star Nazi team will play a team composed of Allied Prisoners of War in a Soccer game. The Prisoners agree, planning on using the game as a means of escape from the camp. Hyped to death during the 1981 NASL season, the film was inspired by the real war-time exploits of Dynamo Kiev (renamed FC Start) who took on the Nazis and won a series of matches in 1942.
The film was directed by John Huston and stars Sylvester Stallone, Michael Caine, Max von Sydow and legendary soccer players including Brazil's
Pele. Unfortunately, this strange hybrid doesn't quite work leaving you with too many moments which bog down the film's momentum. There aren't a great many surprises in the screenplay, but audiences are treated to two superior performances by Mr. Caine and Mr. von Sydow, giving the film some weight with their complicated and intellectual performances. The football scenes are all shot very well, giving the like of Pele and Ardiles a chance to shine with a few slow motion and replays to highlight their talent.
Zidane: A 21st Century Portrait
Directed by Douglas Gordon & Philippe Parreno
Zidane consists of a full-length soccer game (Real Madrid vs. Villareal, April 23, 2005) entirely filmed from the perspective of soccer superstar Zinedine Zidane. Focusing 17 cameras on Zidane, which were scattered all over the stadium, the film-makers recorded images ranging from intimate close-ups to beautiful long shots and unfocused collections of colors to more traditional, televised shots. Zidane: A 21st Century Portrait is the 90-minute compilation of those images. More an art film that a sports documentary, Zidane is an incredibly powerful, deeply emotional experience and something to be seen.
Bend It Like Beckham
Directed by Gurinder Chadha
An energetic, feel-good blend of comedy, romance and goodhearted drama that features excellent performances by Juliet Stevenson, Archie Panjabi, and Bollywood regular Anupam Kher, whose friendship with Keira Knightley's protagonist carries more spark than the useless love subplot. The film touches on some serious issues like cultural assimilation without feeling heavy-handed. More light entertainment than a "message movie," Bechham is an above average coming of age tale that delivers a positive message without taxing viewers in the delivery. Avoiding the usual static overhead shots soccer fans are accustomed to, the camera gets inside the game, moving swiftly between players when creating action-packed game sequences. From the opening dream sequence in which 18-year-old Jess, wearing Manchester United colours, scores a goal to the roar of a crowd at the Old Trafford football ground, we know we're in for a treat.
Mean Machine
Directed by Barry Skolnick

In this remake of
The Longest Yard
, British director Barry Skolnick pulls together a talented and funny cast and changes the resident sport to soccer. Ex pro-footballer English sports god Vinnie Jones energizes the screen with Jason Statham playing a loose- cannon goalie. Very formulaic, extremely predictable but fans of the sport are treated with some great footwork especially by Jones. At a low budget and a small running time,
Mean Machine
is still above the average sports comedy.