Throughout the month of October, Editor-in-Chief and resident Horror expert Ricky D, will be posting a list of his favorite Horror films of all time. The list will be posted in six parts. Click here to see every entry.
As with all lists, this is personal and nobody will agree with every choice – and if you do, that would be incredibly disturbing. It was almost impossible for me to rank them in order, but I tried and eventually gave up.
****
Special Mention:
American Psycho
Directed by Mary Harrron
Written by Mary Harron
2000, USA

Bret Easton Ellis's dark and violent satire of America in the 1980s was brought to the big screen by director Mary Harron. Initially slapped with the MPAA's kiss of death (an NC-17 rating), American Psycho was later re-edited and reduced to a more commercially dependable "R". Perhaps the film works best as a slick satire about misogyny, materialism, narcissism, and classism, but it is so bloody, graphic and grotesque, it warrants a mention on this list. Harron finds an equal blend of horror and humour, thanks mostly in part to the fine performance by actor Christian Bale – and the surprise/ambiguous ending has since been interpreted in more ways than one. American Psycho was extremely controversial on its release and with reason. It is one of the most daring and invigorating movies of that decade.
Special Mention:
Wait until Dark

Directed by Terrence Young
Written by Robert Carrington
1967, USA
Directed by Terence Young, this well-made thriller is based on the Broadway hit play by Frederick Knott (who also wrote Hitchcock's Dial M for Murder). Wait Until Dark stars Audrey Hepburn as a young blind woman who is terrorized in her apartment by two men (Alan Arkin and Richard Crenna) searching for heroin that made its way into a doll given to her as a gift. Hepburn is mesmerizing in the lead and earned her a fifth (and last) Best Actress nomination (losing to Katharine Hepburn). The film is filled with spell-binding tension and its climax is ranked tenth on Bravo's 100 Scariest Movie Moments. Wait Until Dark is innovative, highly entertaining and chock full of suspense.
It may be best classified as a thriller but it receives a special mention on this list for literally giving birth to the term "jump scare."
75: (TIE) Black Sunday / Black Sabath
Directed by Mario Bava / Mario Bava and Salvatore Billitteri
Written by Ennio De Concini and Mario Serandrei
Italy 1960 / Italy 1963

Tagline: "STARE INTO THESE EYES… discover deep within them the unspeakable terrifying secret of BLACK SUNDAY… it will paralyze you with fright"
A densely atmospheric black-and-white horror film that clearly took its inspiration from the classic Universal horror movies. Mario Bava's directorial debut still stands as one of the most influential and important genre films ever made. Although taken from the 1835 classic Russian ghost story The Vij by Nikolai Gogol, Bava tweaked the story to deliver a fine mixture of folklore, traditional superstition, and genre convention. Technically speaking, the film is a work of art, with superb sound design and striking camerawork. Already an established cinematographer who was renowned for making a film look much better than its limited resources would normally allow, he along with co-cinematographers Ubaldo, shot the entire film with a dolly, achieving a dream-like look. Sunday is one of the best looking Italian horror films of the 70′s,
with its Gothic landscapes, shadowy black-and-white imagery, castles, crypts and long passageways. The film also introduced the world to Barbara Steele, who has dual roles as both the evil witch and princess whose blood the witch wants to drain. Her gothic black hair and saucer-like dark eyes made her famous, but sadly it was a role she would forever be typecast in. The film was ignored by the critics when released, but soon gained a cult following and opened the door for many Italian Gothic horror films to come. It was also a box office hit, and forecast Bava's career-long central theme of uncertainty. An absolutely essential cornerstone of any worthwhile horror DVD collection.
****
Not to be confused with Black Sunday, Black Sabbath is a horror anthology composed of three atmospheric tales. "The Drop of Water" concerns a nurse who steals a ring off a corpse, only to have it's spirit seek revenge. "The Telephone" features a prostitute who is terrorized by phone calls from a presumably dead client from the past. "The Wurdalak" stars Boris Karloff as a vampire who feeds on the blood of those closest to him. Horror anthologies are rarely this good – In Bava's film, the final resting place of evil is found living inside us.
74: The Mask of Red Death
Directed by Roger Corman
Written by Charles Beaumont and R. Wright Campbell
1964, USA / UK
The Masque of the Red Death was one of the seven Edgar Allan Poe adaptations made by producer-director Roger Corman, between 1960 and 1964. In my opinion, it is Corman's most extravagant and visually impressive picture. Take note of the superb cinematography by Nicolas Roeg and the diabolic performance from Vincent Price. Many will argue I could include better films from the king of exploitation on this list (Bucket of Blood for starters), but there is just something about Masque that marks it as my personal favourite.
73: [REC]

Directed by Jaume Balagueró and Paco Plaza
Written by Jaume Balagueró and Paco Plaza
Spain, 2007
A brilliant horror / thriller which may start slow but eventually accelerates to a fever pitch of complete and utter terror and hysteria. Directors Jaume Balagueró and Paco Plaza became stars in the Spanish horror scene with this short, stripped-down, first-person horror picture that delivers some unforgettably effective shocks while gradually building a haunting atmosphere of ever-increasing panic and despair.
–
72: The Others
Directed by Alejandro Amenábar
Written by Alejandro Amenábar
Spain / US, 2001
Some say The Others is a one trick pony, and once you know the secret, the gig is up. Regardless of its twist ending, one of the greatest in cinema, the film holds up in other respects. In fact, I have seen this film multiple times and each time it scares the bejeezus out of me. The Others showcases stylish photography, a fine score and great cast. The plot is well thought-out and its secrets and mysteries are revealed in a slow and clever manner – and did I mention it's scary as hell? Marking his English-language debut, Spanish director Alejandro Amenabar (Open Your Eyes) impresses with his ability to evoke the supernatural in a convincing manner.
71: The Haunting

Directed by Robert Wise
Written by Nelson Gidding
1963, UK /USA
One of the most highly regarded haunted house films ever produced is The Haunting, directed by Val-Lewton-disciple Robert Wise. Based on Shirley Jackson's novel, the film weaves the dark tale of a questionably sane woman and a spooky old mansion which is rumoured to hold a terrifying dark secrets. Even if you strip away all of its supernatural undertones, the film remains a sophisticated and fascinating character study. And apart from the generally neurotic group of characters, The Haunting further succeeds in that Wise makes the house itself, the central character of the story.
70: Cemetery Man (Dellamorte Dallamore)
Directed by Michele Soivi
Written by Gianni Romoli
Italy, France, Germany
British actor Rupert Everett stars as Francesco Dellamorte, a cemetery grounds keeper who must dispatch of corpses who return from the dead seven days after burial. Cemetery Man is a quirky blend of romance, surrealism, horror, and black comedy. It's a movie about zombies but more importantly, a movie about the living who are spiritually dead. Sadly, Cemetery Man also marked the end of a wave of brilliant Italian horror films.
69: The Descent
Directed by Neil Marshall
Written by Neil Marshall
UK, 2005
The Descent may not only see more feminist deconstruction than the original Alien, but it is also one of the most tightly effective genre films in quite some time. Much like his previous film Dog Soldiers, director Neil Marshall relies on our familiar memories of past horror movies, but the fascination of this film is anticipating how it will morph these familiar elements, particularly the inferior ones, in creative new ways.
–
–
68: Night Of The Hunter

Directed by Charles Laughton
Written by James Agee
1955, USA
Night of the Hunter is truly a compelling and haunting masterpiece. This American gothic, Biblical tale of greed, innocence, seduction and murder, is one of the greatest American films of all time.
"The wedding night, the anticipation, the kiss, the knife. BUT ABOVE ALL…THE SUSPENSE!"
Actor-turned director, Charles Laughton unfortunately never made another film even though he demonstrated such promise and skill for a first time filmmaker. The film did poorly at the box office and critics were extremely harsh in their reviews. Nevertheless, the film has found a wider audience over the years, and Robert Mitchum's performance, in particular, has been praised.
Hunter was shot in only thirty-six days – in black and white when colour was the new craze – and in standard ratio when theatres were beginning to show Cinemascope. The disturbing, complex story was based on the popular, best-selling 1953 Depression-era novel of the same name by first-time writer Davis Grubb, and adapted for the screen by famed writer-author James Agee.
Robert Mitchum stars as Harry Powell, a perverted, pedophile, self-appointed Preacher, turned serial killer, who carries a switchblade and has "HATE" and "LOVE" tattooed on the knuckles of either fist.
He is a charming, sleek monster, much like Joseph Cotten in Shadow of a Doubt. Mitchum's portrayal of an obsessive, sexually repressed misogynous maniac is one of cinema's greatest villains. And his terrifying religious anthem "Leaning on the Everlasting Arm" is one of the most chilling vocal performances ever put on film.
Night of the Hunter is chilling, experimental, sophisticated, avante garde, dream-like, expressive and truly, a one of a kind.
67: (TIE) Cat People / Curse of the Cat People
Directed by Jacques Tourneur / Robert Wise
Written by DeWitt Bodeen / DeWitt Bodem
1942, USA /  1944, USA
One of the first films to reference the work of Sigmund Freud was Cat People, a story about an American man who marries a Serbian immigrant who fears that she will turn into a cat-like-person if they are sexually intimate. Cat People plays out as a dark and fearless study of sexual repression and anxiety, and it was the first film in a series of nine brilliant literate horror films produced by Val Lewton in the '40s. It is arguably the best.
Val Lewton, a Jack-of-all-Trades is a producer any director would dream to work with as he was always more concerned with a film's artistic integrity than it's commercial success. Despite working with a number of already established directors, each of his nine RKO horror films is recognizably a Lewton production, marking him a true auteur. Cat People is an evocative reminder of how powerful 'less is more' can be – Lewton and director Jacques Tourneur preferred to suggest much but show little. Cat People is a masterpiece of mood and atmosphere thanks to the expressionistic cinematography courtesy of Nicholas Musuraca and Roy Webb's melancholy score which accents the romantic and tragic love story at the centre. Cat people underlines what would later make psycho-sexual supernatural horror popular, and was ahead of its time in many ways.
****
Lewton brought in editor-turned director, Robert Wise, to helm the dream-like sequel, The Curse Of The Cat People, an engrossing and charming fantasy about childhood alienation told from a child's point of view. Curse of the Cat People, much like Bride of Frankenstein is in many ways superior to it's predecessor. However choosing which I like best is impossible.
66- Pulse (Kairo)

Directed by Kiyoshi Kurosawa
Written by Kiyoshi Kurosawa
2001, Japan
One of the most cutting-edge and exciting Japanese filmmakers to come along in recent memory is director Kiyoshi Kurosawa. His spine-tingling thriller Kairo is the creepiest and most frightening sample of J-horror I've seen. Kurosawa prefers the power of suggestion rather than relying on a barrage of blood, gore and special effects to terrify his audience. Kario works equally well as social commentary and as a horror film, and is guaranteed to make the tiny hairs on the back of your neck stand up.
–
65: Santa Sangre
Directed by Alejandro Jodorowsky
Written by Roberto Leoni, Claudio Argento and Alejandro Jodorowsky
1989, Mexico
The tagline couldn't be better: "Forget Everything You Have Ever Seen."
Santa Sangre manages to make El Topo look mainstream.
Santa Sangre follows Fenix, a young man who was raised in the circus. His dad Orgo, was the owner of the carnival and his mother was a semi-famous trapeze artist. After Concha discovered Orgo was having an affair, she took revenge by throwing acid on his crotch. He responded by cutting off her arms and immediately after, slicing his throat. Years later, Fenix, is sent to a mental hospital in hopes that the doctors can rehabilitate him from his childhood trauma, only instead he quickly escapes and rejoins his handicapped mother. Against his will, he "becomes her arms" and the two undertake a terrifying campaign of murder and revenge.
Santa Sangre is a mind fuck and near-indescribable: A circus carnival freak show as conducted by Luis Buñuel masquerading as Ken Russell. It contains a fair amount of graphic horror and bodily mutilation but also features some truly tender moments. Santa Sangre is a bitter allegory of self-discovery, a satire on church hypocrisy and colonial predation, and a twisted thriller about the unhealthy bond of mother and son.
Fun fact: The film is purportedly inspired by a meeting between Jodorowsky and a redeemed Mexican serial killer who wanted Jodorowsky to make a movie about his life.
Special Mention:
Jacob's Ladder
Directed by Adrian Lyne
Written by Bruce Joel Rubin
1990, USA

I haven't had time to revisit this film since I first watched it many years ago. However I remember loving and thinking it was one of the best horror films I had ever seen, so it deserves a special mention:
Is war veteran Jacob Singer (Tim Robbins) going insane from the aftereffects of a powerful drug tested on him during his tour in Vietnam, or is he suffering from a severe post-traumatic stress disorder? From director Adrian Lyne comes Jacob's Ladder, a war film, a powerful psychological horror film, and a mystery with a surprise ending that will have you talking long after the credits roll.
64- (TIE) Blood And Black Lace / Six Women for the Murderer (Sei donne per l'assassino)

Directed by Mario Bava
Written by Marcello Fondato and Giuseppe Barilla
1964
Blood and Black Lace is light on story but rich in style. This is one of Bava's most accomplished works, Lace is a beautiful piece of workmanship executed with dazzling, unparalleled use of bright colours and deep shadows. Choreographed with cruel precision, with an always mobile camera (mounted on a child's wagon due to a lack of budget), Lace is a web of murder and intrigue, elevated to a higher level through Bava's visual style. Some argue this started the Giallo genre; others credit Bay Of Blood, but as noted earlier on this list, I've always considered The Girl Who Knew Too Much to be the first true Giallo.
64: (TIE) Bay Of Blood / Twitch Of The Death Nerve (Reazione a catena)
Directed by Mario Bava
Written by Franco Barberi
1971
In 1971, Mario Bava unleashed Bay Of Blood, a film that pushed beyond the levels of gore that had yet been seen in a murder mystery thriller. Blood has a body count of 13, spread across multiple killers – in place of a single psychopath, Bay Of Blood hosts a cast of crazies, all related, all insane, and all after the property of a deceased Countess and her lofty inheritance. It was by far Bava's goriest film, soaked in top-of-the line practical effects, dripping in blood and featuring the most innovative kill sequences for its time. Bava was a cinematographer-turned-director, and Bay was the first film since 1962's The Girl Who Knew Too Much for which he took credit in both capacities. Released as Twitch of the Death Nerve, the film would become a predecessor to the slasher sub-genre, and said to have heavily influenced Friday the 13th. Frederico Fellini once commented that he worked on writing a horror film for an acquaintance who gave him a script with numerous depictions of murders, but not one thread of story connecting them. Many believe it was Bava he was referring to, specifically this movie. Dario Argento loved the film so much, he had a friend who was a projectionist, steal him a print  during its first run in Italy. One last piece of trivia: Roberto Rossellini (whom Bava had previously worked for) shot a day's worth of second unit footage for Bava. While he was uncredited, most of the footage appeared in the final cut.
63: Freaks
Directed by Tod Browning
Written by Clarence Aaron 'Tod' Robbins
1932, USA
Loosely based on Tod Robbins' 1923 short story "Spurs", Freaks is the 1932 American Pre-Code horror film about sideshow performers. The film was directed and produced by Tod Browning who had been a member of a traveling circus at a young age. He drew inspiration from his personal experiences and instead of using costumes and makeup, he chose to cast real people with deformities as the sideshow "freaks,". This peek behind the curtains of a circus sideshow, caused quite the outrage on its initial release and still manages to shock and touch viewers today due to its unflinching portrayal of disability. But it isn't the physically deformed who are the monsters, but rather two of the seemingly "normal" members of the circus group who conspire to murder a performer, to obtain his large inheritance.
62: The Devils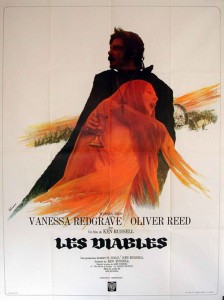 Directed by Ken Russell
Written bu Ken Russell
1971, UK
Ken Russell's The Devils originally carried an X rating— even after several scenes were removed. It remains one of the most powerful, most confrontational films ever to lay assault on the crimes and hypocrisies of the Church. Adapted from Aldous Huxley's "The Devils of Loudun," the story revolves around a liberal-thinking priest in 17th Century France, whose womanizing exploits make him unpopular with the Catholic clergy and whose political views make him a liability for Cardinal Richelieu. He is denounced and accused of consorting with the devil and having sexual activities with the nuns in the town's convent, most notably Sister Jeanne, an unsatisfied, humpbacked nun whose fallen in love with him.
61: Videodrome
Directed by David Cronenberg
Written by David Cronenberg
1983, Canada
Like all of Cronenberg's films, Videodrome works on several levels: It is a morality tale, a neo-noir and a virtual reality sci-fi horror film about a sleazy cable TV producer who's searching for perverse sexual content to boost the ratings on his TV cable network. Videodrome has a lot to say about the danger of media overexposure and its effect within. Cronenberg views how people are not only influenced by media but also how they can become addicted to it. In a way, Cronenberg forecasted popular reality TV that would emerge a decade later. The film was so ahead of its time, it predates The Matrix in its exploration of a flesh-and-blood world merging with cyberspace. Although Cronenberg's obsession with the relationship between machinery and flesh was nothing new, Videodrome was far more outrageous and disturbing than his previous work – often walking a fine line between pornography, and sadomasochism. Videodrome might just be Cronenberg's most visionary and audacious film of his early career, and in hindsight, it might just very well be his best. This is a remarkable film that continues to be debated and analyzed and remains one of the most bizarre and smartest horror films ever produced.
60: Kill List
Directed by Ben Wheatley
Written by Ben Wheatley and Amy Jump
UK, 2011
Kill List is presented in three distinct but smartly connected tissues: Ben Wheatley and his wife and scriptwriting partner, Amy Jump, have created somewhat of a kitchen-sink gothic horror film that blends black comedy, domestic drama and the whole buddy hit-man movie element into a seamless whole. The film's off-kilter take on violence can be traced back to movies like The Parallax View, Race with the Devil, Rosemary's Baby, Pulp Fiction and The Wicker Man.
Utterly gripping, deeply unsettling and genuinely terrifying, Kill List is remarkably clever and resourceful filmmaking. This is a brilliantly directed, superbly written British horror film with terrific performances from its skillful cast of actors that will be dissected and argued long after its theatrical run is over.
59: Seul Contre Tous (I Stand Alone) (One Against All)

Directed by Gaspar Noé
Written by Gaspar Noé
France, 1998
I've noticed many lists online include Gaspar Noé's Irreversible. However, I cannot justify placing it on my list since it doesn't quite fall in the spectrum of horror, despite its gruesome material. Instead, I am including Noé's previous feature, I Stand Alone, a French nouveau Taxi Driver – that is sure to arouse controversy with its scenes of explicit sex and bloody violence. The film opens with these words of narration: "morality is made by and for the rich, power comes from the barrel of a gun," and Noé proceeds to prove this point, while attacking what he sees as the social and cultural complacency of mainstream French cinema and television.
I Stand Alone is a violent and verbally vulgar assault on the senses, but the far more deeply disturbing element at play isn't the onscreen violence, but how Noé takes us inside the mind of the protagonist. What elevates I Stand Alone from an average horror film is the way it refuses to cut away from the butcher's head-space. We get his point of view from the first frame to the very last. The butcher never for a moment becomes a sympathetic character and Noé doesn't for a moment try to justify or excuse his behaviour. Philippe Nahon's performance is strong and fearless and Nahon refuses to make the character a stereotype or cartoon.
Three quarters into the film, Noé takes a page from legendary schlockmeister William Castle's 1961 Homicidal by giving the audience a 30-second warning to either leave the theatre or avert their eyes, before continuing to the film's bloody climax. The flashy scope cinematography – the twisted, bitter and cynical voiceover – the aggressive shooting style – the deliberate widescreen close-ups – the endless shots of empty corridors, vacant, industrial streets – the repeated uses a swish pan or a skip frame – and the marvelous score accompanied by a sharp electronic sounds of gun shots – all help make I Stand Alone one of the nastiest entries into the genre you will ever see.
58: We Are What We Are
Directed by Jorge Michel Grau
Written by Jorge Michel Grau
Mexico, 2010
Unlike most cannibal films, We Are What We Are eschews the easy options of excessive gore, graphic violence, sex and and cheap laughs, instead creating a deeply moving drama with a spoonful of black comedy and a healthy serving of horror. It's a slow burning film with an engulfing atmosphere that occasionally leaves you feeling uneasy and other times laughing along. For every moment of bloodshed, there are nuances and surprises that transcend this exhausted subgenre. Though the violence is nowhere near as brutal as the cannibal movies of the late '70s or early '80s, We Are What We Are hasn't forgotten its roots, administering just enough bloodshed to upset mainstream movie-goers. It also provides us with nice, small moments of color for the characters, short but clever lines of dialogue and plenty of room for development. Director Jorge Michel Grau (who also wrote the script) conjures up one of the best, most imaginative and resonant family-themed horror stories to date. The picture's leading attribute is Santiago Sanchez's dazzling photography, a dark and dirty pallette which beautifully highlights the sleazier neighborhoods of Mexico City. Grau balances beautiful, long, static shots while at times having the camera move kinetically, juxtaposed with a remarkably eerie and complex score composed by Enrico Chapel. It is without a doubt one of the most layered, atmospheric, and textured movies in recent memory. Beautifully crafted and expertly acted, We Are What We Are is a haunting, emotionally involving journey into the macabre.
57: Daughter of Darkness (Les lèvres rouges)

Directed by Harry Kümel
Written by Harry Kümel
Belgium, 1971
Belgium's premier horror filmmaker Harry Kümel directs this lesbian-themed vintage vampire flick heightened by a stunning performance from Delphine Seyrig. I'm generally not a huge fan of lesbian vampire films but Daughter of Darkness is subdued rather than exploitative. Best described as a European art-house film that sways far away from the traditional vampire movie, the film boasts bold strokes of atmosphere and psycho-sexuality. Cinematographer Eduard van der Enden, who shot Jacques Tati's Trafic, infuses the film's imagery with a pervading sense of the modern gothic. Unlike most lesbian vampire films, Daughters of Darkness is not only worth watching, but worth revisiting.
56: Spider Baby (The Maddest Story Ever Told / Attack of the Liver Eaters)
Directed by Jack Hill
Written by Jack Hill
1964, USA
Exploitation maverick Jack Hill, who went on to make some of my favorite cult films including Switchblade Sisters, The Mack and Foxy Brown, made his solo directorial debut with Spider Baby. Spider Baby is somewhat unclassifiable as it is quite unique. It features one of Lon Chaney Jr.'s last performances, and although he was battling with alcoholism at the time, his screen presence is still quite charming. The premise concerns a strange family who is cursed with a regressive gene that causes them to become more and more like monsters as they age. As with Freaks, the viewer ends up siding with characters who would normally be the villains in most horror films.
Shot in 1964, Spider Baby collected webs on the shelf until 1968, when it was briefly released as the second half of a horror double-bill. But it wasn't until the early 80's when it was finally released on home video that it began to develop a following. The eerie black-and-white cinematography, freaky performances and Chaney's bizarre song and dance about cannibal orgies helped amplify its cult appeal. Now it is regarded as one of the best films of swinging Sixties horror.
55: Even Dwarfs Started Small (Auch Zwerge haben klein angefangen)

Directed by Werner Herzog
Written by Werner Herzog
Germany, 1970
Barely released in 1971 amid great controversy from just about every corner of the globe, Dwarfs essentially went on to influence many filmmakers, most notably Harmony Korine, who borrowed heavily from it for his feature Gummo. Dwarfs is as unapologetic and affirming as Tod Browning's Freaks. Even in the director's extensive oeuvre, there are few films in the his portfolio that are as beautifully shot, impressively scored, and strangely composed as this one. Whether you see it as a powerful political/philosophical allegory or as exploitation, Dwarfs will linger in your thoughts for a long time.
The cast includes 28 dwarfs and midgets, a tormented one-legged chicken, and a limp camel that at one point defecates amidst his frustration of being handicapped.
54: Dead Of Night
Written / Directed by Alberto Cavalcanti (segments Christmas Party and The Ventriloquist's Dummy), Charles Crichton (segment Golfing Story), Basil Dearden (segments Hearse Driver and Linking Narrative), Robert Hamer (segment The Haunted Mirror)
UK, 1945
Considered the greatest horror anthology, the classic British chiller Dead of Night features five stories of supernatural terror from four directors. The whole film ends with a bravura final sequence recapitulating the stories ultimately making them all feel like a unified whole. Cavalcanti's story about a mad ventriloquist played by Michael Redgrave is the best of the bunch, a brilliant precursor to Hitchcock's Psycho, featuring an early uncensored gay relationship. Even the weakest segment – Golfing Story, directed by Charles Crichton – is still pretty amazing.
53: Deep Red (Profondo rosso) (The Hatchet Murders)

Directed by Dario Argento
Written by Bernardino Zapponi and Dario Argento
Italy, 1975
Many will argue Suspiria to be Argento's full-fledged masterpiece, but for my money it is Deep Red – gorgeous, gory and gruesome, and undoubtedly his finest picture. The alluring David Hemmings steals much of the show as a music teacher who investigates a series of murders performed by a mysterious figure wielding a hatchet. Argento's trademarks are all visible here in ample amounts, as it prefigures some of the plush stylistic choices that he would carry on for the remainder of his career. Add in the superb, jazzy score by Argento's band Goblin, and you have one of the most distinct-sounding and looking horror films of that decade. From a technical perspective, the film is a masterwork, but Deep Red also excels where most Giallos fall short: it carries an engaging narrative heightened by an unpredictable course of events and a truly surprising twist ending.
Special Mention:
Blue Velvet
Directed by David Lynch
Written by David Lynch
1986, USA
Blue Velvet may be shocking, perverse, twisted and at times frightening, but I'd classify it as a mystery, thriller or crime film before labeling it a horror movie. So I've decided to include it as a special mention:
David Lynch's hallucinogenic thriller probes beneath the belly of suburban America in the '50's to uncover the the moral rot underlying the American Dream. Dennis Hopper stars as Frank Booth, one of cinema's most memorable maniacs and Lynch directs one of his greatest achievements – both poetic and powerful.
52: The Devil Rides Out / Frankenstein Must Be Destroyed
Directed by Terence Fisher / Terence Fisher
Written by Richard Matheson / Bert Batt
1968, UK /  1969, UL
Terence Fisher was arguably the best director to ever work with Hammer and was responsible for some of the greatest and most influential films in the early days of the studio. In the late 1960s, Fisher and co. would make his two greatest: The Devil Rides Out and Frankenstein Must Be Destroyed.
The Devil Rides Out was one of a number of British films during the 1960s about occult matters, predating many of the more popular American counterparts such as Rosemary's Baby and The Exorcist. Adapted by Richard Matheson from a novel by Dennis Wheatley, The Devil Rides Out stars Christopher Lee as a French nobleman who sets out to save the soul of his best friend (Patrick Mower) who foolishly gets involved in black magic.
****
Frankenstein Must Be Destroyed was the fifth of Hammer's Frankenstein films but considered the darkest and best of the handful. Peter Cushing plays Baron Victor Frankenstein to perfection – a chilling portrayal as the obsessive mad doctor – and Fisher proves a master of mise en scene. If you've never seen any Hammer film, these two films would be a fine place to start.
51: (TIE) Carrie / Sisters
Directed by Brian De Palma / Brian De Palma
Written by Louisa Rose and Brian De Palma / Lawrence D. Cohen
1973, USA
Despite popular belief, Sisters is not Brian De Palma's first film, but it did set the stage for him as a filmmaker. This self-confessed homage to Hitchcock referencing everything from Psycho to Rear Window, might just be the director's best film. Brian De Palma conceived the idea for Sisters after reading an article about a set of Russian Siamese twins. He set out to write a script that detailed the twins' psychological problems as they grew older and independently financed
the low budget pic himself. Sisters is De Palma's first excursion into the subjects of voyeurism and sexual horror.
****
There are many reasons why Carrie is such a landmark of cinematic horror. It is Stephen King's first book-to-film adaptation, and undoubtedly the best. Carrie is a horrifying look at high school cruelty, and teen angst and one of the most realistic cinematic tragedies of the 70's. De Palma is at the top of his game here and Sissy Spacek showcases her range of acting talent with her convincing portrayal of Carrie's pain and longing for acceptance.
–
–