Throughout the month of October, Editor-in-Chief and resident Horror expert Ricky D, will be posting a list of his favorite Horror films of all time. The list will be posted in six parts. Click here to see every entry.
As with all lists, this is personal and nobody will agree with every choice – and if you do, that would be incredibly disturbing. It was almost impossible for me to rank them in order, but I tried and eventually gave up.
****
Special Mention: Gremlins

Directed by Joe Dante
Written by Chris Columbus
1984, USA
Gremlins gets a special mention because I've always considered it more of a comedy and a wholesome Christmas flick than an actual horror film. This tribute the 1950s matinee genre stands the test of time from a time when parents would take their children to family films that pushed the boundaries of the MPAA. Joe Dante is an under-rated director and was clearly making some of the most interesting Hollywood films in the 80's. See it if with your children. Gremlins makes the perfect gateway film into the world of Horror.
100: The Blair Witch Project
Directed by Daniel Myrick and Eduardo Sanchez
Written by Daniel Myrick and Eduardo Sanchez
USA, 1999
The Blair Witch Project is an homage to sitting by the campfire and listening to urban myths and various ghost stories, something most of us can relate to. However the primary reason for it's success is that it keeps audiences in the dark about its titular villain. The Blair Witch Project remembers that nothing onscreen can be as scary as your own imagination. It understands how to build anticipation and deliver the scares at precisely the right moment. Unlike most horror films, The Blair Witch Project isn't simply designed to make you jump nor ever gross you out. Instead the film focuses on having the viewer feel discomfort, nausea and terror – and thus some people respond by saying it is the scariest film of all time simply because it feels so real.
99: Berberian Sound Studio

Directed by Peter Strickland
Written by Peter Strickland
UK, 2012
British filmmaker Peter Strickland's sophomore effort is many things: a sly deconstruction of 1970s hallucinatory Grand Guignol cinema, an audio geek's wet dream celebrating the art of foley magic, a stylistic tour de force, and a blend of comedy and horror with a Lynchian twist. Strickland's meta-horror film begins as dream, before spiraling into a nightmare of sorts. Set entirely in the offices of a sleazy Italian film company in the 1970s, a British sound technician, played to perfection by Toby Jones, travels to Italy to work on the sound effects for a gruesome blood-soaked giallo film called The Equestrian Vortex. His nightmarish task slowly takes over his psyche as Gilderoy is unable to distinguish between the perverse fantasies of the film he is working on and so-called reality.
98: Vampire Circus
Directed by Robert Young
Written by Judson Kinberg
1972, UK
By the beginning of the 1970s, British Hammer Films began to dwindle. William Hinds, had retired from the company, and the studio struggled to produce successful films in the face of the shifting interests of young audiences. The post-modern movement was changing the cinematic landscape and the existing Dracula series continued to unleash a string of films with mixed results. So in the early 70's filmmakers began to tweak the standard vampire mythos in strange and innovative new ways – hoping to breathe new life into the genre. One of those entries is Vampire Circus. The result is one of the studio's more stylish and intelligent projects.
English filmmaker Robert Young made his directorial debut with Vampire Circus, and while it features neither Peter Cushing nor Hammer counterpart Christopher Lee, Young keeps things stylish, gory, silly and right out entertaining. Shot in Technicolor, Circus is a beauty to observe, with it's outlandish art direction and colourful cinematography. The film is erotically charged and could easily be labeled a '70s sexploitation film, albeit with rich subtext and multiple readings. Undermentioned and underrated, this is one film I highly recommend.
97: (TIE) Pan's Labyrinth

Directed by Guillermo del Toro
Written by Guillermo del Toro
2006, Spain / Mexico

Guillermo del Toro blends reality and fantasy in two horrifying stories, one set in the aftermath of the Spanish Civil War and the other in a parallel realm of fairies and fauns. The horrors of both worlds are intertwined with such artistic ambition, Pan's Labyrinth might be the most technically accomplished film on this list. The end result is visually stunning and emotionally shattering. Pan's Labyrinth is an extraordinary, fascinating fable, a cross between Alice in Wonderland and H.P. Lovecraft – but full of it's own unique poetry. Although told through the eyes of a little girl whose imaginary world is inhabited by grisly creatures, Pan's Labyrinth is an adult fairy tale, one full of power, beauty and yes horror.
97: (TIE) Cronos
Directed by Guillermo del Toro
Written by Guillermo del Toro
1994, Mexico
Cronos introduced the dark genius of Guillermo del Toro. This stylish and innovative take on the familiar vampire movie marked the directorial debut of the Mexican filmmaker. The film garnered international acclaim and several awards and many of the aesthetic qualities and thematic devices that del Toro made a career of are already present here. Starring veteran Argentine actor Federico Luppi and American actor Ron Perlman, Cronos was the first of several films on which del Toro collaborated with the two actors. Cronos is simply one of the most beautiful, compelling, hypnotic and creepy films listed here, and a must see.
96: Misery

Directed by Rob Reiner
Screenplay by William Goldman
1990, USA
Elevated by standout performances from James Caan and Kathy Bates, Misery remains one of the best Stephen King adaptations to date. Director Rob Reiner is clearly more interested in the dark humour and humanity than the gory detail in King's novel. But make mistake about it, Misery is a tough watch – soaked in sharp dialogue, a brooding atmosphere, and disturbing bodily harm inflicted on Mr. Caan by sweet old Mrs. Bates. I can still feel his pain.
–
95: Altered States
Directed by Ken Russell
Written by Paddy Chayefsky
1980, USA
Altered States is a rarity among Hollywood films, and its amazing it ever got made under the studio system. Ken Russell (The Devils) directs from a script by Paddy Chayefsky (Network), who adapted his own novel of the same name. William Hurt plays Eddie Jessup, an American scientist obsessed with discovering mankind's true role in the universe. He submits himself to a series of mind-bending experiments with the help of mind altering drugs. Enclosing himself in a sensory-deprivation chamber, Jessup explores various levels of human consciousness and begins to experience disturbing physical changes in his body that hint at an evolutionary regression.
Altered States works best as "body horror" with some well-crafted transformation sequences both physical and metaphysical. Russel applies his usual psychedelic visuals and the end result purposely makes no sense, because as Russell claims, it's not supposed to.
94: The Snowtown Murders

Directed by Justin Kurzel
Screenplay by Shaun Grant
2011, Australia
First-time director Justin Kurzel and screenwriter Shaun Grant, using pointers from the books The Snowtown Murders and Killing for Pleasure, tell the story of John Bunting, Australia's most notorious serial killer, whose modus operandi led to his 1990s killing spree – dubbed the "bodies in the barrels" case.
Snowtown is unrelentingly grim and terrifying – a strong directorial debut, showing great promise for a first time filmmaker. Director Justin Kurzel delivers a slow, effective burn, examining how one man's harmful beliefs spread through a community in the most horrific way possible. Kurzel for the most part avoids sensationalistic, macabre or exploitative techniques. Snowtown shows the irrational paranoia and prejudice of a small community, and how Bunting carefully infected the minds of those around him – spotlighting the very worst attitudes in society. The result is depressing and at times unbearable to watch.
93: (TIE) Gojira (Godzilla)  / King Kong
Directed by Ishirô Honda /Merian C. Cooper and Ernest B. Schoedsack
Written by Ishirô Honda / James Ashmore Creelman and Ruth Rose
1954- Japan / USA
The grand-daddy of all monster movies is arguable King Kong. Decades after its release, and no other monster movie approached the high standard of this one. King Kong remains not only a milestone of movie-making, but a heartbreaking experience. The stop-motion photographic effects by Willis O'Brien were groundbreaking and the title character along with Fay Wray captivated audiences world-wide. Kong is structured around a classic and familiar theme (Beauty and the Beast), but this is also a movie about making movies. In fact, this movie is really about itself in a way. Robert Armstrong's character Carl Denham is modeled on co-director Merian C. Cooper and like him, he is seeking out Kong in hopes to star him in the world's greatest motion picture. And that is exactly what King Kong became. Every time we watch Kong climb the Empire State Building with the damsel in hand, we hope that things will end well, even though deep down inside, we knew it won't.
***
Ishiro Honda's grim, black-and-white post-Hiroshima nightmare stands the test of time. This allegory for the devastation wrought on Japan by the atomic bomb is quite simply a powerful statement about mankind's insistence to continue to destroy everyone and everything the surrounds us.
92:(TIE) Haunted Strangler (Grip of the Strangler) / I Walk With A Zombie

Directed by Robert Day / Jacques Tourneur
Written by John Croydon and Jan Read / Curt Siodmak, Ardell Wray
1958, UK / 9143, USA
In I Walk With A Zombie, a young Canadian nurse named Betsy Connell visits the West Indies to care for the wife of a plantation manager who seems to be suffering from a kind of mental paralysis as a result of fever. Betsy soon discovers her patient is somewhat, undead – her vital signs are all intact, but she has no emotional or mental awareness. Desperate to cure her, she consults a powerful group of local voodoo practitioners who unleash their black magic. As with Cat People, producer Val Lewton and director Jacques Tourneur present a story where superstition is compounded, not discredited, by logic. Tourneur, working with cinematographer J. Roy Hunt, paints a beautiful if haunting motion picture via sight and sound and I Walk with a Zombie uses Caribbean folklore and strange religious imagery to transcend the conventions of the horror genre.
****
The Haunted Strangler (better know as Grip of the Strangler), directed by Robert Day, was adapted from Stranglehold, a story which screenwriter Jan Read had written specially with Boris Karloff in mind. It was filmed back to back with producer Richard Gordon's Fiend Without a Face, and later released as a double bill by MGM. The film is often confused with the very similar Corridors of Blood, which also stars Karloff and looks as though it was shot in the same studio set. Moreover, the plots have a number of parallels and both films are a retelling of the Dr Jekyll and Mr Hyde tale. For my money, The Haunted Strangler is a notch better (Although it should be noted that Corridors and Fiend Without a Face almost made my list), and Karloff's performance, albeit absurd, undeniably carries the film.
91: Don't Torture a Duckling (Non si sevizia un paperino)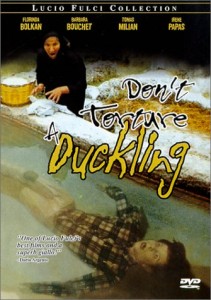 Directed by Lucio Fulci
1972, Italy
The best Giallos boast two main components – horror and mystery. Lucio Fulci's Don't Torture a Duckling doesn't quite have a mystery, nor does it actually succeed as a horror film, but it is considered a giallo by the majority, so let's just go with it. This stylish modern-day murder mystery follows a serial child killer on a rampage in a remote southern Italian village. Fulci is often criticized as misogynist and Don't Torture a Duckling sure won't help in his defence. With that said, I'd argue most horror films, especially those made in Italy in the 70s, are generally misogynistic. Still, Duckling is quite entertaining, and a clever and complex social commentary on the effects of mob mentality on vigilante justice, pedophilia and the disrespect youth have for traditional values. Despite a few shortcomings, Duckling is a beautifully realized horror film with shades of Arthur Miller's The Crucible.
90: Trouble Every Day
Directed by Claire Denis
Written by Jean-Pol Fargeau  and Claire Denis
2001, France
The increasingly diverse French auteur Claire Denis directs a film that is profoundly disturbing, and unlike anything you've seen. Trouble Every Day is a modern-day horror story about a man and a woman, living thousands of miles apart, who are afflicted with the same self-destructive brain damage that affects their sexual appetites. Trouble looks, sounds and simply feels like no other vampire film in recent memory. It can be viewed as more of an oddity than a true horror film but many cinephiles will be thrilled at its strange and ambitious take on the genre. The score, provided by the Tindersticks, carries the film along with a slow, menacing, edgy sense of unease, building up to a gruesome, bloody and unforgettable finale. Trouble Every Day is cinematically astonishing.
89: Nosferatu: The First Vampire
Directed by F.W. Murnau
Written by Henrik Galeen
Germany, 1925
The earliest surviving film based on Dracula is Nosferatu, an unauthorized adaptation of Bram Stoker's novel. One of the first vampire movies, it is perhaps still one of the best vampire movies ever made. Thoroughly creepy from first to last frame.
88: The Children

Directed by Tom Shankland
Written by Paul Andrew Williams and Tom Shankland
2008, UK

The concept of killer kids is nothing new, but The Children can safely join the list of great horror movies like The Omen, Home Movie, The Exorcist, The Innocents and Village of the Damned. The film is directed by Tom Shankland who also adapted the script form a story by Paul Andrew Williams (the director and writer of London to Brighton and The Cottage). Shankland delivers a simple film, with a simple set up and a simple pay off. What's not simple are his sublime directorial flourishes. Shankland might add a few jump scares, but avoids genre clichés and wisely chooses an effective slow burn. The journey is unnerving, relentless, and jam packed with suspense and a terrifying, brooding atmosphere. Easily one of the best horror films of the present decade and destined to become a Brit Classic.
87: Signs
Directed by M. Night Shyamalan
Written by M. Night Shyamalan
2002, USA
Once upon a time, director M. Night Shyamalan was considered to be an A list director. Oh how times have changed. Signs was the filmmaker's third feature and the last to receive glowing reviews. Clearly influenced by Steven Spielberg and Alfred Hitchcock, Shyamalan creates a sense of pace, atmosphere, and mood that is near-flawless (until the last reel). The script is extremely well written drawing a parallel between faith in God and the belief in intelligent alien life forms. Signs also features two fine performance by Mel Gibson and Joaquin Phoenix, superb camera work and a much appreciate dose of comedy.
86: The Howling

Directed by Joe Dante
Written by John Sayles
1981, USA
Based on the best-selling novel by Gary Brandner, this horror film makes effective use of the classic werewolf tale but more importantly The Howling deserves respect simply for being the first to actually show the lycanthrope transformation process in slow, painstaking detail through a combination of clever edits and animatronics. The Howling may not be as polished or effective as John Landis' 1981 An American Werewolf in London, but the film delivers on action, gore and true scares.
–
85:  Dead Alive (Braindead)
Directed by Peter Jackson
Written by Stephen Sinclair
New Zealand, 1992
Originally released as Braindead, Dead Alive is the Godfather of Kiwi gore and the magnum opus of Peter Jackson's early career. Jackson's second feature gleefully eclipses the gross-out quotient of not only his splatter-fest debut, but of any movie ever made before it. The finale is the greatest gore-fest ever put on celluloid, using 300 litres of fake blood pumped at five gallons per second. The tone is cartoonishly comic, and the premise is simple, but Dead Alive is one of the most inventive and outrageous splatter-fests ever made.
84:  (TIE) Seconds

Directed by John Frankenheimer
Written by David Ely and Lewis John Carlino
1966, USA
Not for weak sisters! May not even be for strong stomachs!
John Frankenheimer's ultimately terrifying Twilight Zone-like, futuristic thriller Seconds, received mixed reviews, and was critically panned at the Cannes Film Festival. But what do they know? Seconds is a chilling character study and a distressing examination of happiness, loneliness, consumerism, and the American dream. This paranoid take on the legend of Faust remains widely unseen. Thankfully repeated showings on late night television helped the film find a much deserved cult following.
83: Seven (Se7en)
Directed by David Fincher
Written by Andrew Kevin Walker
US, 1995
One of a handful of films that is based on the religious concept of "seven deadly sins," director David Fincher's Seven is a dark, stylish thriller that boasts enough horror genre trappings to justify its presence on this list. Seven pales in comparison to Fincher's best film Zodiac, but regardless, it is one of the decade's most influential box-office successes. This dark, creepy and relentlessly grim shocker features a taut performance by Morgan Freeman, polished gore effects, and an unforgettable ending that not even Brad Pitt's horrible acting could ruin. Seven has all the hallmarks of the giallo or serial killer genres – red herrings, a whodunnit mystery, gruesome murders and a surprise twist ending – but thankfully, it also turns out to be less predictable. One of its strongest aspects is the visuals. There are many unusual and innovative cinematographic techniques, including the opening credit sequence (one of the best of all time) and outstanding production, art and set design – all of which focuses on the seedy, depressing side of Seven's anonymous big-city setting.
82:-Terror at the Opera (Opera)
Directed by Dario Argento
Written by Dario Argento
1987, Italy
Opera collides with horror, a fine fitting for Dario Argento's extravagant style and dark trademarks as a filmmaker. Opera was Argento's most expensive production and it shows in his colour schemes, use of music, grand set design, and camera work – all of which are wildly inventive and appropriate. The film's chosen opera is an avant-garde rendition of Giuseppe Verdi's Macbeth, historically known for bringing bad omens to its cast and crew. Though Opera was never plagued by post-production problems, the director has been quoted as saying that "Opera's loveless tone was intended in part as a kind of AIDS metaphor" since star Ian Charleson learned during the filming that he was HIV+. Much like most of Argento's work, the dialogue is over-the-top, and the acting is at times hammy, but one can't deny its style and spectacular mood. Opera also features many incredible highlights including one truly brilliant POV shot: At one point Betty is immobilized, as the killer ties her up and places a row of needles below her eyelids, forcing her to witness the excruciating deaths of her friends. We see the torture of unsuspecting supporting characters through her obstructed, terrified view. I dare you not to blink.
81: The Loved Ones

Directed by Sean Byrne
Written by Sean Byrne
2009, Australia
The winner of the first ever Midnight Madness Audience Award at the Toronto International Film Festival, The Loved Ones is one of the best horror films of the last decade – a unique mix of teen angst, torture porn, melodrama and the conventional slasher tropes. It's a gore-filled shocker that goes for laughs by paying homage to the outlandish low-budget video nasties of the '70s and '80s. Think Misery, Saw, Prom Night, The Evil Dead and Carrie all mixed into one feature. This Australian flick is dark, intense, sharp, extremely gruesome and incredibly funny at times. The balance of humour and horror is scaled so perfectly that the scares sneak up when least expected. D.O.P. Simon Chapman makes great use of long, steady takes, and shows great patience in holding the camera still for long periods of time. The lighting and set design make the picture seem like it had a much bigger budget – the filmmakers rely on good old make-up and practical effects over anything digital – and editor Andy Canny cuts away at just the right frames, mounting the tension in key sequences to just the right level before each payoff is delivered. With a great rock soundtrack, intertwining story lines, slick dialogue and fresh characters, The Loved Ones is vivid, sometimes scary, sometimes funny but always thrilling.
80: Carnival Of Souls
Directed by Herk Harvey
Written by John Clifford
USA, 1962
This low-budget, independently made black-and-white film, produced and directed by Herk Harvey for an estimated $33,000, did not gain widespread attention when originally released, and was billed as a B-movie – but it's actually one of the greatest under-seen horror movies ever made. Without Carnival Of Souls, you would have no Sixth Sense. Set to the funereal organ score by Gene Moore, Carnival of Souls relies strictly on atmosphere of melancholic, surreal dread to create a mood of unease and foreboding. It has been cited as a major influence on the films of both David Lynch and George A. Romero. The film's subdued black and white photography contributes considerably to its creeping mood of eerie otherworldliness and poetic nightmarish palate.
79: Alucarda, La Hija De Las Tinieblas / Innocents From Hell
Directed by Juan López Moctezuma
Written by Alexis Arroyo and Juan López Moctezuma
Spain, 1978
Part nunsploitation, part possession/satanism movie, and part vampire flick, Alucarda ("a Dracula" backwards) finds satanic going-ons in a convent after orphan Justine comes along, only to be seduced by another orphan named Alucarda. Director Juan López Moctezuma came along during the new wave of 70′s Mexican genre pics that expressed radical and subversive views. Alucarda never received much attention from critics nor audiences, but over the years became something of an underground cult classic. Moctezuma (who also produced Jodorowsky's El Topo and Fando Y Lis) was an important intellectual figure in Mexico in the fifties, sixties and seventies, and his three horror films (which also includes Mansion of Madness, and the American co-production Mary, Mary, Bloody Mary) were all distinctive works. The film was independently financed outside of the Mexican mainstream industry and was shot with an English-speaking cast. The set design and art direction is stunning as well as Xavier Cruz's cinematography. The grueling exorcism conclusion to Alucarda reminds one of the final scene in Brian De Palma's Carrie. While it is not widely known by many cinephiles, many fans who have seen it, including myself, consider it an unrecognized gem. Seriously, this movie is batshit crazy and a must see!
78: Cabin In The Woods
Directed by Drew Goddard
Written by Joss Whedon and Drew Goddard
2012, USA
The clever high-concept Cabin In The Woods is without a doubt the best and most inventive cabin-in-the-woods picture since Sam Raimi's Evil Dead 2. It is also the most clever genre deconstruction since Wes Craven's Scream. Screenwriters Drew Goddard and Joss Whedon tease us with a simple set-up, only to turn the joke upside down and on its head. Crammed with small unanticipated and unexpected incidents and comical twists, director Drew Goddard defies conventions while demonstrating a strong understanding of modern horror. This over the top blend of Scream and The Adjustment Bureau puts a clever spin on Whedon's longstanding obsession with violence and voyeurism. With two interwoven narratives taking place at once, Goddard's multi-layered approach is ambitious – digging deeper than a self-reflexive game of name-checking. A horror film embedded in a conspiracy flick embedded within another horror movie; Cabin is a must see, if only for the final 20 minutes in which all Hell breaks loose.
77: Suspiria

Director: Dario Argento
Written by Daria Nicolodi and Dario Argento
Italy, 1977
The king of Italian horror, Dario Argento, directs what many consider to be his masterpiece. Suspiria is one of the most important and influential genre movies ever made, and essential viewing for all horror fans. Argento's first major non-Giallo directing job doesn't stray too far from the style he established in his previous film Deep Red. Suspiria's overall charm resides in its technical triumphs and visual style. Taking his cues from Mario Bava, Argento, together with his director of photography Luciano Tovoli, creates a vibrant, colorful film quite apart from the standards of the genre. Argento's masterful use of intense primary colours (he acquired 1950s Technicolor stock to get the effect) and stunning set designs gives the whole film a hallucinatory intensity. The dissonant, throbbing score, composed by Argento and performed by his frequent collaborators, Italian rock band Goblin, drives the picture with the occasional distorted shriek of "Witch!". A strange combination of the arthouse and horror film, Suspiria, although cited as one of the scariest movies ever made is, ironically, one of Argento's least violent films. It relies more on tone and atmosphere than on blood and gore. Surreal and frightening, Suspiria still shocks audiences decades after its original release.
76: (TIE) Invasion of the Body Snatchers / Invasion of the Body Snatchers
Directed by Don Siegel / Philllip Kaufman
Written by Daniel Mainwaring / W.D. Richter
1956 / 1978, USA
Jack Finney's 1954 novel The Body Snatchers has been adapted to the big screen numerous times. In 1956 innovative director Don Siegel gave us the first adaptation. His tense, offbeat psychological sci-fi thriller is superbly crafted and remains potent to this day. It can be read as a political metaphor or enjoyed as an efficient, chilling blend of sci-fi and horror; either way it works. This is a classic – a must see and features one of greatest endings to any horror film.
The 1978 version directed by Philip Kaufman, and starring Donald Sutherland, Brooke Adams and Leonard Nimoy is just as good. It is one of those rare sequels that holds on to both the spirit and political allegory of the original. The film was also a box office success and is considered by many to be among the greatest film remakes.
– Ricky D