Premiere week has come and gone, so it's time for another pilot roundup. So far, only a few shows have received full season pickups, NBC's Go On, The New Normal, and Revolution. The closest thing to a new hit is Revolution, or perhaps Vegas, but unlike in previous years, we've yet to see a single new show cancelled. That will undoubtedly change in the next few weeks, but for now, it looks like TV fans will have the opportunity to give the shows that interest them a solid month at least to find their feet. For our takes on the rest of the fall 2012 pilots, check out our Pilot Review Roundup, Part 1, Deepayan Sengupta's look at Animal Practice and Go On, and capsule reviews from San Diego Comic Con's Preview Night.
Partners, CBS
Airs Mondays at 8:30pm (ET)
In contention as one of the worst new series, Partners is frustrating for its tired premise, its unlikeable characters, and its decision to laugh at, rather than with, its stereotypical gay lead, but perhaps the worst crime this series commits is that it's boring. Centered around a pair of lifelong best friends, one gay, one straight, there is nothing in this pilot that viewers haven't seen before. Utterly wasted in the two lead roles are Michael Urie and David Krumholtz, who have both found success on TV before and who both deserve much better than what they're given here. Hopefully everyone involved will move quickly on to series that make better use of their talents.
The Mob Doctor, FOX
Airs Mondays at 9pm (ET)
Roughly based on the memoir Il Dottore: The Double Life of a Mafia Doctor, this series follows a brilliant, hard-working doctor, played by My Boys' Jordana Spiro, who's been drawn into working for the mob on the side to cover her brother's debt. Despite its strong cast, including the ever charming Spiro, William Forsythe, Friday Night Lights' Zach Gilford, and the always great Zeljko Ivanek, The Mob Doctor can't escape its terrible, limiting premise. There's potential for this series to improve, and it certainly has a cast capable of much more interesting material than the cookie cutter emotions on display in the pilot, but given its network berth and early scripting, that doesn't seem likely.
Emily Owens, M.D., the CW
Premieres Tuesday, Oct. 16th at 9pm (ET)
Available for early viewing on Hulu
Emily Owens used to get picked on in high school. Good thing she went to med school and got out of there. Except, ruh-roh, it turns out hospitals are just like high school and, as she starts her internship, Emily's in danger of repeating her traumatic past! This medical soap will undoubtedly appeal to some of its desired audience, those who want a high school angst-fest set outside of high school, but beyond that niche, it's hard to imagine it doing well. Emily Owens, M.D. feels like a dumbed down, less introspective Grey's Anatomy, right down to the opening and closing narration from its title character. The fantastic Mamie Gummer is completely wasted in the lead role and one can only hope she will be on to far better material soon.
Vegas, CBS
Airs Tuesdays at 10pm (ET)
Starring Dennis Quaid and Michael Chiklis, this is perhaps one of the highest-profile pilots of the year. Set in '60s Las Vegas, which was in the process of converting from ranch land to gambler's mecca, this series will probably have no trouble finding a core audience who appreciate its combination of procedural and period flair. It's a bit sanitized for this reviewer, and fans of Chiklis' time on The Shield may have similar complaints, but as a CBS procedural, it's pretty much exactly what one would expect. Quaid is perfectly cast as the rough sheriff and Chiklis slips into his role as Chicago mobster with ease. Though it may not be the show this cast and this premise have the potential for, it's not anywhere near the bottom of the pack this season.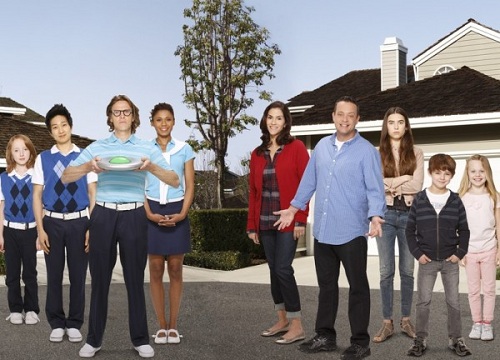 The Neighbors, ABC
Airs Wednesdays at 8:30pm (ET)
This fish out of water family sitcom falls prey to the same two problems most of the new network comedies do- it feels incredibly dated and, frankly, isn't very funny. The premise, that a group of aliens have crash landed and bought up all but one of the houses in a gated community to live in while they wait for word from home, and a normal family has just moved in to the open one, isn't particularly promising, but it's the execution where this falls down. The gender politics are confusing, at best, and potentially offensive, at worst, and the comedy is so utterly broad that even this rather talented cast can't do much to save it. Barring an utter transformation in the next few weeks, this show isn't worth anyone's time.
Nashville, ABC
Premieres Wednesday, Oct. 10th at 10pm (ET)
Available for early viewing on Hulu
Connie Britton leads a large cast of recognizable names and faces in this soap set in the world of country music and Nashville politics. Britton is, predictably, excellent in her role as Rayna James, described in the pilot as the Queen of Country, but what is a surprise is how well this pilot handles the musical side of things. We see several songs and performances throughout the pilot, each with a slightly different style and personality, and if the series can maintain the believability of both the performances and songs themselves, it may quickly become the network series to best incorporate music (topping Glee and Smash). Nashville's strong cast makes its soapier elements more palatable, but this series may not be for everyone. That being said, TV and country fans should absolutely seek out this pilot, which is definitely one of the best of the fall.
Chicago Fire, NBC
Premieres Wednesday, Oct. 10th at 10pm (ET)
Available for early viewing on Hulu
Set in the Windy City, and shot on location, this series follows the lives and relationships of a group of firefighters and paramedics. Each of the main characters seems to have at least one significant secret they're struggling with and there's angst aplenty between the two male leads, House's Jesse Spencer and The Vampire Diaries' Taylor Kinney. Created by Dick Wolf, the legend behind the Law & Order franchise, Chicago Fire is too focused on its characters' overwrought personal lives to be a straight up procedural and, while there's a decent amount of humor on display, the melodrama isn't effective enough to keep viewers coming back purely for the characters. Fans of the cast may well enjoy this series, but there are far better soaps or serials and far better procedurals elsewhere this fall.
Last Resort, ABC
Airs Thursdays at 8pm (ET)
ABC has two of the best new series in Nashville and Last Resort. Set aboard a nuclear submarine that's gone rogue after receiving bizarre orders to nuke Pakistan, this series keeps tension at a maximum while presenting a series of mental, physical, and ethical challenges to its large ensemble cast. In the lead is Andre Braugher and it's a pleasure to have him back on network TV. His Captain Chaplin is intense, determined, and maybe just a little bit crazy. Among the supporting cast are veterans Robert Patrick and Bruce Davison as well as relative newcomers Daniel Lissing and Dichen Lachman, but the real star of this series is co-creator Shawn Ryan, who also created The Shield and The Chicago Code, as well as showran Terries. If Ryan can bring Last Resort even a fraction of The Shield's narrative and character depth, this will be one hell of a show to watch.
Made in Jersey, CBS
Airs Fridays at 9pm (ET)
Janet Montgomery stars as a tough attorney from Jersey who gets a new job working at a decidedly New York firm where she doesn't quite fit in. This series is basically Legally Blonde with a New Jersey/New York twist. For what it's trying to be, a CBS Friday night procedural, it's successful. Unfortunately, it's also rather disposable. The leads are likable, but there's not nearly enough going on to make this show stand out from the myriad like it littering the network and basic cable schedules. It would fit in easily at USA and perhaps would have better luck there, as "on the bubble" for CBS translates to "ratings smash" for USA, but fans of legal procedurals could do much, much worse.
Kate Kulzick