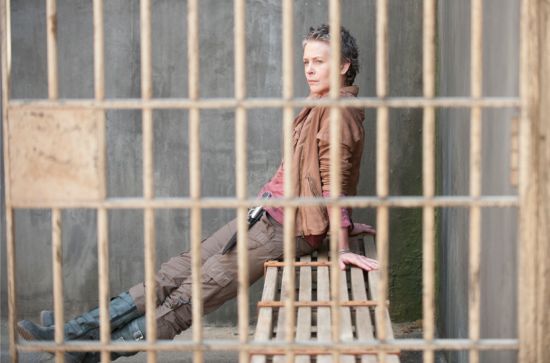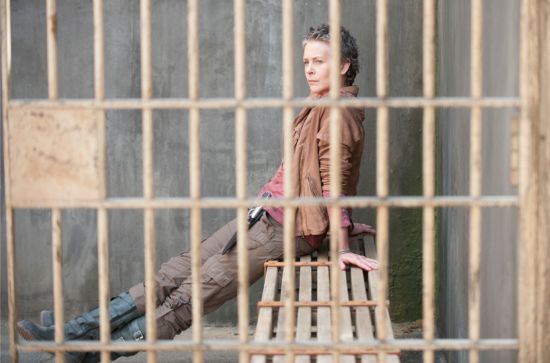 Television history is littered with the bodies of ill-advised spin-offs. Their corpses, copies of reviews and overnights crumpled in their clawed little hands, defile the memories of the successful shows that spawned them and serve as cautionary tales for every writer tempted to go to the same well twice… read the full article.
When it debuted in early 2014 on FX, You're the Worst unfortunately got lumped together with all the other shows about people in relationships that were in production or released around that time. You're the Worst was a lower-key choice for the network: a small-scale character comedy that had none of the splashy, dramatic flare of other flagship shows. This tonal difference between the network and You're the Worst was maybe why it was overlooked by a lot of television viewers, but it's also a reason it got to flourish creatively and comically in its first season. Low network expectations and low ratings sometimes create an alchemic space to do whatever comes to mind and because of that space, You're the Worst was like nothing else on TV last year… read the full article.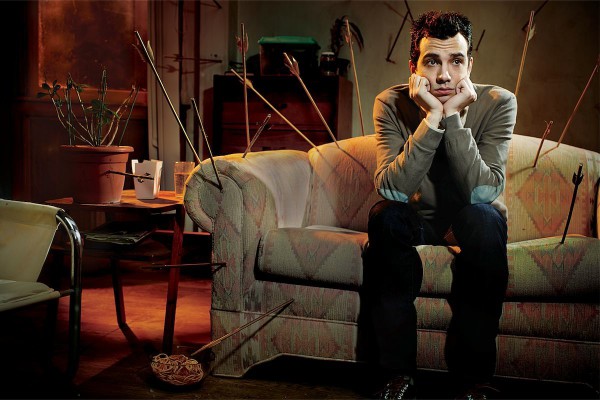 The show begins with Josh (Jay Baruchel) awkwardly leaving the apartment of his now ex-girlfriend Maggie (Maya Erskine). As he walks away, heartbroken, suddenly it starts raining. But it's only raining on him, nobody else. Dead birds fall from the sky and hit him, furthering his depressing state. The show only gets weirder from there. Within the next ten minutes, he's gone on a date with an actual troll. Yes, you read that right. An actual troll. By the end of the pilot he's also discovered that his ex-girlfriend is dating Hitler. Yes, that Hitler. This is just the first episode, and there are 9 more to go from there (plus another season on the way!), each one getting progressively more bizarre… read the full article.
In an infamous 2007 Vanity Fair article, Christopher Hitchens claimed that women, for the most part, aren't funny. He argued that men need to make women laugh in order to impress them and women, being inherently attractive to men, don't have the same impulse. Accordingly, he wrote, they haven't developed their comedy skills to the same extent, with the exception of women he deemed to be less attractive than the unfunny ones. As evidence of his point, he cited the heavily male-skewed comedy world: there are more male comics, he said, so clearly men are the funnier gender… read the full article.
One could easily lump Switched at Birth in among the ranks of the typical melodramatic soapy family dramas, wrought with teen angst, but to do so would be a mistake: Switched at Birth has much more inimitable qualities, placing it above the average-teen centered drama. It's not only entertaining, but also compelling and thoughtful television. At the core of the series is the unique relationship between the two very different female leads who are both equally the protagonist of the series. Theirs is a relationship unlike any other on TV, as they have essentially been living each other's life… read the full article.
A lot happens this week. Usually, Twin Peaks is a series that follows its own pace, setting its own rules and moving forward slowly but surely. Last week felt like something of a bizarre stasis, as Leland continued to roam free and everyone else mourned, investigated, meandered. Here, the truth is revealed to everyone, not just us. It comes to Cooper first, of course, in a dream. But this is an overstuffed episode, absolutely fascinating in what it tries to pull off and in its relative failures… read the full article.
Mind what you wish for. One of the weaknesses of the last season and a half of Justified has been its lack of focus on its ostensible hero: Raylan Givens. Sure, Timothy Olyphant has received no shortage of chances to crack wise and gun down baddies, but since the end of the fourth season, which saw him literally kick back near the freshly interred corpse of his asshole father Arlo, we've spent next to no time alone with Raylan, and the lack of Winona has meant that there's been no one left on the series who knows how to cut through his taciturn ways – or even care enough to try… read the full article.
After a wild left turn at the end of last weeks episode, "Five-O" is left to follow through on a very sudden change of pace, and elaborate on why it should matter—outside of basic fan-service, that is. Luckily, it succeeds most assuredly… read the full article.
Something is rotten in the CIA, as Agents Gadd, Beeman, and Aderholt discover in "Walter Taffet," this week's installment of The Americans. Martha has been spying on her co-workers for a while now, as a favour to her husband "Clark," and the episode finally sees her misdeed being acknowledged… read the full article.
As practically every one of these reviews mentions, the power of Broad City comes from the power of the bond between Abbi and Ilana. Their friendship is closer than most, stronger, more understanding, and affectionate. It's the kind of thing we should strive to achieve in our own lives. It's strange, then, that one of the series' best episodes is one where they replace each other with equally glorious guest stars… read the full article.
With the release date of Community's season six fast approaching, it's hard not to get excited. The series was cancelled by NBC back in 2014, but like a knight in shining armor (who also happens to own a production company), Yahoo! has taken over the show, which it's now producing as a web series for devoted audiences… read the full article.
After last week's marathon podcast, we keep things a bit more manageable this time, focusing on the week's most memorable TV. First up are the comedies, including the a quick look at season one of The Unbreakable Kimmy Schmidt, the season finale of Togetherness, and yet another pair of strong episodes from Girls and Looking. Next are the genre entries, including the midseason premiere of Agents of SHIELD, and we round out the week with the dramas, including the pilots of CSI: Cyber and American Crime and long-awaited returns on Justified andThe Good Wife. Afterward, Emily L. Stephens from The AV Club joins us at the DVD Shelf to talk about one of TV's most beloved characters and procedurals, Columbo.
This week on The Walking Dead podcast Kate and Rick discuss Carol's harsh reaction to Sam; Rick's creepy flirtation with Jessie; what we think the letter W (or M) stands for and so much more.
Once again, it's difficult to express adequate admiration for Melissa McBride. "Forget" is another episode where Daryl and Carol get to steal the show. And though the episode is mainly about the group integrating back into some form of normalcy, it is mainly a display of survival for Carol. Above all else, go for Carol's cookies. It's the wise move of the day. Or maybe one morning, you'll wake up and you won't be in your bed. You'll be outside the wall, far far away, tied to a tree…
As they explain multiple times in "Looking for Glory," Patrick and Kevin are now "a thing." They're living together at Patrick and Agustin's place, they're wearing each other's clothes, and they're debuting their new app at the GaymerX convention. It's unclear how much time has passed since Doris's father's funeral, but Patrick no longer has a cast on his arm, so it's been a few weeks at least since the two reunited. No one seems particularly thrilled by this coupling… read the full article.