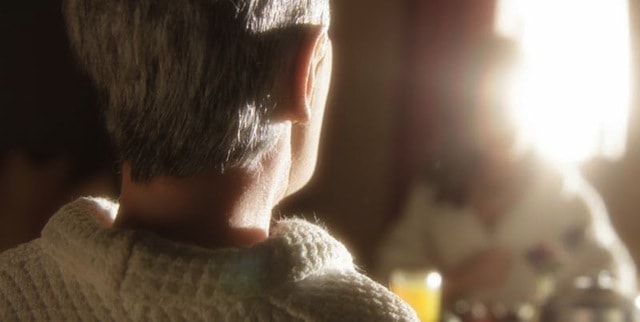 The festival buzz surrounding Charlie Kaufman's latest film Anomalisa has been enormous. The film, along with co-director Duke Johnson, is his first since his challenging and thought provoking debut Synecdoche, New York in 2008, and it's a stop-motion animated film no less. The hype was so great after winning the Special Jury Prize out of Venice that it eventually got moved up for a brief Oscar qualifying run in 2015.
We first caught up with the film at Fantastic Fest, where Lane Scarberry wrote, "Anomalisa is an eccentric ride into the triggers we seek from love that help sustain our sense of self and fulfillment. The transcendent nature of our experiences with one another are clearly crucial, but conveying how recklessly we fumble to be free of ourselves in those moments is Anomalisa's crowning feat."
David Thewlis voice stars alongside Jennifer Jason Leigh and Tom Noonan as the voice of everyone else, and though it's stop-motion animated it reportedly has gut-wrenching emotion and even a sex scene. Here's the full synopsis via iTunes:
Michael Stone, husband, father and respected author of "How May I Help You Help Them?" is a man crippled by the mundanity of his life. On a business trip to Cincinnati, where he's scheduled to speak at a convention of customer service professionals, he checks into the Fregoli Hotel. There, he is amazed to discover a possible escape from his desperation in the form of an unassuming Akron baked goods sales rep, Lisa, who may or may not be the love of his life. A beautifully tender and absurdly humorous dreamscape, from the brilliant minds of Charlie Kaufman (SYNECDOCHE, NEW YORK) and Duke Johnson ("Community" episode, Abed's Uncontrollable Christmas), this stop-motion animation wonder features the vocal cast of Jennifer Jason Leigh, Tom Noonan and David Thewlis and a stirring strings-based score by Carter Burwell.
Anomalisa opens December 20, 2015. Watch the first trailer below: