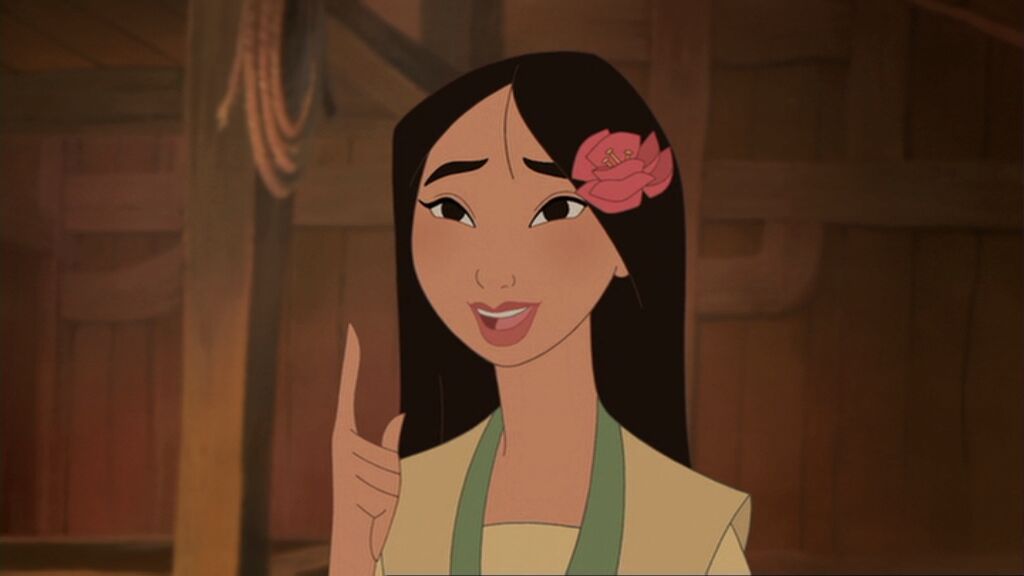 For Disney, it looks like 2013 may be the year they finally start getting all of their animated features in the canon onto Blu-ray. One week after releasing their latest, Wreck-It Ralph, on home media, they've got three new releases, of slightly less popular animated so-called "classics." (Disney's also got Who Framed Roger Rabbit coming out today, which should be an event unto itself.) Brother Bear, The Hunchback of Notre Dame, and Mulan are all now available, all in 2-Movie Collections, with their respective direct-to-DVD sequels, which share the same title and simply vary in whether they have the Arabic or Roman numeral for the number 2. Though some of these releases may be for only the truest die-hard fan, it's no surprise that Disney has once again succeeded at transferring these recent releases to high definition.
Brother Bear, the most recent of the trio, feels much of a piece with The Hunchback of Notre Dame and Mulan, even though only those latter films were part of the official Disney Renaissance. Frankly, Brother Bear feels most tonally similar to Pocahontas: both were films with striking, artful, and haunting animation, but with stories that are a bit stale and rote. And Pocahontas also had a much more memorable score, though the songs here by Phil Collins aren't too bad. Brother Bear is also something of an outlier, not only within animation, because it deliberately plays around with aspect ratio, which comes through quite well in HD. Once the lead, Kenai, transforms from a human to a bear, the ratio shifts from 1.85:1 to 2.35:1, expanding his perspective in more ways than one. For anyone who loves filmmakers playing around aspect ratios—one of whom would be yours truly—it's a cool effect. The transfer in general is quite impressive for both Brother Bear and its sequel, though moreso for the former. The sequel, where Kenai has a romantic dalliance with someone from his old village—well, kind of—isn't as impressive, but even there, the animation looks solid in HD.
The Hunchback of Notre Dame is, in some respects, the most stunning of all of these releases, as it features some of the most beautiful animation of the Disney Renaissance. And it is an enormously ambitious, dark film, as the directors of Beauty and the Beast tackle another French story, the famed Victor Hugo novel about a physically deformed bell-ringer who wishes to be accepted by the public in Notre Dame. The problem with the film has always been its inability to balance its tendencies to appeal to children, specifically in the three talking gargoyles Quasimodo interacts with, along with the very adult core of the story. (Don't forget, this is the film where the villain sings a song essentially trying to cope with his sexual attraction to the female lead.) Mildly failed ambitions aside, let's not mince words: the transfer of The Hunchback of Notre Dame to Blu-ray is stunning. Here is a fine example of why high-definition imagery is the way of the future. Ironic, then, that the direct-to-DVD sequel, featuring many of the original cast members, has some seriously rudimentary, cheap-looking animation that only looks worse in HD. But the first film, all by itself, is worth owning on Blu-ray, even if you're not a fan of the film entire.
Mulan, another step Disney took to being more diverse in its fairy-tale presentations, is a slightly less ambitious overall story, but a solidly entertaining. The major shift, of course, is that the film is set in Asia during the time of the Han Dynasty, and a majority of the characters are voiced by people of Asian descent. (The most notable exception is the comic-relief soldier Yao, voiced by…Harvey Fierstein. No, really.) Also, unlike other princess-oriented Disney films, the title character, by joining the army and pretending to be a man, ends up being a far more active, powerful character than even Belle or Ariel ever were. The animation transfer on both Mulan and Mulan II is impressive, though The Hunchback of Notre Dame remains the most stunning of the six films on these three Blu-rays. The backgrounds on both Mulan films are a little flat; even if it's a deliberate choice, it makes the animation slightly less remarkable, but only slightly.
Where you may be let down with these releases is in the supplements. On one hand, the Brother Bear 3-disc Blu-ray/DVD combo, for example, has an audio commentary, with Rick Moranis and Dave Thomas in character as their Bob and Doug McKenzie-esque moose, deleted scenes, a making-of featurette, and more. But all of the features were ported in from the 2-disc DVD. No joke: if you own that, you aren't getting any new features here for either movie. Perhaps more heartbreaking is that this fact is the same for all three releases. There are no new features on these Blu-rays, and the DVD features aren't in 1080p, but the DVD image of 480i. Suffice to say, if you buy any or all of these Blu-rays, you're doing so because you want the film presented in the best possible image and sound. (Or, you don't own the DVD versions and are getting the features for the first time.) Each film, to some degree, has a decent amount of features mostly because Disney was once fond of going nuts with supplements to even the most minor animated feature. Each film has a commentary, each has a featurette, each has music videos, and so on. And if you're new to them, they may fascinate you. But if you're not, there's nothing to see, sadly.
So you have to ask yourself: how big a fan of Brother Bear, The Hunchback of Notre Dame, and Mulan are you? (Presumably, you aren't the biggest fan of their direct-to-DVD sequels, but hey, anything is possible.) You might love these movies so much that you already have the 2-disc DVDs, thus making it so all you'd be buying is the actual movie on Blu-ray. Some people will be happy to double-dip, essentially, just so they can watch these movies with the best possible image and sound available. Each movie has been transferred to Blu-ray as well as any other recent Disney catalog release, but the same problem I've mentioned in the past is clear here: is it worth spending 20 bucks just for the movie? If the answer's yes, these combo packs will strike your fancy. If not, you may have to hold out for a future Blu-ray release with new features. Just don't hold your breath.