More often than not, people are prone to giving certain films a pass, not because the movies themselves are particularly entertaining, but because they're "for kids." If someone criticizes a family movie too harshly, they might be offered the following rebuke: "What do you want? It's a kids' movie." This sentiment is apparently meant as an excuse for some truly forgettable, or terrible, or heinous movies, and winds up sounding like an insult against the target audience. Those eight words seem to presume that children are stupid and will gladly accept whatever is put on TV, loving it automatically because of the combination of moving pictures and colors. This week, Walt Disney Pictures has released two films on Blu-ray, both of which are very explicitly for kids. One is rightly considered a classic. The other will, if we're lucky, be thrown on the heap of the forgotten within days.
So why does The Many Adventures of Winnie the Pooh work where Super Buddies fails? (Yes, that is a serious question, and yes, these are the new Blu-ray releases at the end of August.) Quality aside, no one would look sideways at you for plopping your kids in front of the TV to watch either or both of these movies. But it's hard to ignore the fact that the former movie, an anthology of three shorts in which beloved characters like Winnie the Pooh, Piglet, Eeyore, and Tigger cavort and gambol around the Hundred Acre Wood, is and will always be a triumph of sweetness and whimsy. And the other movie is Super Buddies. The chief reason why The Many Adventures of Winnie the Pooh resonates even today (and even for adults) is its wistful longing and clear-cut sense of timelessness. Winnie the Pooh and his friends may essentially be little children in terms of how their minds work, but there is something relatable and recognizable in their traits and actions.
Super Buddies, on the other hand, is a painful endeavor littered with immediately dated references. (Actually, that presumes some of these references weren't dated years ago.) Each of the five Golden Retriever puppies speak in corporate buzzwords and pop-culture references that are either grating or jaw-droppingly painful. Each of them is a token: there's a token female Buddy, who is constantly talking about "girl power" in between talking in text-messaging acronyms—early on, she says "O-M-G, I love treasure," and at this point, you would not be wrong for wanting a couple fingers of bourbon at your side; there's a token Buddy who speaks in accepted urban-culture slang, dubbing everyone "dawg," and it's just as empty and pointless as you'd imagine. The list goes on. Super Buddies is not timeless, but very specific, and very clearly is meant to capitalize financially on the glut of superhero movies and characters flooding the Western world. This movie is on Blu-ray and DVD because someone wanted to make money, not because someone had a story to tell.
In terms of Blu-ray features and presentation, it should not surprise anyone that The Many Adventures of Winnie the Pooh outpaces Super Buddies. The former does not have many special features, and most were ported over from prior DVD releases. And, unsurprisingly, many of the features are targeted at younger audiences; for example, the Disney Intermission feature on this Blu-ray offers short games and exercises for kids to take part in. But the sweetness on display is still very evident, even if the voices of the narrator and characters aren't the same as those in the 1960s- and 1970s-era shorts that make up the feature. It would, of course, have been nice for Disney to include a commentary, either from some of the surviving animators who worked on The Many Adventures of Winnie The Pooh—and despite this film being over 35 years old, you might be surprised at how many soon-to-be-big Disney animators worked on the project—or from film historians. The supplements on the Blu-ray are inoffensive if slight. The movie itself is far more winning.
And then there's Super Buddies. Many words could be spent on explicating exactly why and how Super Buddies is a bad movie. It would be easy to include a laundry list of reasons, from the awful, tin-eared dialogue to the nonsensical plot to the uniformly poor and hammy performances of the live actors to the massively disturbing CGI that allows various animals (not just dogs, because of course not just dogs) to speak like humans. But Super Buddies is the 14th film in the Air Bud franchise, and maybe it's about time that we wondered how the hell we, as a society, let that happen. How is it possible that a cheapie movie about a golden retriever who could kinda/sorta play basketball if you threw one at his nose at just the right angle has inspired a family film franchise that now has more entries than the Land Before Time series?
The mind reels, not just at the surprising longevity this series has had, but at the quality of its chapters. Now, we have Super Buddies, in which the five Buddies are gifted with superpowers after coming in contact with the Rings of Inspiron, artifacts from an alien galaxy sought after by the goodhearted Captain Canine (voiced by Colin Hanks) as well as the dastardly Commander Drex (voiced by John Michael Higgins). Now, it's important to point out that none of the previous sentence is a joke. Also real: the baffling subplot in which the owners of the Buddies, five kids who are just young enough to be called "tweens," realize that one of their favorite comic book series, describing the exploits of Captain Canine and his human sidekick, Kid Courageous, isn't fiction at all, and points the way to the Buddies' journey. Also real: the part where John Ratzenberger, as the farmer grandfather of one of the Buddies' owners, dressing up, within the first five minutes, as the Amazing Grandpa-Man. These are the jokes, folks.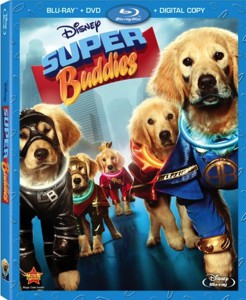 Again, the list goes on. It is hard not to react to Super Buddies without feeling a great deal like the audience in Mel Brooks' comedy classic The Producers (the 1968 version). They sit aghast at the deliberately awful musical called Springtime for Hitler: A Gay Romp with Adolf and Eva at Berchstegaden, unable to believe the idiocy on stage. Granted, by the end, they're won over because they presume the show is a cutting, wicked satire, instead of an earnest and offensively sincere celebration of one of the most foul war criminals and murderers in human history. (To be clear, Super Buddies isn't that bad. But an adult's feels awful similar to that audience's.) The Blu-ray itself is devoid of any special features, which isn't surprising considering how stingy Disney is with adding supplements to their home media releases. This time, it's tantamount to an act of mercy.
This week, the Walt Disney Company has worked hard at offering some of their very best and their very worst films on Blu-ray for the first time. In one corner, there's The Many Adventures of Winnie the Pooh, on Blu-ray after languishing for far too long on DVD. In the other corner, Super Buddies, the trillionth film in the Air Bud franchise. Both movies are aimed at kids more than adults, but one has been and will always be held in high regard because it doesn't condescend, it doesn't aim for the lowest common denominator, and it steers clear of groaning puns. If you need something for the holiday weekend, some way to calm the kids, have them watch The Many Adventures of Winnie the Pooh. On repeat, if necessary, if only so you can steer clear of Super Buddies, the equivalent of a slideshow of "cute" dog pictures that goes on for far too long. You can do better. And your kids can do better, too.