First Look at Terry Gilliam Short 'The Wholly Family'
From the very imaginative mind of Terry Gilliam comes new short The Wholly Family. Here are the first images via Slashfilm from the pages of Italian magazine Ciak. Announced last December and shot in Naples over a week in January, the short will run about 15 minutes and is sponsored by Garafalo, an Italian pasta company that funds short films about Naples every year.
Based on a script written by Gilliam himself, the plot for The Wholly Family is still under wraps but from the look of the stills it should be a typically wild ride! The short is set to premiere at the Bradford International Film Festival running in the UK from March 16 to 27, where Terry Gilliam is due to receive a Fellowship Award as well. The stills and behind the scenes footage from the short film after the jump.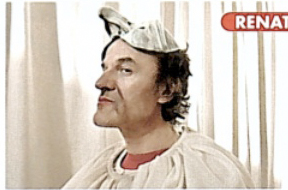 Behind the Scenes