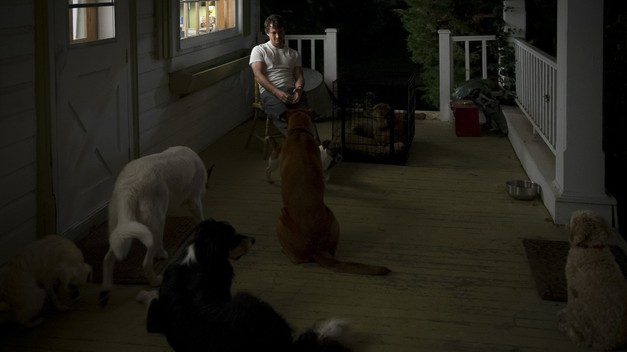 See? The Visual Genius of NBC's Hannibal
Hannibal, "Apéritif"
Written by Bryan Fuller
Directed by David Slade
Originally aired April 4, 2013
Piggybacking off the serial killer-themed, semi-supernatural horror trend that had sparked shows like Grimm, Dexter, and The Following, the concept of a Hannibal Lecter-themed television show was not met with much enthusiasm in early 2013. We had too many shows about murder. Too many shows with violence on the air. Not to mention, there had been countless Hannibal Lecter adaptations over the past few years, and none of them had ever been as good as Silence of the Lambs.
And yet, what skeptics didn't take into account was the genius of Bryan Fuller. As the writer and creator of other excellent television shows, from Dead Like Me to Wonderfalls to Pushing Daisies, it became clear from the earliest episode of Hannibal that it wasn't going to be like any other crime drama on television.
The genius of Hannibal is how striking it is to watch. From the earliest moments of the episode, the viewers follow Will Graham (played with such wonderful, nervous energy by Hugh Dancy) as he pieces together the murder of a married couple. Their house is white and tan, and when their blood splatters on the wall–it is striking, artistic, almost. Images permeate the episode. The startling murders of a group of teenage girls by a serial killer who becomes known as the Minnesota Shrike result in girls mounted on antlers. Perhaps what is so terrifying about Hannibal is its tableaus: the image of a young girl in a starchy, white nightgown, impaled on deer antlers.
Hannibal's use of costuming and design plays into characterization as well. Will Graham is dressed exclusively in grays and greens–earth tones that allow him to drift into the background of scenes. Mads Mikkelsen's Dr. Hannibal Lecter, on the other hand, appears in a variety of colorful, patterned suits. He is impeccably put together, as organized and meticulous in his wardrobe as he is his murders. Dr. Alana Bloom (played by Wonderfalls alum Caroline Dhavernas), a friend of Will's and one of his few advocates on the show, is dressed in brighter colors–whites and reds and blues. She is a constant source of energy and good nature in Will's life, and her presence is visually lighter on the show.
What is so rare about Hannibal is that its vision is as essential as its plotting and characters. It very easily could have fallen into the "killer of the week" pattern that so many crime dramas fall into, but the visual nature of the show and the beauty of its wide shots and often horrifying crime scene tableaus sets it above the rest. With its pilot episode, Hannibal set the bar for the look and feel of the show. Whereas many television shows take a few weeks to find their footing, Hannibal knew from its very first blood splatter that it wasn't a show to write off. In the final moments of the episode, serial killer Garrett Jacob Hobbs lies dying on the kitchen floor. He turns to Will Graham and whispers, "See?" To the viewer and to Will, what is meant to be seen is a little unclear. But it reads more as a call to action: see this show, see its colors and its design and look for what it's trying to say. There is danger all around the characters in Hannibal, hidden well within sight.
This article is part of our month long theme dedicated to the greatest TV pilots.