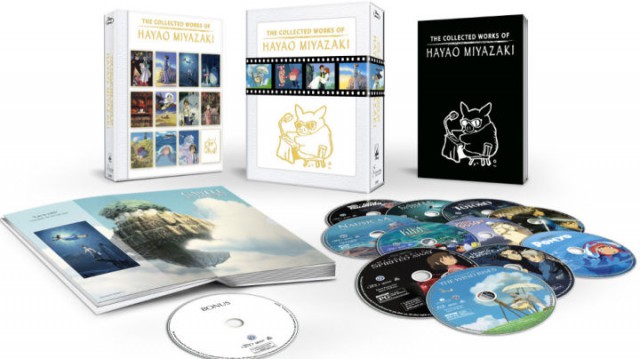 Hayao Miyazaki fans rejoice! Nerdist announced yesterday that a collective Blu-ray boxset is being released in November of the beloved filmmaker's work. Big news for anyone who's been waiting to own all of Miyazaki's films in great quality, especially his lesser known ones.
Amazon will be releasing The Collected Works of Hayao Miyazaki on November 17 and it will contain all 11 of the director's feature films: Lupin the Third: The Castle of Cagliostro, Nausicaa of the Valley of the Wind, Castle in the Sky, My Neighbor Totoro, Kiki's Delivery Service, Porco Rosso, Princess Mononoke, Spirited Away, Howl's Moving Castle, Ponyo, and The Wind Rises. If the films didn't excite you enough, then these bonus features surely will, like Yuki no Taiyo (Yuki's Sun), a 1972 pilot based on a manga by Tetsuya Chiba that Miyazaki storyboarded, animated, and directed. The set also includes the uncut version of Miyazaki's press conference where he announced his retirement, and also the book The Great Dichotomy: Looking at the Works of Hayao Miyazaki written by Tomohiro Machiyama.
This announcement comes off of the news that Miyazaki is making a short film and is also working on other projects, a relief for those who were afraid that Miyazaki was done with filmmaking for good. His films have had such an impact, showcasing beautiful stories that everyone can enjoy. A fan recently put together a 3D tribute of his films, showing that despite the director's retirement from feature filmmaking, he still has a loyal following that will keep his films alive.