HBO's rise from the you're-spending-my-subscription-money-on-that-crap? original programming basement to cable TV's creative gold standard can be charted over a period of about ten years with the successes of several key original offerings.
By the end of the 1980s, the movie box office was becoming dominated by young-skewing sci fi and fantasy adventures, over-the-top action blockbusters, and sequels to sci fi and fantasy and over-the-top blockbusters. Box office Top Tens for 1989-1990 included the likes of Batman (1989), Ghostbusters II (1989), Indiana Jones and the Last Crusade (1989), Home Alone (1990), Total Recall (1990), and Die Hard 2: Die Harder (1990). Over on the small screen, the penchant was for the sweet, the nice, the inoffensive. TV series at the top of the rating charts during the same period included The Cosby Show, Golden Girls, Wonder Years, Who's the Boss?, and Murder, She Wrote.
There were writers and directors and producers in Hollywood itching to do something different, something against the grain, something with – to use a way overused word – edge to it. Tanner '88 had sent out the message that there was a place for that kind of work. The Altman/Trudeau series had demonstrated to the heavy caliber creative talent in Hollywood that HBO was about more than T & A, that it could provide a venue for the truly, creatively ambitious.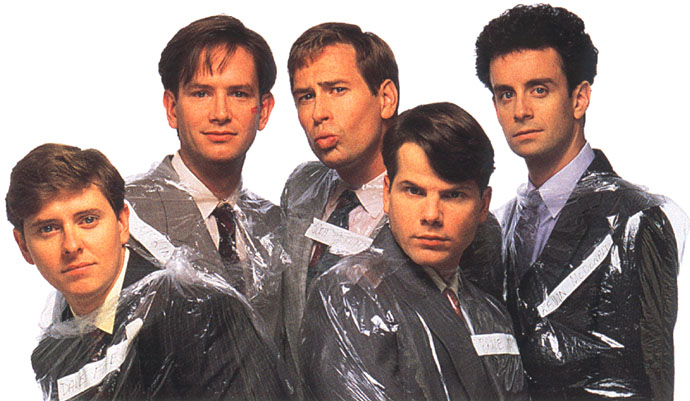 In 1988, the service offered the sketch comedy The Kids in the Hall (1988-94), featuring a Monty Pythonesque troupe of talented loons (Dave Foley, Kevin McDonald, Bruce McCulloch, Mark McKinney, Scott Thompson) out of Canada.  Kids offered a ruthless, off-the-wall, often daring brand of funny which showed how toothless Not Necessarily the News had been, and, in the process, how far the channel had come.  Although Kids never quite developed the buzzy, culty Python-like cachet the company had been hoping for, it was the first HBO series to become both a popular and critical success, advancing the example of Tanner '88 in showing what could be accomplished with the kind of artistic running room a service like HBO provided.
A different flavored win came the following year with Tales from the Crypt (1989-96). Inspired by grisly comics like The Crypt of Terror, Vault of Horror, and, obviously, Tales from the Crypt, the series had some of the heaviest hitters in Hollywood behind it. The show's cadre of executive producers included Joel Silver, who, at the time, had become a box office powerhouse with the Lethal Weapon and Die Hard franchises and one-offs like 48 Hours (1982) and Predator (1987); Richard Donner, who'd not only directed Silver's Lethal Weapon shoot-'em-ups, but whose resume also included box office smashes like The Omen (1976) and Superman: The Movie (1978); and David Giler, executive producer of Aliens (1986).
Hosted by the cackling, animatronic "Crypt-Keeper," Crypt was an upscale, wittier, smarter, better-executed version of The Hitchhiker. An anthology series, each episode was some kind of morality play always ending with karmic justice dispensed in Grand Guignol bucket-o'-blood fashion, the grotesqueries and gore tempered with campy excess, like the episode where Stephen Weber's down on his luck reporter finds himself the main course at a dinner party for ghouls. My own personal favorite line: a sinister David Hemmings counseling love-struck Kevin McCarthy with the advice, "Ahh, women. Can't live with 'em, can't tell the neighbors she went to visit her mother in Palm Springs."
The hit-making pedigree of the men behind the series gave HBO something it hadn't had before: a free-flowing conduit to Hollywood's A list. Crypt became Hollywood cool and its episode casts featured an impressive array of serious marquee talent, from Old Hollywood aristocracy like Kirk Douglas to the likes of Whoopi Goldberg, Joe Pesci, and Brad Pitt, to name a very, very few. Just as impressive were the Big Name directors who helmed Crypt eps i.e. Robert Zemeckis, John Frankenheimer, Tobe Hooper, Crypt exec producers Donner and Walter Hill, among others. Silver & Co. also offered some of the industry's big stars a chance to try their hand behind the camera, and those first-time directors included Michael J. Fox, Tom Hanks, and Arnold Schwarzenegger.
"Dream On (1990-96) was the first (HBO) series that seemed interesting (to me)," says AMC Entertainment CEO Josh Sapan. With the series, John Landis added himself to the list of Hollywood biggies picking up on the Tanner example.
Since his career breakout with Animal House (1978), Landis had become one of the industry's comedy homerun hitters with a resume which included box office winners like An American Werewolf in London (1981), The Blues Brothers (1980), Trading Places (1988), and Coming to America (1988). Universal Studios, for whom Landis had directed Animal House and The Blues Brothers, had been looking for a way to squeeze a few last residual dollars out of their vast library of stale, non-syndication-worthy TV programming. They cut a deal with Landis giving him access to their vaults, then chose two musical theater writers with no history in TV – Marta Kauffman and David Crane (they would later create the smash hit sitcom Friends for NBC in 1994) – to work with Landis on developing a workable concept. The result was Dream On.
Brian Benben played Martin Tupper, a divorced dad working as an editor at a small New York publishing house floundering his way through his career, raising his adolescent son, and one flubbed relationship after another. During peak moments, Tupper, a baby boomer raised on TV, would mentally flash to a clip from an old TV show. The clips acted as a kind of visual punctuation/thought bubble/aside/pictorial one-liner.
Initially, the series had trouble finding its feet. Because it was HBO, there was still a perceived need to shoehorn some nudity in when possible. In a 2010 interview for the Archive at American television, Kaufman and Crane recalled Landis occasionally suggesting they needed to make the show "funnier and dirtier." And, the humor seemed a bit uneven, the use of the clips a bit too gimmicky. But, in time, the show found its voice, and it turned out to be an impressively expansive one.
There's the delightfully silly episode where Tupper moonlights as a screenwriter for porn flicks to make a few extra bucks, then – in a lampoon of every self-proclaimed integrity-ridden artist — goes into a tiff when his creative vision isn't respected. At the other end of the scale, there's a lovely poignancy in an episode where Tupper works with an author with AIDS (David Clennon in an Emmy-winning guest role).
Tales from the Crypt and Dream On gave HBO something which had seemed more a prayer than an ambition back in the days of 1st & 10 and The Hitchhiker: back-to-back hits (and highly lauded hits at that). One show could be a lucky fluke; two signaled a possible trend. Talking to The New York Times TV writer Bill Carter in 1991, HBO's original programming chief Bridget Potter called this an "extraordinary moment." Granted, HBO at that time operated within the mini-universe of 17.5 million subs, but within that universe, according to Potter, "For the first time, a pay channel has a hit series, maybe two."
And then two became three with The Larry Sanders Show (1992-98). The series was dark, cynical, bitter, at times angry, often angsty…and was a comedy.
The man behind Larry Sanders was Garry Shandling, then primarily known as a stand-up comic who had cultivated, in clubs and in TV appearances, a humorously anxious, whiney, often clueless persona. In the 1980s, Shandling had found a home at Showtime, performing in several specials before launching one of the all-time great TV comedies, It's Garry Shandling's Show (1985-90). The series was both a parody of and tribute to sitcoms featuring Shandling playing a version of himself starring/living in a sitcom, frequently interacting with his live audience and often talking directly to the camera. It was a brilliant piece of creative destruction, exploiting/lampooning/deconstructing decades' worth of sitcom conventions, yet doing so in a gentle and even loving way.
In 1986, Shandling had done The Garry Shandling Show's 25th Anniversary Special, a mock tribute show built around the concept that Shandling had been hosting a late-night talk show for 25 years. Shandling expanded on the concept, moved to HBO, and Larry Sanders was born.
As light, gentle, and playful as It's Garry Shandling's Show had been, The Larry Sanders Show was, to the same degree, its tonal opposite: an acidic, razor-sharp satire of the vanities, pettiness, fragile egos, self-importance, and paranoias of the Hollywood glitterati. Shandling played Larry Sanders, the vain, insecure star of a long-running late-night talk show. In orbit around him was a brilliant ensemble playing equally horrible people including Rip Torn as his hard-drinking, manically-devoted producer, and Jeffrey Tambor as his spineless, sycophantic, opportunistic sidekick.
Dark as Sanders was, it was a striking break from everything else on TV and became – and remains – one of HBO's most acclaimed original series, and a perennial example of what pay TV could (and can) do that broadcast TV can't (or won't).
The service took to scheduling the three series – Dream On, The Larry Sanders Show, and Tales from the Crypt back-to-back on Wednesday nights. Within the admittedly small HBO universe, the trio kicked broadcast TV's ass and HBO owned Wednesdays. With its original movies at their drawing peak, their premieres often handed HBO a second night, and I remember hearing execs fantasizing how, if they could only come up with one or two winners, HBO had a shot at pealing yet another night away from the networks.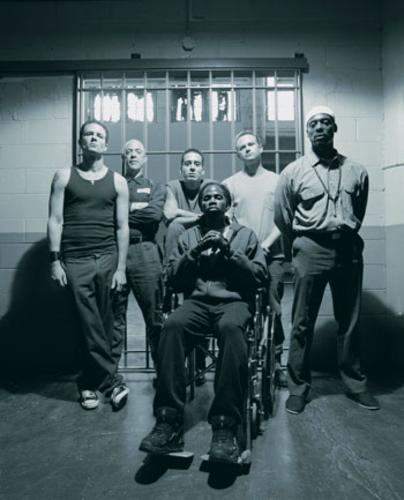 Oz (1997-2003), created by Tom Fontana, wouldn't give HBO that new night, yet it still represents an important step forward for HBO's original series as the channel's first one-hour drama. At the time, Fontana was best known for the highly-acclaimed network series, Homicide: Life on the Street, a gritty, grimly realistic cop drama inspired by journalist David Simon's book-length account of a year with a Baltimore homicide detail. Set in a special wing of a maximum security prison, Oz was even grittier and grimmer than Homicide, its drama routinely incorporating racism, graphic violence, and guy-on-guy rape as the toughest prisoners in the Oswald State Correctional Facility (i.e. "Oz") jockeyed sometimes for positions of power, and, at other times, simply for survival.
As physical and emotionally brutal as Oz often was, the series – which only ran in 10:00 PM and later time slots – had an unexpected appeal to women viewers. As HBO's top scheduler Dave Baldwin once explained to me, with not a little amazement, "Guys just want to see things blow up. Women get into character and story, and Oz is all about character and story." Baldwin also told me that women, used to the continuing story lines of soap operas, also plugged into the season-long story arcs of Oz (although that kind of storytelling has become a regular feature of both cable and network drama programming, at the time Oz debuted, it was still a novelty, with most network dramas composed of stand-alone episodes).
With most of its plays outside of the peak prime time hours, Oz was more of a cult show than a heavy draw, but HBO was also seeing the value in having what some called "niche" shows as part of its original programming mix. Over the course of the '90s, behind such biggies as Dream On, Crypt, and Larry Sanders, HBO had been regularly rolling out a stream of acclaimed shows aimed at those small audiences the major nets couldn't be bothered with, but who were looking for an alternative to mainstream, middle-of-the-road TV programming. Such shows included HBO's spins on talk shows with Dennis Miller Live (1994-2002) and The Chris Rock Show (1997-2002); oddball sketch comedy Mr. Show (1995-98); a series built around a Spinal Tap-like bogus rock duo with Tenacious D (1997-2000); and an attempt at creating a late-night, adult-oriented animated block with Spicy City (1997) from Fritz the Cat (1972) director Ralph Bakshi, and Todd McFarlane's Spawn (1997-99), based on the cult comic book.
While not every show gained traction or even jelled creatively, they were coming more frequently, their creative aims were growing more daring, and the service, in general, seemed to exude a programming confidence promising still bigger and better originals ahead.
Bigger and better was right around the corner with a hat trick of big hits that still define the company's programming identity.
Bill Mesce
Click here to read every article in this series!
In The Beginning Was The Word: Radio
Into The Skies, Junior Birdmen!
 Title Fights: The King of Pay-TV