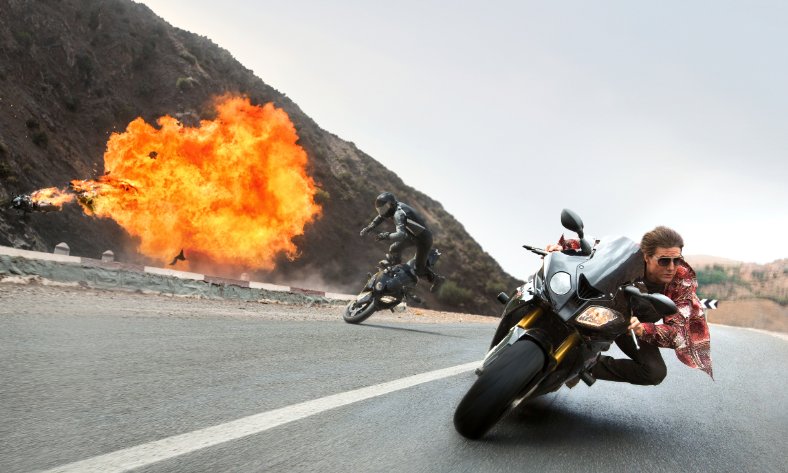 Christopher McQuarrie in talks to return as writer/director for 'Mission: Impossible 6'
Nothing like getting the gang back together after a successful entry. That seems to be the case for the Mission: Impossible franchise, and that includes doing something they've never done before.
Variety reports Christopher McQuarrie, who wrote and directed this year's Mission: Impossible – Rogue Nation, is in talks to return in both capacities for the sixth entry. If McQuarrie agrees, he would be the first director in the franchise to return for a second entry.
On top of bringing McQuarrie back, Variety adds that stand-out Rebecca Ferguson could also be coming back for the next movie after the studio signed her for an option. Paramount is looking to turn around the next MI film after Rogue Nation was such a runaway hit.
Tom Cruise is currently filming the sequel to Jack Reacher, but the plans are to film MI:6 next year with McQuarrie and Ferguson in tow.
Edgar Wright set to write, direct shadows movie for Dreamworks
It seems like Edgar Wright isn't struggling for work after leaving Ant-Man as the British director bags another job with Dreamworks animation.
According to The Wrap, Wright is set to write and direct a movie about shadows for Dreamworks Animation with comedian and author David Walliams. While Dreamworks previously had a shadows-related project in the works, The Wrap reports that Wright's project is different and is currently being developed.
This would be the first animated movie for Wright (he previously co-wrote the script for The Adventures of Tintin with Steven Moffat and Joe Cornish) and would be his follow-up to Baby Driver, which he is prepping now and stars Ansel Elgort, Lily James, Jamie Foxx, Jon Hamm, and Kevin Spacey.
Steve Carell will challenge Emma Stone in 'Battle of the Sexes'
After originally leaving the project, it looks like Emma Stone will be playing Billie Jean King after all.
The Hollywood Reporter reports that Stone has re-joined Battle of the Sexes, which also stars Steve Carell, as Billie JEan King. The film centers around the 1973 "Battle of the Sexes" match between King and Bobby Riggs (Carell).
Stone previously left the project with Brie Larson taking her spot, but left the project in order to take on a role in The Glass Castle. Larson has been generating Oscar buzz for her performance in Room this year with Stone recently appearing in Woody Allen's Irrational Man alongside Joaquin Phoenix.
The film will be directed by Little Miss Sunshine directors Jonathan Dayton and Valerie Faris with Slumdog Millionaire and 127 Hours writer Simon Beaufoy penning the script. Production is set to start in the spring and could generate some awards buzz with the pedigree names attached to the project.
Carell will next be seen in The Big Short alongside Ryan Gosling, Brad Pitt, and Christian Bale while Stone is currently filming La La Land with Gosling.
Alexandra Daddario to run along the beach with The Rock, Zac Efron in 'Baywatch'
After rushing out of Los Angeles as the world came apart, it seems like Alexadra Daddario will be re-joining Dwayne Johnson for more mayhem.
According to Deadline, Daddario is set to play the female lead in the Baywatch remake that will also star Dwayne Johnson and Zac Efron. Daddario has also starred in the Percy Jackson series and in the first season of HBO's True Detective.
She is set to play Summer (played by Nicole Eggert in the series) with CJ (Pamela Anderson originally) being announced soon. The shortlist for Summer included Ashley Benson (Pretty Little Liars, Elvis & Nixon), Nina Dobrev (Vampire Diaries), Alexandra Shipp (Straight Outta Compton, X-Men Apocalypse), Shelley Hennig (Teen Wolf), Bianca Santos (The Duff), and Denyse Tontz (Big Time Rush).
Baywatch will be directed by Horrible Bosses director Seth Gordon with production set to begin in early 2016.
'Memento' to get the remake treatment next
In a land of pointless remakes, this may take the trophy for worst idea.
In a new report by The Hollywood Reporter, it was announced that Memento, the 2000 film directed by Christopher Nolan, would be getting a remake. The company, AMBI Pictures, also has the rights for Cruel Intentions, Donnie Darko, Rush, and Sliding Doors.
According to AMBI Pictures head Monika Bacardi, "Memento is a masterpiece that leaves audiences guessing not just throughout the film, but long after as well, which is a testament to its daring approach. We intend to stay true to Christopher Nolan's vision and deliver a memorable movie that is every bit as edgy, iconic and award-worthy as the original. It's a big responsibility to deliver something that lives up to the mastery of the original, but we are extremely excited and motivated to bring this puzzle back to life and back into the minds of moviegoers."
There is no date for the film, but AMBI is known to announce a project and then not come through with it. There is a planned remake of La Dolce Vita that still has no traction as of late.
Ben Whishaw to sing Queen as Freddie Mercury in new biopic
He may have just helped James Bond with his gadgets, but now Ben Whishaw will be belting out "Bohemian Rhapsody" as the lead singer of Queen.
According to The Tracking Board, Whishaw is tapped to play Freddie Mercury in a biopic on the Queen lead singer. Sony added that The Theory of Everything screenwriter, Anthony McCarten, has been brought on to work on a script for the project.
Sacha Baron Cohen has been working for years to get a Mercury project going, but it never came through and the project was thought to be dead. No word whether this is the same project or if it is a new one, but it seems like the studio is aimed at making it move forward this time.
Whishaw was last seen in Spectre, but will also appear in Ron Howard's In The Heart of the Sea.