The annual Sundance Film Festival, which kicks off this weekend, is one of the most renowned film festivals on the circuit and has been known to launch the careers of many a rising talent. The Festival has changed over the decades from a low-profile venue for small-budget, independent creators outside the Hollywood system to a now media extravaganza for the Hollywood industry. One thing that hasn't changed is the number of great movies which premiere each and every year. It's a true haven for creativity and this year has one of the best line-ups in recent memory. From niche horror to promising indie debuts, the festival is screening 110 feature-length films from 31 countries, so I've decided to narrow it down for everyone. Some movies are already getting buzz, whether for star power, the directors behind the camera or because of an intriguing premise. Here are the movies you should keep an eye out for this year.
Arbitrage
Nicholas Jarecki (the brother of documentarians Andrew and Eugene) makes one hell of a directorial debut with a timely suspense thriller about love, loyalty, and high finance. The all-star cast includes Richard Gere, Susan Sarandon, Brit Marling, Tim Roth, and Nate Parker; Cliff Martinez (Drive, Contagion) is handling the score.
Synopsis: Arbitrage—buying low and selling high—depends on a person's ability to determine the true value of any given market. It's a talent that has made billionaire hedge fund magnate Robert Miller the very portrait of success in American business. But on the eve of his sixtieth birthday, Miller finds himself desperately trying to sell his trading empire to a major bank before the extent of his fraud is discovered. When an unexpected bloody error challenges his perception of what things are worth, Miller finds that his business is not the only thing hanging in the balance.
Bones Brigade: An Autobiography
Stacy Peralta, the director of two of my favourite docs of all time (Dogtown and Z-Boys and Riding Giants) returns to Sundance this year with Bones Brigade: An Autobiography, a continuation of sorts of his first documentary, Dogtown, which had its premiere in Park City in 2001. Peralta's fourth film picks up in the early 1980s, when he and an unlikely group of outsiders formed the titular Bones Brigade, and revitalized skateboarding.
Synopsis: Today skateboarding is omnipresent. Take a walk down any street in any town, and you are destined to see someone riding a skateboard. Well, it wasn't always like that. In the early '80s, skateboarding was fading away until Stacy Peralta brought a profoundly talented group of outsiders together and dubbed them the Bones Brigade. This documentary chronicles their epic rise, using awesome archival footage and moving first-person accounts from Brigade members Steve Caballero, Tommy Guerrero, Tony Hawk, Mike McGill, Lance Mountain, and Rodney Mullen, among others. Through passion, drive, creativity, and a surprising sense of teamwork, they revitalized the sport and influenced generations to come.
The End Of Love
Writer/director/actor Mark Webber, who starred in Scott Pilgrim Vs. The World, steps back behind the camera to follow-up his debut Explicit Ills, which won three awards at SXSW, including the Narrative Feature Audience Award. Here he not only directs but stars as well, alongside his real life two-year-old son in a drama centered on the relationship between a young father and his infant boy who deals with death of the mother. The impressive cast extends to Shannyn Sossamon, Michael Cera, Jason Ritter and Amanda Seyfried.
Synopsis: Mark is a struggling actor stuck between the life he once knew and the one waiting for him. When the mother of his two-year-old son suddenly passes away, Mark is forced to confront his shortcomings. Their fates, now intertwined, hang in the balance as Mark grapples with his ability to grow up. When he meets Lydia, a young mother, he is no longer able to live in the comfort of denial.
Filly Brown
Regional Mexican superstar Jenni Rivera's first film, Filly Brown, is heading to the 2012 Sundance Film Festival as part of the U.S. dramatic competition. Directed by Youssef Delara and Michael D. Olmos, the film follows an aspiring hip-hop artist (Gina Rodriguez) coming to grips with the fact that her mother (Rivera) is in prison. Propelled by an exceptional cast, and fused with a fierce hip-hop score, Filly Brown promises to have everyone talking, especially about the performance from Gina Rodriguez. Seven years ago, Hustle & Flow premiered at Sundance, and ended up winning an Oscar and made a career for director Craig Brewer. Can Philly Brown follow in its footsteps?
Synopsis: "Majo" Tonorio, a.k.a. Filly Brown, is a raw, young Los Angeles hip-hop artist who spits from the heart. When a sleazy record producer offers her a crack at rap stardom, Majo faces some daunting choices. With an incarcerated mother, a record contract could be the ticket out for her struggling family. But taking the deal means selling out her talent and the true friends who helped her to the cusp of success.
Red Lights
I was a huge fan of Rodrigo Cortés' directorial debut, Buried – experimental minimalist genre filmmaking at its best. Cortés' follow-up is a much more ambitious film with a bigger budget, bigger stars (including (Sigourney Weaver, Cilian Murphy, Robert De Niro and Elizabeth Olsen) and an actual plot and premise that expands outside the box.
Synopsis: Two investigators of paranormal hoaxes, the veteran Dr. Margaret Matheson and her young assistant, Tom Buckley, study the most varied metaphysical phenomena with the aim of proving their fraudulent origins. Simon Silver, a legendary blind psychic, reappears after an enigmatic absence of 30 years to become the greatest international challenge to both orthodox science and professional sceptics. Tom starts to develop an intense obsession with Silver, whose magnetism becomes stronger with each new manifestation of inexplicable events. As Tom gets closer to Silver, tension mounts, and his worldview is threatened to its core.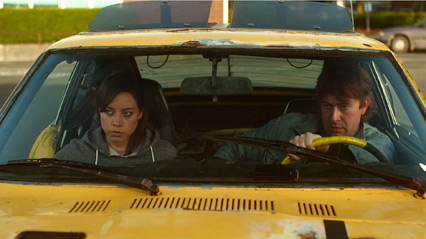 Safety Not Guaranteed
Director, producer, actor and writer Mark Duplass, who is best known for founding the mumblecore aesthetic, has one hell of a big year ahead. His Jeff, Who Lives at Home is on its way to theaters, and he is starring in multiple roles in both film and TV. One of those is Safety Not Guaranteed a madcap romantic comedy tingling with the tantalizing possibility of time travel. With a great cast, including Kristen Bell, Aubrey Plaza and Jeff Garlin, and an amusing premise, Safety Not Guaranteed is one of two very promising time travel films of 2012 (the other being Looper).
Synopsis: Three magazine employees are sent to investigate a personal advertisement placed in the newspaper: guy seeking partner for time travel. They venture to the coast and set up a haphazard surveillance. Darius is recruited as the shill; her dry wit and cynical nature are perfectly suited to trap this enigmatic oddball, Kenneth, and get a good story. But it is she who first sees past the paranoid loner façade to the compelling person inside. The drawback? This still doesn't rule out the possibility that he just might be crazy.
Shut Up and Play the Hits
There are several music related documentaries on the horizon but the one that has everyone talking is Shut Up and Play the Hits, which chronicles the last 48 hours of LCD Soundsystem's existence and features a rare and frank interview with bandleader James Murphy. The film is directed by Dylan Southern and Will Lovelace, whose documentary on the band Blur, No Distance Left to Run, was nominated for a Grammy.
Synopsis: With the release of their debut album in 2005, New York City's LCD Soundsystem changed the face of dance music, combining equal parts punk, soul, and disco. Their devoted fan base steadily grew, bolstered by Grammy nominations and recognition as one of the best live bands in the world. In early 2011, touring to support their first Billboard Top 10 debut, LCD Soundsystem announced its largest gig to date—Madison Square Garden—and that the concert would be their last ever.
This Must Be the Place
40-year-old Italian director Paolo Sorrentino is considered an emerging master of modern cinema. His first English-language film, This Must Be the Place, stars Sean Penn as Cheyenne, a retired goth rocker living in Dublin who goes on a quest to find the man who persecuted his father, an ex-Nazi criminal who is currently a refugee in the United States. Penn's obviously thrown himself into this role with the usual gusto, channelling Robert Smith from The Cure. The original music for the film was written by David Byrne of Talking Heads, and yes. the title of the film is a tribute to the Talking Heads song "This Must Be the Place."
Synopsis: Sean Penn stars as Cheyenne, the bizarre former lead singer of an iconic goth rock band. Though fabulously rich and living in a palatial estate with his wife, Jane—Frances McDormand plays his down-to-earth emotional anchor—Cheyenne is phlegmatic and disconnected. Emotionally distant from his disapproving father since adolescence and facing a midlife crisis, he undertakes to make things right by, of all things, hunting a Nazi who tormented his father in a concentration camp. The resulting detective work and road trip lead the emotionally unmoored Cheyenne to self-realizations, human connections, and a showdown perhaps more surprising than any other in movie lore. At the end of this unpredictable journey, Cheyenne has tracked the Nazi long and far enough that he can finally consider whether deliverance is found in lifestyle, fame, heroism . . . or if, perhaps, it is tucked away somewhere behind the mascara
V/H/S
Bringing together some of the fastest rising genre filmmakers working today, this horror anthology sounds like it could be an amalgam of Creepshow and The X-Files. The diverse and deviously creative minds behind V/H/S include Adam Wingard (You're Next), Glenn McQuaid, Radio Silence, David Bruckner, Joe Swanberg and Ti West (House Of The Devil). As with all horror anthologies we expect some segments to be great and others to disappoint. The good news is most of the filmmaker have the advantage of working together in the past, which could help elevate the film above the average.
Synopsis: When a group of petty criminals is hired by a mysterious party to retrieve a rare piece of found footage from a rundown house in the middle of nowhere, they soon realize that the job isn't going to be as easy as they thought. In the living room, a lifeless body holds court before a hub of old television sets, surrounded by stacks upon stacks of VHS tapes. As they search for the right one, they are treated to a seemingly endless number of horrifying videos, each stranger than the last.
Wrong
French filmmaker Quentin Dupieux, aka electro artist Mr. Oizo, is back after making quite an impression with his psychic-killer-tire movie Rubber back in 2010. He has crafted a follow-up that may seem a little more down-to-earth but promises to be just as bizarre as his previous film. The Sundance catalogue proposes it as another rule-breaking piece of cinema, so those who didn't like Rubber may want to avoid Wrong. Also worth noting: the soundtrack comes courtesy of Dupieux collaborating with French fuzzpop band Tahiti Boy and the Palmtree Family.
Synopsis: Dolph Springer wakes up one morning to realize he has lost the love of his life, his dog, Paul. During his quest to get Paul (and his life) back, Dolph radically changes the lives of others: a pizza-delivering nymphomaniac, a jogging-addict neighbor in search of completeness, an opportunistic French Mexican gardener, and an off-kilter pet detective. In his journey to find Paul, Dolph may lose something even more vital—his mind.