Sundance 2015
Our crew is hard at work covering the Sundance Film Festival. Here is the first batch of review with more to come.
Sundance 2015: 'Sleeping With Other People' inadvertently upstages the power of its intimate moments
Sundance 2015: How the hell did 'Reversal' get into Sundance?
Sundance 2015: 'Dope' is actually pretty dope
Film
'Hard to Be a God' is a masterful tour of a visceral nightmare
Aleksey German's Hard to Be a God is in the running for the most disgusting films I've ever seen. The film produces an enormously affecting, intricately detailed, and thoroughly realized visceral nightmare, one that never wanes or becomes numbing over its three-hour runtime but instead accumulates into an at-times overwhelming journey into a world run by a phantom regime of hedonist ignorance and reactionary cruelty… read the full article.
The multiplex movie theater just minutes from my house was the location of my first real job and some of my first memorable movie-going experiences. I worked during immensely packed midnight screenings of The Dark Knight and saw many childhood favorites there. But over time, I wondered if our movie theater might even still be there in a few years. Picture quality was bad, and so were the movies to the point that I would avoid the place if I could…. read the full article.
In the stunningly well shot opening scene to Michael Mann's directorial debut, Thief, Frank (James Caan) and his partners (among them James Beluhi) in crime (among them James Belushi) crack open an impressive safe using high end, powerful tools like gear heads when they handle wrenches and such when toying with cars. This is what Frank does for a living, stealing money and jewels with the help of massive tools. Such utilities are required for the high stakes, extremely dangerous heists his team performs, but then again, the higher the risks the greater the bounty. Shortly thereafter it becomes known that Frank fancies a pretty waitress at a local diner, Jessie (Tuesday Weld) with whom he would like to start a serious relationship, something she accepts after some considerable convincing on Frank's part… read the full article.
Love can be a many splendid thing…both in triumph and sometimes in tragedy. The emphasis of this sentiment is mainly on the latter as tragedy can be defined in various degrees of despair. Consequently, we have endured all sorts of conflict between lovers in cinema throughout the history of frequenting the movies… read the full article.
Quick…name a favorable film where the landscape is run by (or at least partially include) the demographic of little people as part of the instrumental storyline? C'mon…it should not be that difficult, okay? If you want to mention say Darby O'Gill and the Little People then that would fine. How about Bad Santa or Poltergeist for that matter?… read the full article.
Especially when it comes to big-budget genre blockbusters, hype has become an inseparable part of movie culture. Trailers, teasers and teasers for trailers, along with a steady drip-feed of news, rumors and inside reports, all these are well-handled tools in Hollywood's ever-increasing mastery of getting you primed and ready to slap down your money. Add the fact that more and more Hollywood blockbusters are based off beloved properties or tied to ongoing series and yearly top-ten lists of the most anticipated blockbusters or summer movies of the year can tend to look a bit samey. Oh really, you're excited for Star Wars Episode 7? Well of course you are, it's Star Wars Episode 7. Saying you're excited to see it is like saying you enjoy oxygen or puppydog kisses…. read the full article.
The 87th Academy Award nominations were released on January 15, 2015 representing the excellence in film for the previous year. Naturally there was the standard controversy regarding those films and performances that got unfairly overlooked. Unfortunately, the perceived snubs do happen from year to year so this goes along with the territory. Nevertheless, the lucky selections that do manage to grab Oscar's attention are understandably grateful and psyched to see if the golden statuette will in fact go home with them on the film industry's biggest and most elegant evening…. read the full article.
With a narrative built on repetition – the cyclical nature of seasons, feelings and passions – The Duke of Burgundy's unique structure defies traditional plot and narrative in favour of sensations and experiences. The film most notably has credits in the opening sequence for both the choice fragrance and the lingerie designs, a hint at the precedence luxury and sensuality has within this world. It becomes abundantly clear that breaking the film down in terms of plot betrays its absolute appeal as a masterpiece in haptic vision. ('Haptic' refers to 'touching with your eyes', though how can we similarly evoke the sensation of smell? Film criticism is lacking in this regard. We need an extensive study on the evocation of smell in cinema, just as there are studies on the way filmmakers conjure sound and music in silent cinema.) Written and directed by Peter Strickland, the film is about a lesbian couple engaged in an increasingly escalated S&M relationship, and when they're not role-playing, they are lepidopterists (they study butterflies and moths)…. read the full article.
TV
After six seasons, Parenthood walked off the field with its head held high, its finale a joyous celebration of the series' core principles. Much of the final season has felt like a series of foregone conclusions, character beats and plot points easily foreseeable by fans who know the Bravermans well enough to have a strong sense of how they'll react to their current struggles.
With the beginning of a new year comes the end of Parenthood, the warm family drama that has lived through six seasons on NBC despite average ratings and mild critical attention. Over the course of its run, Parenthood has garnered a reputation fairly unique among today's television landscape: that of a quiet tearjerker. By observing many types of familial relationships, from aunts and nieces to grandparents and grandchildren, the show manages to elicit emotions from overwhelming joy to authentic sorrow. Below are the most affecting moments from each season, and a look at how each of these scenes prove what the show is capable of at its best:
Throughout its two season run, one of the most remarkable things about The Americans has been the show's understatement. Despite the somewhat far-fetched premise (Phillip and Elizabeth just happen to live next to Stan), the series has maintained an impressive level of self-restraint. Much of the show appears to be content to depict the overall tedium of its characters' lives, using the time to develop their relationships with one another and set the stage for the climactic moments that never feel too delayed…. read the full article.
Fortitude flaunts its lofty ambitions before the title even adorns the screen: we're immediately thrown into a forlorn icy tundra, with splashes of black staining the ubiquitous white landscape. The sun, a burning, bulbous orb, hangs in a haze in the sky. A man, clad in arctic gear, carrying a rifle and a camera outfitted with a telescopic lens, traverses the scene. Before any words are spoken, a shrill scream carves through the wind and the man, obviously no novice, pulls off his mask and draws his rifle… read the full article. 
Looking: "Looking Top to Bottom" goes full frontal
Gotham: "Welcome Back, Jim Gordon"
Amazon Pilots
Point of Honor, "Pilot" sets up a potentially compelling series
Down Dog: "Pilot" is a misfire on many levels
Comics
Last summer, Marvel made the stunning announcement that Thor was getting a makeover… into a woman. The internet cried out with reactions ranging from sheer horror to total female empowerment. No one was really certain how the change was going to happen until the comics hit shelves in September. Since then, three issues have published–with issue number four due this Wednesday–and the newest origin story has been revealed…. read the full article.
It's come to my attention as of late that I tend to write mostly negative reviews. Despite the general consensus, I don't find much in writing bad things about comics. I'd prefer to read good books over bad ones any day.  It's just that I read more things from DC Comics than other publishing companies and that's come back to bit me. Usually there's at least one book in the New 52 that I think keeps the entire line not deserving of complete condemnation, but now that Earth 2 has been turned into drek, that's changed. Pretty much nothing from DC interests me anymore, save for Jeff Parker's run on Aquaman for being one of the few books that has a sense of fun to it.  But right now, I want to take a break from bad mouthing comics. I honestly want to like titles. It's just most of them are either coming out at later points, or I'm unable to read them right now. And since it's only a month into the 2015, meaning there's at least a broad sense of what's to come for the next year. I'm going to list my top ten anticipated titles of 2015. These can range from books that have been out for a while, to ones with only a few issues, to series which haven't even hit the shelves yet. The important thing is that I'm excited to see where they'll go this year… read the full article.
Sherlock has Moriarty. Batman has the Joker. The Doctor and the Master. Judge Dredd and Death. Many of the great literary heroes find themselves locked into an endless dance of wits and violence against the antitheses of their beliefs. Today, to coincide with the release of Judge Dredd Classics: Judge Death we will delve into the relationship of these two mortal enemies… read the full article.
Games
A Little Gamey: Why "Cinematic" Should Be a Dirty Word in Video Games
AAA (triple A) video games and the people who play them need to get over their embarrassing and childish insecurity. If I spent as much time getting in shape as gaming culture spends defending their chosen art form from mostly imagined assaults, I would have the abs of Ryan Reynolds. "We're art too!" everyone cries, as if accusations otherwise are even worth entertaining, and as if the only qualifier for validity and purpose is recognition by artistic and critical bodies that weren't built to accommodate you in the first place. "Cinematic" gets thrown around every day, and less than an adjective it's become a badge of pride that means "we're like movies too, we deserve your respect", but no one seems to stop and think whether a game that's like a movie is even a good thing. .. read the full article. 
Artificial Intelligence has long been the cause of fascination and fear. In order to make AI a little less worrisome, the Association for the Advancement of Artificial Intelligence (AAAI) created a video competition to document exciting artificial intelligence advances in research, education, and application. Which is really just a fancy way of saying they told computer scientists to put their research on hold, and find amusing uses for AI technology. Never let it be said that scientists don't know how to have fun…. read the full article.
'Angry Video Game Nerd: The Movie' is sadly disappointing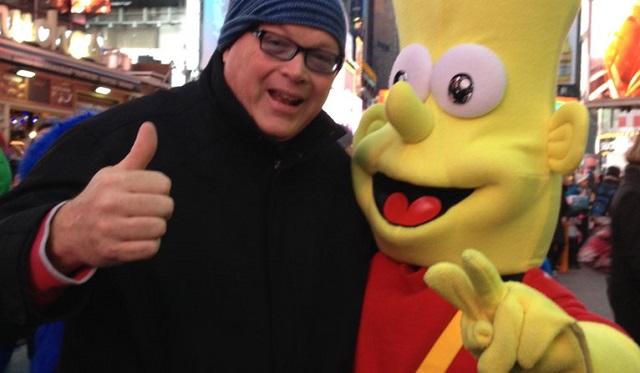 Podcasts
The Televerse #178- Interview with Simpsons writer Michael Price
2015's onslaught of television is fully under way, giving us plenty to discuss this week on the podcast. First we look at a full week in comedy, including the debut of The Nightly Show with Larry Wilmore, the disappointingly brief return of Venture Bros., and the finale of Galavant. Then it's time to talk genre and drama, including previews of Pivot's new murder mystery series Fortitude and The Americans s3 and looks at the Backstrom pilot and Justified premiere. And did we mention we caught up with The 100? In a week? 'Cause we did. Finally, in lieu of the DVD Shelf, Kate speaks with Emmy, Writers Guild, and Annie Award winner, and current writer forThe Simpsons, Michael Price about his career as a television writer on series like What About Joan?, The PJs, and that '90s classic, Homeboys in Outer Space.