When renowned film critic, Roger Ebert, died last year, there was a huge outpouring of appreciation from film lovers around the world.  He was an ambassador for cinema who introduced audiences to countless films they might have otherwise missed.  Ebert and his long-time partner, Gene Siskel, started reviewing movies on their Chicago PBS affiliate back in 1975.  The program was called Sneak Previews, and it laid the foundation for their hugely successful syndicated show, Siskel & Ebert, that was to follow a decade later… read the full article. 
I had a plan, I swear. In the days leading up to November 28th, a friend and I had negotiated the logistics of seeing a movie at one of the theatres listed on J.J.'s announcement—what to do if they're sold out, what to do if for some reason we picked a movie that had no trailer in front of it (Plan B: sneak into the beginning of a different movie after ours ended)—all in the name of the purity of experiencing the Star Wars: The Force Awakens trailer as it was meant to be experienced. As a spectacle, as a special event, as a collective moment of excitement and anticipation… read the full article. 
Childhood Memories: 'Revenge of the Nerds' and Covert Influence 
The Babadook contains DNA from such disparate influences as Roman Polanski, Joe Dante, Georges Méliès, German expressionism, and Roald Dahl, but Australian writer-director Jennifer Kent's very impressive feature debut is an intensely emotional horror film that feels completely unique in the current film landscape. It's an allegory on grief, love, loss, and maternal trauma, and is as consistently unnerving as many a Polanski movie (and is the scariest thing with Roald Dahl blood since Tim Burton'sCharlie and the Chocolate Factory)… read the full article.
David Fincher's most recent film, Gone Girl, has been the subject of intense criticism and analysis over the past few weeks. From claims of intense misogyny to stringent defenses on the other side, the film has evoked the most emotional critical response of any film in recent memory. However, my favourite part of the debate concerning Gone Girl has been the auteurist debate: which famous director is Fincher emulating in Gone Girl. Nick Pinkerton from Film Comment argues that Fincher is a derivative hack like Otto Preminger. Christy Lemire on the program What the Flick and Forrest Wickman from Slate make the obvious argument for Hitchcock. Richard Kelly (writer/director of Donnie Darko) draws the comparison to Stanley Kubrick and Eyes Wide Shut. Matt Achity, also on What the Flick!, argues against the Hitchcock comparison to draw a link to Brian De Palma. Even here on the Sound on Sight podcast, our very own Simon Howell brought my favourite comparison by saying that Gone Girl is Fincher's Verhoeven film… read the article. 
Anyone who's even remotely familiar with Quebec cinema will know his name: Xavier Dolan is currently Canada's chief prestige cinematic export, for better or worse, and Simon, Kate Rennebohm, and guest Justine Smith are here to debate the merits of his latest and most celebrated feature, Mommy, for which he shared the Best Director prize at Cannes with none other than Jean-Luc Godard. For those more interested in the security state and/or documentaries in general, Simon and Kate finally get a chance to wax on about Laura Poitras' incendiary Citizenfour, starring everyone's favorite NSA whistleblower, Edward Snowden… listen to the show. 
At a time when Sleepy Hollow is running the risk of losing its vital energy thanks to an excess of plots and characters, it's important to remember the things everyone loved about the show in the first place. It captured the attention of viewers thanks to the ludicrous concept of a Headless Horseman wielding automatic weapons, and delivered that early and often. It moved past initial absurdity by capitalizing on the chemistry between its two leads and building a dynamic that everyone wanted to root for. And it managed to remain a consistently solid supernatural drama, deploying well-executed monsters and suspense… read the full article. 
For a performer whose career was so short-lived, Janis Joplin has been hugely influential and such a largely contentious figure in the world of music. We've recently gotten a Jimi Hendrix biopic, along with music stories about everyone from the short lived (Ian Curtis, Jim Morrison, John Lennon) to the long-living legends (Johnny Cash, Ray Charles), so it makes sense that a Joplin biopic is long past due… read the full article. 
The mid season finale of Gotham hits the ground running, with Bruce and Cat being pursued by deadly assassins, which sets in motion a tour through the shadowy spots of Gotham for Bruce, with Cat as his guide. It's always fun to see the kids together, and this episode puts them on Cat's turf, which is vital for Bruce to see firsthand if he's to grow into the hero Gotham needs. The reason they are on the run is because Gordon screwed up by putting his faith in Harvey Dent, who wants what Gordon wants, which is to take down the bad elements of Gotham. But Dent is willing to risk anything or anyone to reach that goal… read the full article. 
This week we discuss the darkest chapter of The Hunger Games saga – a departure in many ways from the action/adventure of the previous two installments. Mockingjay's themes of rebellion and civil war are inherently cinematic ones, and like the novel, the screenplay conjoins smart political subtext, war and mass-media satire to weave a network of secret alliances and mass conspiracies. The decision to split the final Hunger Games novel into a pair of movies means we get to record an additional podcast dedicated to the popular franchise. Is this a good thing? We'll let you know… listen to the podcast. 
With great power comes great responsibility. We've heard it time and time again, and while many superhero stories emphasize the burden of that responsibility, "Power Outage" takes a very different approach. This week, Barry admits that he loves being The Flash. We see it early on in the episode, when Barry uses his super-speed to cut through a lineup at a coffee shop, than later on when he laughs in the face of a would-be mugger. The joy he takes in these opening scenes is what makes watching The Flash so much fun… read the full article.  
The Odyssey is one of the oldest and best stories of Western civilization and has been adapted, retold, and expanded upon many times over the years in mediums as disparate as film (O Brother Where Art Thou), modernist novel (Ulysses), and even epic poem (The Odyssey: A Modern Sequel). In Ody-C #1, Matt Fraction and Christian Ward move the wanderings of wily Odysseus to space while performing gender swaps on the majority of the characters… read the full article.
Ray Bradbury is a name embedded in the great mythos of science fiction literature. His ability to work through the wide ranges of literature, from novels to short stories, would bring Bradbury to adapt some of his work into the realm of comic books. As explained in the introduction forShadow Show, Bradbury was fascinated with the fantastic at a very young age, burrowing from his obsession with the newspaper Sunday comics likeBuck Rogers in the 25th Century… read the full article.
The Great British Bake Off – Modernising the Baking World
It is a show that has sparked a number of copycats around the world, not to mention other reality contest shows in the UK.  However, due to its simple premise, funny hosts, great judges and the odd sexual innuendo, it is now one of the most popular TV shows on UK television. In the four years that it has been on the air, what is so appealing about The Great British Bake Off? Before the programme began airing, baking was considered an old-fashioned hobby that was more commonly shared and perfected by older generations of women… read the full article.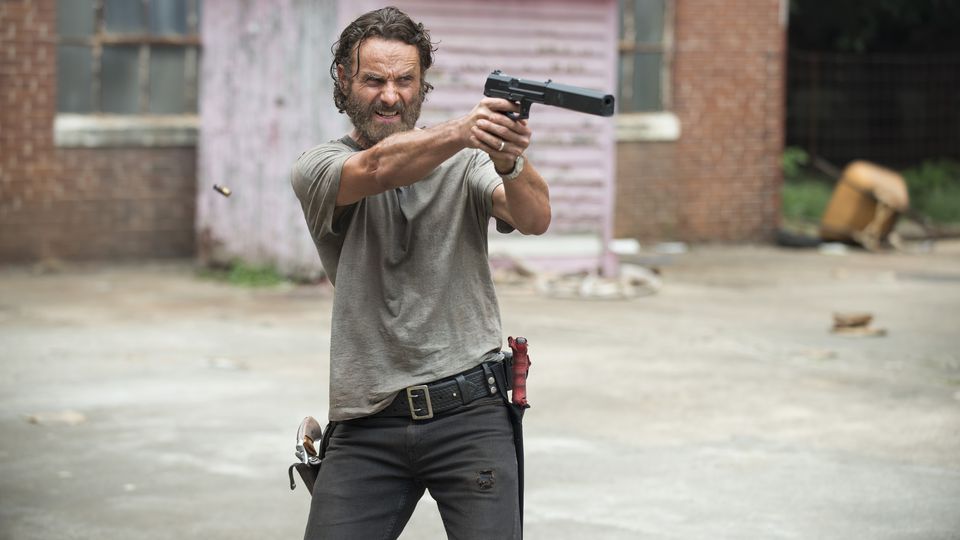 Only one episode of The Walking Dead remains until the winter break. Season 5 has been a hell of a ride and "Crossed" cuts back and forth between four groups in four different locations in order to set up the big midseason-finale. There are many characters to follow and many story lines to discuss. Here to help us review the episode is Kevin Yeoman from ScreenRant.com… listen to the show. 
Only one episode of The Walking Dead remains until the winter break. Season 5 has been a hell of a ride, complete with cannibals, the death of Bob, and a community held prisoners by a bunch of renegade cops. "Crossed" cuts back and forth between four groups in four different locations in order to set up the big midseason-finale. While it seems a wise decision to check back in with Rick and Michonne after several episodes spent elsewhere, the episode feels like a filler/transitional episode… read the full article. 
Nintendo's smash hit (too easy?) Super Smash Bros is back after a long break of almost two months. Yes, I am playfully referring to the recent release of Super Smash Bros for 3DS, but make no mistake; Super Smash Bros Wii U is a very different game from its 3DS counterpart… read the full article. 
There are no doors. No sheets of reinforced steel to slam shut and keep out the wandering animatronics. This time there are not four killer robots, there are ten. The number of cameras has multiplied. As if all of that wasn't worrisome enough, now there is a music box that must be constantly wound. Luckily there are two ways you can attempt to prevent death and dismemberment: a flashlight, and an old Freddy Fazbear head… read the full article.