We here at Sound On Sight believe horror transcends explicit gore, jump scares or supernatural content, which is why you'll soon notice our list ranges from independent art films to psychological thrillers to parodies, satire and more. Surprisingly, vampires lead the pack this year, along with found footage flicks, but there are a few comedies, one remake and even some strange love stories as well… read the full article.
As is usually the case, 2014 held a rich vein of great nonfiction cinema … that went mostly untapped by any wide audiences. But just because documentaries are perpetually under-served by popular (and even critical) attention doesn't mean that we should neglect these films. This is a celebration of all the best docs to come out this year… read the full article.
2014 has been yet another fantastic year for television, one that continued the nichification of the medium, with highly specific and underrepresented voices breaking through in every genre. There was a comedy explosion, particularly on cable, with dozens of new series presenting confident first seasons and several returning shows reaching new heights. The dramas didn't disappoint either, with visionary creators bringing new life to familiar settings and taking greater risks with their returning series, deepening their worlds. Throughout the year, directors and cinematographers brought lush visuals, composers pushed the auditory envelope, and an astonishing number of actors gave fantastic, memorable performances. More than a few shows delivered spectacle on a weekly basis, while others went small, deriving incredible power out of stillness and self-reflection. Some series swept the audience up, week in and week out, and others built subtly, only showing their hand in their season's final episodes. There truly was too much great television this year for any one person to see it all (95 separate series were nominated by our contributors!), so limiting the discussion to 10 or even 20 series would be ridiculous. Instead, here is Sound on Sight's list of the 30 best series of what has been another wonderful year for television… see the full list.
We asked some of our writers what their top 5 games of 2014 were, and have since compiled them into five parts. They will be released every two days, starting today, with each writers top 5 counting down through successive entries…. read the full article.
Though American Horror Story: Freak Show has been deprived of its most horror-like element for over a month now, the violence has picked up considerably over the past two weeks, and the latest episode, "Tupperware Party Massacre," showcases its most graphic bloodletting yet. Despite Dandy seeming like a less conventional horror villain than the psychotic clown, he's made up for his less than terrifying appearance with a seemingly insatiable bloodlust… read the full article.
"The Saint of Last Resorts" breaks the mold of a lot of previous Constantine episodes, which partially set up the character of John Constantine (Matt Ryan) as some kind of cynical, occult superhero instead of the hell-bound bastard and con-man from the Hellblazer comics. Instead of having Constantine initiate the case of the week with Zed's (Angelica Celaya) scrying, this time he gets a call from his magic tutor, old flame, and member of the Newcastle crew Anne-Marie (Claire van der Boom), who has seen a baby snatched by a supernatural force. Because this is personal, John leaves Zed on her own at the House of Mystery, giving her first solo plotline to show how she has grown as a character, along with revealing a new threat other than the vague Rising Darkness… read the full article.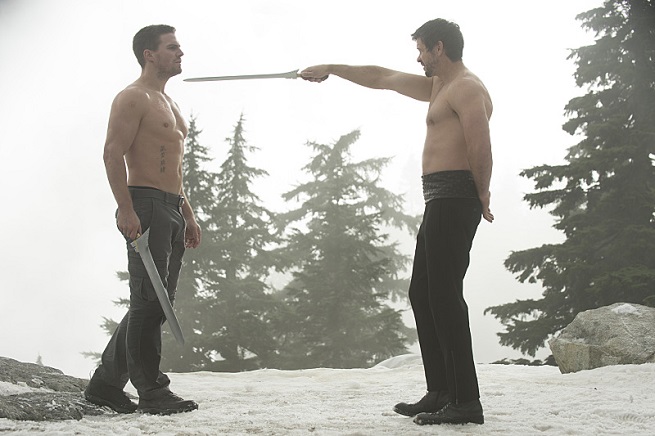 With the League of Assassins arriving in Starling City and demanding answers about Sara's murder, it's clear from the beginning that "The Climb" is ready to kick season three of Arrow into high gear – and it couldn't happen soon enough: the lack of delay tactics in "The Climb" breaks the show wide open, allowing characters the freedom to both emote and take action, the latter of which has been sorely missing at points in recent weeks. Ending with a series-shaking moment, "The Climb" ends an up-and-down start to Arrow's third season on an exciting high note… read the full article.
In "The Man in the Yellow Suit", written by Todd and Aaron Helbing, Barry Allen finally meets the man responsible for his mother's murder. This week, Dr. Wells and Joe West team up with Eddie Thawne and his task force to use the tachyon device provided by Mercury Labs as bait to lure Reverse-Flash into a trap at STAR Labs. Meanwhile Caitlin's preseumed-dead fiance, Ronnie Raymond (Robbie Amell) emerges from hiding and Barry finally tells Iris how he feels about her. All this and more in what is a jam packed  Christmas Special… read the full article.
If Rock and Roll and guitar rock is a dying breed, then the rock-doc is certainly becoming a quaint relic. How many documentaries can you make in which an aging rock star waxes poetic about a type of music from 40 years earlier? How much nostalgia, history and navel gazing can you pack into the genre before even the documentaries move on to being nostalgic about boy bands, Taylor Swift and EDM… read the full article.
After last issue's Sabrina is the bride of Cthulhu cosmic horror tale, Afterlife with Archie returns the focus to the remaining Riverdale survivors, especially Betty. The story is told from her POV, and writer Roberto Aguirre-Sicasa truly humanizes the various members of the Archie gang with its honesty, vulnerability, and unexpected non-soapiness. There is horror too, but the red-haired, a little too close for siblings Jason and Cheryl Blossom might be scarier than "Jugdead" and the other zombies. Feelings of fear, sadness, and romance are all conveyed by artist Francesco Francavilla's mastery of light and shadow, color, and using a different amount of lines for each scene… read the full article. 
Series are heading to their midseason finales, giving us fewer shows to discuss this week on the podcast. First we look at some of the comedies, including another holiday Bob's Burgers and the return of Jane the Virgin. Then Kate talks some genre, including the much-hyped The Flash/Arrow crossover, and we round out the week with the dramas, including the pilot of Girlfriends' Guide to Divorce and the controversial penultimate episode of The Newsroom. Afterward, Dennis Perkins of The AV Club joins us for our first of a series of discussions about the groundbreaking and critically acclaimed The Wire… listen to the podcast.