The Montreal International Documentary Festival (Rencontres internationales du documentaire de Montréal – RIDM) starts on Wednesday, November 7th. My Dad worked for the National Film Board for 30 years in Montreal, Ottawa, Fredericton, Halifax and Montreal (again). Growing up as an NFB brat was to grow up breathing the language of cinema and to believe passionately that the divisions between animation, documentary, short films and features were artificial – like pretending that vanilla ice cream and chocolate ice cream weren't different flavours, but completely different species of frozen milk-based desserts.
That said, there is no denying that the general public believes in that artificial division and that documentary film suffers from it, so RIDM, Québec's only documentary film festival is our best local opportunity to show some love to documentaries. I would urge anyone in Montreal to take a chance and check out some of the films that RIDM is programming.
I already wrote a preview of the highly anticipated Room 237  – combined with a review of The Shining, the film that Room 237 puts under the microscope. And Justine Smith wrote a preview of her most anticipated films playing at RIDM. Spoiler, she picked: The Tundra Book: A Tale of Vukvukai, The Little Rock, Detropia, Leviathan, La Vierge, Les Coptes et Moi, Room 237, and The Search for Emak Bakia
I thought that I would do something a little bit different. One of the nice things about Sound on Sight is that we have writers from all over the world (admittedly strongest in Canada, the United States and the United Kingdom), attending some of the biggest film festivals on the circuit. Many of the biggest films that RIDM will be presenting are films that Sound on Sight writers have already seen and reported on. So here is a handy guide to those films.
"The biggest problem with Leviathan is that there is very little natural beauty on display. The fishing boat is basically a factory unto itself, and the audience is receiving an extensive tour of that factory, but the rest of the world around it gets short shrift." -Mark Young from his review from NYFF
"Apichatpong "Joe" Weerasethakul returns, albeit in truncated form. After taking the world by storm in the most eccentric, amorphous manner possible with the stunningly cryptic Uncle Boonmee Who Can Recall His Past Lives, the director returns with a medium-length outing. Love him or dismiss him, but no one is making anything remotely like him, and even if it's only for a hair under an hour, Joe's universe is always a distinct one to immerse oneself in." -Simon Howell from his TIFF preview
"Peter Mettler is one of the most legendary filmmakers Toronto has ever produced; the experimental documentarian and cinematographer's first feature in a decade looks to be as ambitious and challenging as anything he's done, tackling nothing less than human perception of time. This should challenge, if not outright dwarf, Terrence Malick's To the Wonder for metaphysical derring-do." -Simon Howell from his TIFF preview
"The juvenile antics of the collective are as inefficient as the film-making, and when the film should catch fire with the arrest of the one of the squats ringleaders the film has almost no incendiary fervour, as it limps to a final conclusion which is neither interesting or engaging." -John McEntee from his BFI London Film Fest review
Wonder Women! The Untold Story of American Superheroines
"We might not get the Wonder Woman TV series we were promised, but the good news is, we will instead get a more ambitious look at the famous superhero." -Kyle Reese from his South by Southwest preview
*****
As Justine mentioned in her preview, to mark the 15th anniversary of the RIDM, the organizers asked 15 "arts and culture personalities" to each program a documentary that "changed their lives". In theory, this should give you a pantheon list and for the most part it is.
Lou Reed's choice in particular, the 1992 film Visions of Light: The Art of Cinematography, is a Hall of Fame documentary that (as Roger Ebert pointed out in his review) lives up to Jean-Luc Godard's dictum, "The only way to criticize a movie is to make another movie." Visions of Light is not just a great documentary, it is a great piece of film criticism, or if you prefer film scholarship, exploring not just who the great cinematographers were and are, but why they were important, how they practiced their craft and why what they did/do is important. Highly recommended.
Reel Injun, on the other hand, chosen by Alanis Obomsawin, is an important story well told, but on this list of 15 it stands out like a sore thumb. Particularly since it is a film that plays frequently on APTN and the Documentary network. The story of how Indians were portrayed by Hollywood is an important story, but the way Reel Injun tackles the subject in in no way ground-breaking. If they ever build the Documentary Hall of Fame, you will be able to find Reel Injun in annex of the Hall of the Quite Good Really.
The other films in this selection include:
Megacities by Michael Glawogger, chosen by Gael Garcia Bernal
Une délégation de très haut niveau by Philippe Dutilleul, chosen by Philippe Falardeau
Man with a Movie Camera by Dziga Vertov, chosen by Gilles Jacob
Blow Job by Andy Warhol and Crossroads by Bruce Conner, chosen by Laura Poitras
Hôtel Terminus by Marcel Ophüls, chosen by Frederick Wiseman
Arcana by Cristobal Vicente, chosen by Patricio Guzmán
La France qui se lève tôt by Hugo Chesnard, chosen by Agnès Varda
The Colors of the Prism, the Mechanics of Time by Jacqueline Caux, chosen by Philip Glass
Alefbay-e afghan aka Afghan Alphabet by Mohsen Makhmalbaf, chosen by Samira Makhmalbaf
El cielo gira aka The Sky Turns by Mercedes Álvarez, chosen by Jia Zhang-ke
Reminiscences of a Journey to Lithuania by Jonas Mekas, chosen by Naomi Kawase
It could certainly be argued that some of the other choices are a little self-serving (Philip Glass picking a documentary that is about minimalism, Samira Makhmalbaf picking a documentary by her Dad) and Agnès Varda's choice is delightfully and dementedly wonky, but at least Glass and Makhmalbaf's choices are for great films and Varda has a life-time pass from any cinephile. If she picked a film, you probably need to see it.
My favourite film choice is Jia Zhang-ke's choice of El cielo gira. You can almost imagine some Chinese mandarin turning purple with rage when he finds out that Zhang-ke could program any documentary at RIDM and chose a Spanish film instead of a Chinese one. It's a brave choice that embraces cinema as a universal, unifying force.
The math majors out there may have noticed that I only listed 13 of the choices. That's because the last two films are huge favourites of the Sound on Sight staff…
Capturing the Friedmans by Andrew Jarecki, chosen by Barbet Schroeder
"On the surface, the Friedmans were a typical 1980s American family until on one Thanksgiving Day, when that happy façade came to a crashing halt. After the local police discovered the dad had engaged in the buying and selling of child pornography, they questioned several students who attended his computer classes in the Friedman basement. What they revealed would shock the community, and destroy the Friedman family forever. A Crime story and family drama that is intricately woven together with more twists and turns than your usual thriller and is without a doubt one of the most astonishing and disturbing documentaries in American film history. See it to believe it, even if you won't really know what or who to believe by the end." –Ricky D from his explanation why Capturing the Friedman's made the Sound of Sight list of best films of the 90's.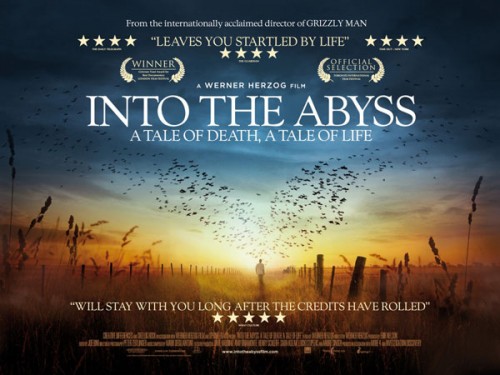 Into the Abyss by Werner Herzog, chosen by Kim Longinotto
"Each and every one of Into the Abyss's hastily captured moments of grace, sadness and pain are informed by Herzog's approach as both a documentarian and as a relater of human stories." -Simon Howell from his Telluride review
"Less about death row than the general, fascinating fallout of a staggeringly senseless triple homicide." -Julian from his TIFF review
"On the surface, it could be perfectly easy for someone to look at someone who's committed this type of crime and feel no remorse at the thought of their imminent death. But Herzog has never been one to settle for the black-and-white." -William Bitterman from his review
"When Herzog excavates it's different than what we might consider typical documentary excavation. As his [Cave of Forgotten Dreams] less explored the history and unknown and focused instead on a metaphysical rumination of time, his Into the Abyss forgoes a classically styled investigatory piece in favor of a dissection of human nature, emptiness and, again, time." -Neal Dhand from his review
In addition to 4 (!) reviews on our site, a sure sign that the SoS staff have become obsessed about a film, Into the Abyss was reviewed on a Sound on Sight podcast, made our 2011 list of 10 Best Documentaries and our 2011 list of 30 Best Films.
In other words, if you haven't seen it yet, Into the Abyss comes HIGHLY recommended.
*****
One final note about RIDM. Because it is a specialty festival, it programs deeper cuts than festivals that simply feature documentaries. This preview by its very nature only features the best known films from their selection. You could probably pick a screening at random and be impressed, but if that's is too scary a prospect, I suggest careful study of the RIDM web-site.
Bon Cinema!