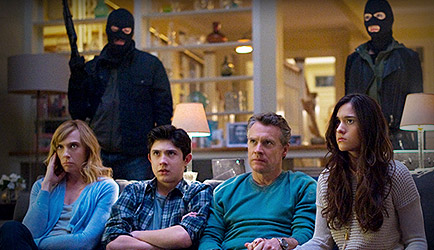 CBS has released promotional videos for six of its eight new series premiering next season. The network opted to post behind-the-scenes videos rather than traditional trailers. Included is The Millers with Will Arnett, Mom with Anna Faris, The Crazy Ones with Robin Williams and Hostages with Toni Collette. Cam Gigandet's legal drama Reckless and the ensemble comedy Friends with Better Live are not included. Watch the clips below. Enjoy!
Hostages
This heavily serialized thriller is set for a limited run of 15 episodes. Starring Toni Collette, Dylan McDermott and Tate Donovan, Hostages has been compared in spirit to an extended arc from Person of Interest. Like Showtime's Homeland, the new series is based on an Israeli series by Alon Aranya, Omri Givon and Rotem Shamir. The show's plot centers on a family wrapped up in a mass political conspiracy that is poised to change their lives forever.
Hostages airs mondays at 10 p.m. ET.
Intelligence
Backed by network veteran Marg Helgenberger, Intelligence stars Lost alum, Josh Holloway as a former Navy SEAL and dedicated intelligence officer who has a microchip implanted in his brain, that allows him to access the entire electromagnetic spectrum. Based on an unpublished book Dissident by John Dixon, Intelligence is centred at U.S. Cyber Command and focuses on a unit that has been created around the agent with a very special gift.
Intelligence airs Mondays at 10 p.m. ET, starting in Feb. 2014.
We Are Men
Next on the list is the single-camera comedy We Are Men, which will air Mondays at 8:30 after How I Met Your Mother this fall. Tony Shalhoub, Kal Penn, Jerry O'Connell, and Chris Smith star as four single guys who live in the same apartment complex. Carter (Chris Smith), the youngest and most recent tenant, moves in after being ditched at the altar mid-ceremony, and is now eager to re-enter the dating scene and get on with his life. His friends are Frank Russo (Tony Shalhoub), a successful middle-aged clothing manufacturer and four-time divorcée who still fancies himself a ladies man; Gil Bartis (Kal Penn), a small business owner who doesn't have much luck with women; and Stuart Strickland (Jerry O'Connell), a playboy in the process of a messy second divorce.
Mom 
From prolific producer Chuck Lorre (The Big Bang Theory and Two and a Half Men) comes the the new CBS comedy Mom, starring Anna Faris in her first regular TV gig as a single mom who's been sober for four months. Working as a waitress, her newfound sobriety is tested when Bonnie (Allison Janney), her estranged mom reenters her life to turn Christy's world upside down. The cast is rounded out by Nate Corddry (Studio 60 on the Sunset Strip), French Stewart (3rd Rock From the Sun), Sadie Calvano (Melissa & Joey), Blake Garrett Rosenthal (New Girl), Matt Jones (Breaking Bad) and Spencer Daniels (Star Trek).
Mom airs Mondays at 9:30 p.m. this fall.
The Millers
From creator Greg Garcia, comes The Millers, a comedy starring Will Arnett as Nathan Miller, a recently divorced local news reporter who is looking forward to living the single life again. That is, until his parents, Carol and Tom (Margo Martindale and Beau Bridges) decide to derail his plans as a bachelor.
The Crazy Ones
The Crazy Ones marks Robin Williams' return to series TV, his first regular gig since Mork & Mindy in the late 1970s. The new CBS series stars Williams as an advertising genius with the biggest clients in the world. The Crazy Ones also stars Sarah Michelle Gellar and James Wolk, Hamish.