On the "Zero Day" of this year's San Diego Comic Con, Image held a mini-Expo and announced a dozen new titles from creators, both popular or relatively unknown , including some new to writing or drawing for Image. These comics show that Image is the place where creators can roam free and write and draw crazy and interesting stories in a variety of genres. This freedom paid off big time as Brian K. Vaughan and Fiona Staples' sci-fi love story Saga continued to dominate the Eisner Awards. Part of Image's commercial success is due to Robert Kirkman, especially The Walking Dead and the popular AMC television series it spawned. San Diego Comic Con showed that his comics have cross-media potential even before the first trade of a comic he is writing comes out.
1. Robert Kirkman's Outcast Gets a Pilot
Robert Kirkman and Paul Azaceta's Outcast #1 sold out its initial print run, and according to comichron.com, was the 11th best selling comic of June 2014 with 71,788 copies. This was more than any Avengers, X-Men, or Green Lantern title. It is about Kyle Barnes, a man, who has suffered from demon possession from a young age. Robert Kirkman wrote a spec pilot, and announced shortly before The Walking Dead panel at San Diego Comic Con that it has been picked up by Cinemax. Perhaps Outcast will do what The Walking Dead did for zombies and bring demons into the broader cultural zeitgeist. (Even though demonic creatures can be found on Supernatural and the upcoming Constantine TV show.)
2. Kurt Busiek Returns to Image
Image Comics welcomes yet another legendary creator to its ranks as Kurt Busiek of Marvels and Astro City fame announced the upcoming Tooth and Claw series with web comic artist Ben Dewey (The Tragedy) and Eisner winning colorist Jordie Bellaire. Tooth and Claw is a high fantasy series for mature readers with gods, monsters, and strange new worlds in the tradition of Jack Kirby and Lord of the Rings. There are also tribes of anthropomorphic talking animals. Arguably, Busiek's best work Astro City started out at Image, and hopefully he can find the same success when Tooth and Claw #1 comes out in November.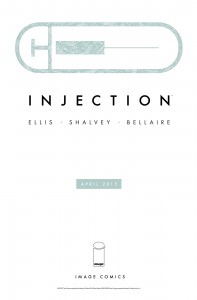 3. Moon Knight Creative Team Reunites at Image
One thing that Image likes to do is reunite great creative teams of Marvel or DC books to do creator owned books for them. For example, Captain America's Ed Brubaker and Steve Epting are currently doing the period espionage comic Velvet, and Young Avengers' Kieron Gillen and Jamie McKelvie are working on The Wicked + the Divine. Another recent hit for Marvel was the Moon Knight relaunch written by Warren Ellis with art by Declan Shalvey and colors by Jordie Bellaire. Their six issue run revitalized the character visually with a series of one and done stories. And they will be working together on the Image series Injection, a high concept sci-fi book that is about "five crazy people" that "poisoned the 21st century". Details are vague, but Injection seems to involve some kind of futuristic medicine and a chaotic, dystopian 21st century. Warren Ellis has done this kind of bleeding edge science fiction on his current Image series Trees as well as his Marvel work, like Astonishing X-Men and Iron Man Extremis. And he will be joined by Declan Shalvey and Jordie Bellaire who made Moon Knight one of the most beautiful Marvel books. Injection will come out in April 2015.
4. Rick Remender and Sean Murphy to Collaborate at Image

Rick Remender and Sean Murphy are two A-level comics talents that have unfortunately never worked together. Remender has had somewhat of a creative renaissance at Image with his multiverse spanning series Black Science and his high school for assassins set in the 1980s series Deadly Class. Murphy recently worked on The Wake, a nautical sci-fi series spanning from the beginning to the end of the universe with monsters, dystopian governments, and frolicking dolphins caught in between. Their new series for Image is called Tokyo Ghost, a dystopian story set in New Los Angeles that is influenced by Blade Runner, Akira, Judge Dredd, Mad Max, and other great 1980s science fiction. The comic will look at the proliferation and obsession with entertainment and technology in this future society. Tokyo Ghost will be colored by Matt Hollingsworth, who worked on The Wake with Sean Murphy, and will come out in the summer of 2015.
5. Al Simmons Returns and a New Creative Team Debuts in Spawn #250
Spawn is currently the highest numbered non-Archie title, and it is still being written by its creator and Image co-founder Todd McFarlane. However, since 2008, the Hellspawn has been Jim Downing, a man who doesn't remember much about his past. This will change in Spawn #250 when the original Hellspawn, Al Simmons returns in a special one-off issue that will act as an epilogue to McFarlane's run on Spawn. McFarlane announced that Spawn #250 will debut a new artist and writer and be a good jumping on point for new readers. (The writer is rumored to be Grant Morrison.) Spawn back issues will start to be available on Comixology so that these new readers can learn more about the backstory of Al Simmons, the Hellspawn, and more. With a new feature film in the works, McFarlane and company are trying hard as possible to get Spawn back in the limelight.