My first Sundance is in the books and it went much too quickly.  As evidenced by the fact I'm still publishing reviews, my eyes were obviously bigger than my stomach.  Still, I'd rather see too many movies than too few, and there were some hidden gems in this year's lineup.  Here are my Top Five films, along with a couple of honorable mentions because I'm feeling generous (and sleep deprived).
Honorable Mentions:
The Stanford Prison Experiment
Written by Tim Talbott
Directed by Kyle Patrick Alvarez
This ultra-glossy dramatization of the infamous Zimbardo psychology experiment didn't disappoint.  Tense throughout, Alvarez uses an impressive supporting cast and impeccable editing to create a palpable sense of impending doom.  It's a frightening peek into the human psyche executed with relentless precision.  With the right marketing, this film could make a serious awards run next autumn.
The Forbidden Room
Written by Guy Maddin, Evan Johnson, John Ashbery & Kim Morgan
Directed by Guy Maddin & Evan Johnson
Without question, more people walked out of The Forbidden Room than any other screening I attended.  What were they expecting from a Guy Maddin film… something easy?  Watching the Canadian auteur's tribute to the lost films of the silent era is like being trapped inside of a spiral.  Lush and crackling vignettes bind together with the most tenuous of threads, only to be reconstructed later in new and exciting ways.  Where else can you see the hallucinatory visions of a dead man's mustache hair?  This is a tough watch, but I guarantee you've never seen anything like it.
My Top 5 Films from Sundance 2015:
5. Drunk Stoned Brilliant Dead: The Story of the National Lampoon
Written by Mark Monroe & Douglas Tirola
Directed by Douglas Tirola
Easily the funniest film I saw at Sundance, Douglas Tirola's documentary put the other comedy features to shame.  This chronicle of the seminal comedy troupe's rise and fall is irretrievably vulgar and endlessly entertaining.  People who grew up on '80s comedy films need to check out the wild stuff their creators were doing back in the '70s.  Nothing was taboo or off limits for the Lampoon, and Tirola isn't afraid to dig up the worst of the dirt.  Archival comics and rare film footage, along with interviews from surviving alumni, take us inside a circle of artists that redefined a medium and shaped if for decades to come.  Read my full review here.
4. James White
Directed by Josh Mond
Josh Mond's feature-length debut took the Audience Choice Award in the Next program, and its young star, Christopher Abbott, seems poised to break out.  This film gets so much right.  It understands the unquiet mind; always eager to have the most crayons, but never certain which picture to color first.  Mond also knows what the end of a life looks like, and he cherishes those precious moments when a soul breaks through the cancer and we recognize the person that we love.  It's a fearless performance from Abbott, who never shrinks from the intimate camera pointed right in his face.  James White packs plenty of truth into its lean running time, making it the most intense film I saw at Sundance this year.  Read my full review here.
3. Girlhood
Written & Directed by Céline Sciamma
This French film went largely unnoticed at Sundance, perhaps because it played at Toronto International Film Festival in 2014, but that doesn't lessen its visceral punch.  Laced with urgency and desperation, Sciamma's Girlhood shows us a young woman taking control of her life, even if she has no clue which direction to go.  Many of the characters in this film won't escape their crippling surroundings, but we can still thrill to the discovery of inner strength and self-confidence.  It's a celebration of youthful resilience, and gives voice to the virtues of feminine strength.  This was the most uplifting film I saw at Sundance this year.  Read my full review here.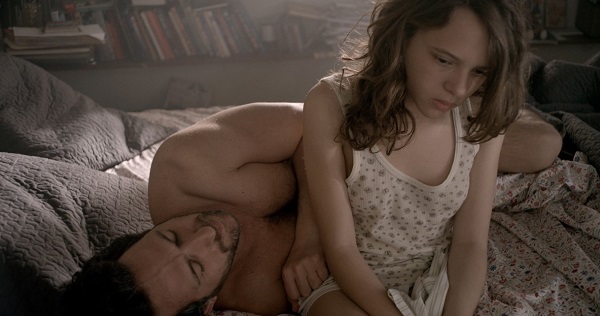 2. Princess
Written & Directed by Tali Shalom-Ezer
From Israel comes the most emotionally grueling film I saw at Sundance this year, Princess.  This is one of those cinematic experiences that makes you stronger, even if you die a little bit inside as you're watching.  Shalom-Ezer reminds us that girls all over the world endure sexual abuse at the hands of trusted friends and family, and then shows us what they do to survive the pain.  She portrays all of the dissociation and confusion in a hauntingly beautiful way that never feels exploitative.  This important film uncovers layers of depth and creativity where most filmmakers find only empty melodrama.  Read my full review here.
1. H.
Written & Directed by Rania Attieh & Daniel Garcia
Part Greek tragedy, part sci-fi mindbender, H. is a baffling film that challenges you with its disturbing imagery and disorienting structure.  The filmmakers abandon conventional storytelling in favor of a purely cinematic experience, taking a photograph of reality that never quite comes into focus.  Two women, one older and one young, struggle to find purpose in their lives through maternal bonds that have no basis in reality.  If that sounds confusing, wait until you see the forest filled with partially-hatched babies, or the enormous head floating down the Hudson River.  Visual and auditory landscapes provide an immersive puzzle for you to solve while never resorting to pretentious flourishes.  Simply put, H. is this year's Under the Skin and I loved every deranged minute of it.  Read my full review here.