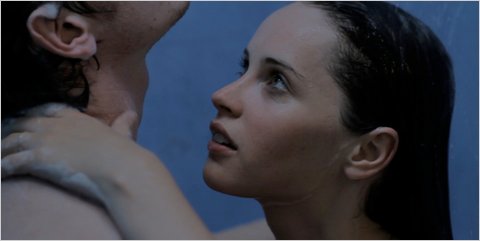 Sundance Deals: Paramount Nabs "Like Crazy"; Lionsgate answers "Margin Call"
It looks like we have our first big splash of the Sundance Film Festival.  According to indieWIRE, Paramount Pictures has picked up the distribution rights to the much buzzed about film Like Crazy starring Anton Yelchin, Felicity Jones, and certain Academy Award nominee Jennifer Lawrence.  The film, which centers on relationship between an American student (Yelchin) and a British student (Jones), has received rave reviews from pretty much everyone at the festival.  A huge bidding war started up after the film screened between The Weinstein Company and Summit Entertainment, but Paramount eventually picked up the worldwide rights to the film for $4 million.  The film was directed by Drake Doremus whose film Douchebag screened at Sundance last year.
Lionsgate, along with their indie arm Roadside Attractions purchased Margin Call, a dramatic thriller depicting the implosion of an investment firm during the 2008 financial collapse.  According to the THR's Risky Business blog, the film sold for just under $2 million and is expected to get a release this year.  The film was written and directed by J.C. Chandor and has an all star cast featuring Kevin Spacey, Jeremy Irons, Demi Moore, Paul Bettany, Zachary Quinto (also a producer on the film), and Stanley Tucci.  This is Chandor's directorial debut.