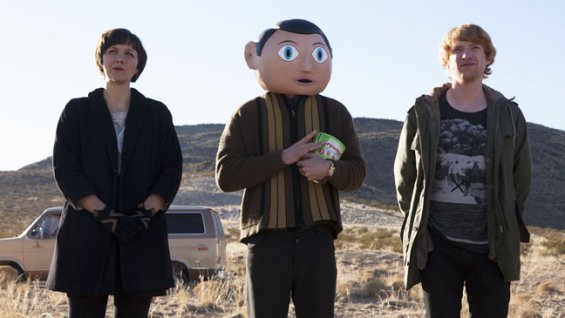 Frank
Written by Jon Ronson and Peter Straughan
Directed  by Lenny Abrahamson
UK and Ireland, 2014
It is hard to judge a character by their looks, but it becomes a much more difficult task when the person in question is hiding their face under a huge papier-mâché head.  This is the challenge Hollywood star Michael Fassbender has posed in his latest role in comedy Frank.
Small-town guy Jon (Domhnall Gleeson) dreams of being a musician and escaping his humdrum life. After a chance encounter with a progressive band, the Soronprfbs, he is immediately appointed as their new keyboard player after the previous player attempts suicide, and is whisked away to Ireland to work on the band's new album. Although clashing with his hostile bandmates, Jon finds himself inspired by the enigmatic lead singer Frank (Fassbender), a musical genus who hides under a huge head.  However, Jon's once-in-a-lifetime experience only goes to prove that the road to super stardom is not easy at all.
Co-written by Jon Ronson, Frank is loosely based on his personal experiences from working as a keyboard player for the late comedian and musician Frank Sidebottom in the 1980's.  For non-English audiences, it may seem like an intimidating face to look at but for people in the UK, the huge face of Frank Sidebottom has a somewhat cult significance in popular culture.  This subsequently gives the film a platform of sorts, lifting a seemingly ordinary story about a troubled band into something more.
Fassbender is a hoot as Frank, playing off as cool one moment and evoking sparks of laughter the next.  It is amazing how much he conveys without as much of a facial expression, showcasing an entertaining physical performance. Maggie Gyllenhaal is cruelly snide as the aggressive theremin player Clara, who feels threatened by Jon and his hopes to bring the band into mainstream music.  Gleeson plays Jon with a puppy-eyed innocence, which quickly sours during his journey with the band.
Amidst the musical weirdness behind the Soronprfbs's sound lies a hostility that separates Jon and the rest of the band.  He wants to become the next big thing while they want to change the world with their music.  It's an almost misguided road to the top, but you cannot help but wonder whether this shy, ever-faithful kid is actually capable of bringing the creative talent that the band strives for.  It is actually a simply enjoyable film to watch and despite its off-beat attitude, it has a lot of whimsical charm.  The screenplay captures the reclusive oddity of the band, as well as Jon's bewilderment of his musical 'career', bringing an oddly entertaining experience behind the surreality.
Frank is an odd delight, quashing what music should sound like while retaining the simple fascination behind the eponymous star, with Fassbender bringing a thoroughly entertaining performance from under one huge head.
— Katie Wong