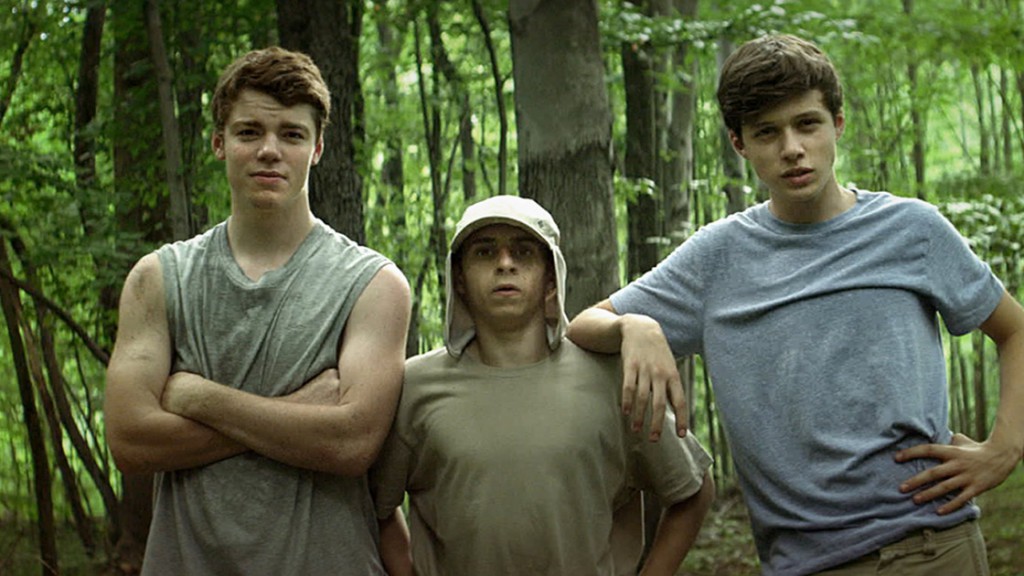 The Kings of Summer empathises with two high school kids, Joe (Nick Robinson) and Patrick (Gabriel Basso), who trade their exasperated suburban living for an unconventional residency deep in the forest. With the assistance of affable yet creepy tag-along Biaggio (Moises Arias), the boys transform scraps of wood into an implausibly well-structured new home for fostering their abrupt adult life. As you'd expect, harsh lessons are soon learned.
Jordan Vogt-Roberts' debut feature doesn't establish anything especially new or bold as far as coming-of-age tales are concerned. Its thematic arc is well-trodden, concluding on general sentiments of self-sacrifice and the inherent worth of family and friendship, however fractured.
As a tale of misunderstood children escaping from their parents, Kings smacks of Moonrise Kingdom, except without any of the flavoursome aesthetic that lent that film its warmth. The odd glimpse of a liberating nature is savoured here in brief, slow motion breezes, relishing the boys' newfound independence in the wild. Devoid of any further stylistic innovation befitting its clearly creative and precocious characters, the film thusly places its chips on its young casts' performances, which bring to life a humorous script hitting twice as much as it misses.
As ever, there's an obligatory "dim" character – think Phoebe from Friends or Abed from Community – to act as a foil against the sardonic adolescent that propels the narrative. The dim role here is fulfilled by Biaggio, resembling a miniature Joe Pesci and trusted to blurt out irrelevant statements at any given interval, funny or not. These sorts of characters are reliable for providing comic relief, but they more or less write themselves – encouraging lazy screenwriting – and the zany humour they embody is handily shrugged off by the more level-headed characters. When Heather's (Alison Brie) boyfriend Colin (Eugene Cordero) bursts into a serenade in a random and misjudged comic tangent, Nick Offerman's stern father figure Frank – the funniest character by far – replies, "I may never get an erection again." In a script inhabited by wacky caricatures, you need characters like this to anchor proceedings before they lift off for good.
Caricatures don't come quite as wacky as Peaches – or so she'd like you to believe. Described appropriately narcissistically as "a gift to myself", rock opera Peaches Does Herself sees the electroclash pop star gallavant around on stage in a 70 minute endurance run through her "greatest hits", complete with prosthetic genitals and exploding breasts.
The funniest moment occurs in the opening credits before the stage show has even begun. Standing in front of a red curtain, a suited German man spends five minutes eloquently specifying the contents of the night's imminent entertainment. His speech is parsed by phrases such as "Diddle My Skittle" and "Fuck the Pain Away". Not knee-slapping hilarious, you'll agree, but as a depiction of repressed grotesquery permeating a civil exterior it's a considerably steady humour when compared to the full-blown horror show that ensues.
Peaches hasn't deviated from her usual shtick, centring on gender role subversion and generally indecent behaviour aimed at scoring incensed reactions. Song renditions included "AA XXX", "Lovertits" and "Two Guys (for Every Girl)". By the time of the interval, in which a gravelly trans-cowgirl crooned her love of penis, we had quite got the picture, thank you very much. In 2013, nobody is as shocked at one juvenile joke extended across 70 minutes as they are bored. It's not offensive; just loud, monotonous and tiresome.
I recently watched Wim Wenders' magnificent Pina and marvelled at the camera's involvement in and around complexly choreographed setups. Therefore, Peaches Does Herself was perhaps unjustly held to a higher scrutiny. The dancing here is expectedly less masterful though not without its merit, although the camerawork is amateur and uncomfortably framed, suited more to a pedestrian rock concert recording than the piece of cinema this feature half-purports to be. Stylistic glimpses surface through an infrequent interplay between light and song; in one scene, dancers appear to control the music by placing their hands over electric blue light rays. Still, subtract these small tokens and you're left with an overlong, hollow provocation.
Upstream Color garnered a stronger reaction, albeit one comprising frustrated minds endeavouring to piece together a deceptively opaque narrative. Shane Carruth spent eight years in the wilderness – allegedly trying and failing to get funding for sci-fi pet project A Topiary – and has returned with what, at first glance, appears to be the antithesis to 2004's Primer. Whereas that film chugged at a pace at once procedural, detached and clinical in presentation, Upstream Color is instead steeped in an emotional pathos, radiated in gleaming digital.
Many viewers would be hard-pressed to articulate what exactly the film's about. At its most fundamental level, it observes the connection between two individuals – Carruth's Jeff and Amy Seimetz' Kris – whose equivalent histories give rise to a kindred spirituality, not only with each other but with a life form existing at a physical and biological distance.
It's important not to get too bogged down in specifics. The misconception first implied by Primer is Carruth's intention for the viewer to 'figure it out'; what's considerably more vital is an earnest engagement with the thematic heft of the text, one that will bypass any predisposition to mentally construct a linear pattern.
The film won a Special Jury Prize for its Sound Design at Sundance, and it's not hard to see why. In the first act, preliminary proceedings are punctuated by crisp diegetic crunches within each shot. These punchy, visceral building blocks distinguish Carruth's aesthetic from Malick's, whose oneiric aesthetic Upstream Color has been heavily compared with. The aural invention builds upon Jeff's and Kris' first encounter, a chance event – laughable in any other film – strewn with deep ambience courtesy of Carruth himself. Here and throughout, the soundtrack complements a cognitive and emotional state without any bold underlining.
Carruth stated that he wanted to create something that wouldn't have been possible in any other medium. At least he gets it. Touchy Feely, the new film by Lynn Shelton, hinges itself on a succession of literal plot points. What results is a tapestry of ham-fisted human connections that, when held up against Carruth's uniquely cinematic portrayal, don't wholly convince.
It's a waste of a perfectly able cast; Rosmarie DeWitt plays Abby, a massage therapist whose sudden and unexplained aversion to bodily contact is contrasted by the miraculous healing powers of her brother and dentist Paul (Josh Pais). The bill is rounded out by Ellen Page as Jenny, Paul's long-suffering daughter, plus Scoot McNairy and Ron Livingston as Abby's partner and ex, respectively.
With little to no visual invention to compensate for its heavy-handedness, Touchy Feely banks instead on plot machinations to deliver its players from A to B. Its intriguing narrative concepts ironically fail to probe further than skin-deep. Everyone's eventual moment of clarity is validated by emotional guitar music stereotypical of an indie film populated by the aggrieved middle class. If only Peaches had lent these characters a sense of humour.
Sundance London 2013 takes place at the o2, Greenwich, London from 25-28 April.
Ed Doyle