Genre movie fans take notice! The seventh annual Great Digital Film Festival (GDFF) is just days away. Running February 5 – 11, the festival showcases over 40 years' worth of pop culture's most beloved fantasy, sci-fi, and cult movies. GDFF is Canada's only coast-to-coast film festival, one that ensures fans all across the country have an opportunity to join in on the nation-wide celebration of genre movies.
The GDFF is the perfect opportunity for audiences to re-experience some of their favorite movies on the silver screen and catch up on cinematic classics they may have missed. This year's GDFF also features several films in their first ever digitally formatted theatrical runs.
Whether you prefer gritty throwbacks like Dirty Harry and Runaway Train or modern sci-fi classics such as Looper and Inception, this year's GDFF features films that will appeal to every type of genre movie lover. In addition to the festival's fantastic selection of films, forward-thinking moviegoers can plan ahead for some thematic double features:
On Saturday, February 6, audiences can spend several hours reveling in the twisted-beauty of George Miller's apocalyptic wasteland tales as Mad Max 2: The Road Warrior and 2015's action movie masterpiece, Mad Max: Fury Road, play back-to-back.
On Sunday, February 7, moviegoers can take in a wonderful fantasy concoction that is two parts Muppets and one part David Bowie, when The Dark Crystal and Labyrinth play back-to-back. Later on, in the evening, fans can watch Ricardo Montalbán and Benedict Cumberbatch both take on the role of Star Trek's most infamous villain, Khan, as Star Trek 2: Wrath of Khan and Star Trek: Into Darkness screen back-to-back.
On Tuesday, February 9, anyone hankering for some 80's nostalgia can catch two of the decade's best action-comedies as Beverly Hills Cop and Ghostbusters play back-to-back.
All of the aforementioned films are can't-lose choices, however, the following three movies are my most anticipated.
The Thing (1982)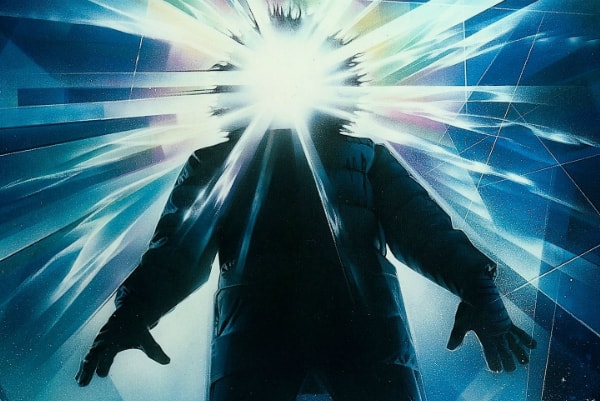 If you call yourself a horror-movie fan and you haven't seen John Carpenter's The Thing, there are only two legitimate reasons: you are the time-strapped leader of a democratic nation, or you train three-legged kittens to walk without limps; if neither of those are the case then you will have your horror-movie fan cred revoked. THE THING IS INARGUABLY A HORROR MOVIE MASTERPIECE. The events of the film take place in an isolated northern outpost, where the oppressive weight of arctic desolation hangs over The Thing's cast of characters like a guillotine. Factor in a shape-shifting creature that can look and act like anyone, and the film's dread quotient goes up one-thousand percent. The Thing also features some of the greatest practical effects that you will ever see, not to mention memorable performances by Kurt Russell and Keith David. You owe it to yourself to see this movie as it's meant to be seen — up on the big screen.
From Dusk Till Dawn (1996)
Sometimes mashing two incredible things together results in something objectively better. In this sense, From Dusk Till Dawn is like the chocolate peanut butter cup of genre movies: crime-thrillers replacing chocolate and bloody horror movies in place of the gooey peanut butter center. I never get tired of talking about From Dusk Till Dawn. The movie strikes a perfect balance between riffing on exploit movies and grindhouse cinema while also paying said genres mucho-respect. In the 20 years since From Dusk Till Dawn's release, it's shocking how few movies have followed in its genre-melding foot steps. From Dusk Till Dawn oozes style as voraciously as the film's ghouls ooze puss and bile. Jam-packed with action, comedy, and horror elements, From Dusk Till Dawn is precisely the type of flick best enjoyed in a theatre filled with psyched up genre movie fans.
Serenity (2005)
Long before he directed Marvel movies, Joss Whedon poured his soul into a charming little sci-fi/western television series called Firefly. At the time, audiences couldn't wrap their minds around the show's genre-bending concept. As a result, Firefly didn't survive its first season. Fortunately for sci-fi fans, a lack of popularity does not equate to a lack of quality. With the aid of a small yet devout following (calling themselves Browncoats), Whedon pulled off a small miracle; he secured studio backing which allowed him to wrap the series up as a movie titled Serenity. Once again, Whedon used the Firefly universe to share some of the the most imaginative, gripping, and heartfelt sci-fi storytelling ever put to the silver screen, yet again, Firefly failed to find a large audience. Serenity is a talented writer and director's farewell kiss to an old lover, a film that is equal parts exhilaration and heart-break. I hate living in a world devoid of multiple Firefly seasons and Serenity sequels. I'll take solace in knowing that for a couple of hours during GDFF, the film and its characters will live on.
For a list of showtimes, or to purchase tickets, visit http://cineplex.com/Events/DigitalFilmFest
Here's a list of participating theatres:
British Columbia
Cineplex Cinemas Langley
Scotiabank Theatre Vancouver
SilverCity Victoria Cinemas
Alberta
Scotiabank Theatre Chinook (Calgary, AB)
Scotiabank Theatres Edmonton
Saskatchewan
Cineplex Cinemas Regina
Scotiabank Theatre Saskatoon and VIP
Manitoba
SilverCity Polo Park Cinemas (Winnipeg, MB)
Ontario
SilverCity Ancaster Cinemas
SilverCity Newmarket Cinemas
Galaxy Cinemas Guelph
Cineplex Odeon Gardiners Road Cinemas (Kingston, ON)
SilverCity London Cinemas
Cineplex Cinemas Courtney Park (Mississauga, ON)
Cineplex Cinemas Ottawa
Cineplex Cinemas Scarborough
SilverCity Sudbury Cinemas
SilverCity Thunder Bay Cinemas
Scotiabank Theatre Toronto
Galaxy Cinemas Waterloo
Cineplex Odeon Devonshire Mall Cinemas (Windsor, ON)
Quebec
Cinéma Banque Scotia Montreal
Atlantic
Scotiabank Theatre St. John's
Cineplex Cinemas Park Lane (Halifax, NS)
Cineplex Cinemas Trinity Drive (Moncton, NB)