The clear difficulty of identifying the definitive movie musicals is separating the musical itself from the film version. The Phantom of the Opera is, without a doubt, a top ten definitive stage musical. Movie musical? Not so much. Drawing a clear line between the two is what makes this list a little trickier. For this segment of the list, we have musicals that have no stage version, two Best Picture winners, a Palme d'Or winner, and a few musicals that may stretch the term a bit.
20. Jailhouse Rock (1957)
Directed by Richard Thorpe
Signature Song: "Jailhouse Rock" (http://youtu.be/HZJTgYzf9FE)
It brought "The King" to the big screen for the first time in a film about a man in prison who learns to express himself through music, rather than violence (he's in prison for manslaughter). Vince (Elvis Presley) accidentally kills a drunk in a bar fight and ends up cellmates with a former country singer named Hunk (Mickey Shaughnessy). When Hunk convinces Vince to perform in a prison show (which, for some reason, is broadcast on national television), he impresses and starts to received fan mail at the prison. Upon his release, he finds himself a star, signing with a label and going through all the typical pains of stardom; he becomes self-centered, takes advantage of his friends, and mistreats his girl, only to eventually wise up. Presley wasn't a talented actor by any means, but his involvement with a major motion picture was big enough to sell tickets, grossing $4 million. It's not an original story and it's not a terribly well executed film, but Presley's title song performance remains one of the big-ticket images associated with the King of Rock n' Roll, easily his best moment in film and one of his greatest performance moments of all time.
19. Funny Girl (1968)
Directed by William Wyler
Signature Song: "Don't Rain On My Parade" (http://youtu.be/aO3Gb5mkwTc)
Barbra. Funny Girl is the movie that brought "Hello, gorgeous" to the world also managed to win Barbra Streisand an Oscar for Best Actress (she tied with Katharine Hepburn for The Lion in Winter). Fanny Brice (Streisand) is reflecting on her courtship and marriage with husband Nick (Omar Sharif) as she awaits his return from prison. The movie is told chronologically, jumping from meeting to meeting between the two, eventually leading to Nick winning her over, leading her to leave her job with the Ziegfield Follies, despite her great success. She eventually returns to the show, only to see Nick fail at various business ventures, eventually imprisoned for embezzlement. Funny Girl is truly a film about female empowerment; Fanny is an independent woman above all, despite her love and adoration for Nick. As Fanny sings in "People" (the other major song from the film), it's surprising how strong people who need to depend on others can be. In the end, it's Fanny's strength and determination that get her through, never settling for a life of simplicity and boredom. As Fanny clearly states in the signature song above, no amount of negativity and pain is going to stop her from success and happiness. And what an anthem it is.
18. An American in Paris (1951)
Directed by Vincente Minnelli
Signature Song: "I Got Rhythm" (http://youtu.be/LvglHa_P9BA)
Inspired by the 1928 orchestra composition by George Gershwin, An American in Paris is more a ballet than a real musical, despite plenty of singing (it does end with a ballet, after all). Jerry Mulligan (Gene Kelly) now lives in Paris, having left the United States to try and make it as a painter. The movie is inter-cut with dance sequences choreographed by Kelly, but maintains a story that flows along with Gershwin's composition. Unlike movie musicals that are centered around an album or one artist's work, there is no definitive story that needs to be followed, since there are no lyrics to force a storyline, in most cases; it doesn't need to shoehorn plot into the proceedings. An American in Paris took home the Best Picture Oscar, thanks in part to some of the more romanticized cinematography captured on film (for which it also won the Oscar). It's not difficult to make Paris look like the place where the world goes to fall in love. But to do it repeatedly in the same film, and from different perspectives, is a task. From scene to scene, number to number, Paris still still feels like the same place, but the lighting and camera angles change the way the dance numbers are approached and personify that city of love in very different ways. It's never looked better.
17. Meet Me in St. Louis (1944)
Directed by Vincente Minnelli
Signature Song: "The Trolley Song" (http://youtu.be/5BvOLSmzbhI)
Back to back Minnelli films, and for good reason. Set in St. Louis, Missouri at the beginning of the 1904 World's Fair, the Smith family is middle-class and happy, even with four daughters and a son. The second oldest daughter, Esther (Judy Garland), is in love with a boy in town named John (Tom Drake), which sets the majority of the plot in motion. Disappointingly, this is accompanied by news that Esther's father must leave for New York and that he will most likely have to move the family there. Romances, courtships, and love abound for the sisters and brother, all against the Midwestern backdrop. Meet Me in St. Louis was the second-highest-grossing film of 1944, behind the Best Picture winner (and musical, though not on this list), Going My Way. More importantly, the film was the debut of some standards that Garland would eventually become known for: "The Boy Next Door," "Have Yourself a Merry Little Christmas," and the signature song, "The Trolley Song." "Christmas" may very well have been the more important song, but equally famous versions of it have been recorded since. "The Trolley Song" will always be Garland, her expressions chronically full of excitement and wonder. Meet Me in St. Louis is a breath of fresh air that refuses to wallow in self-pity – it's a saccharine, unbridled joy expedition.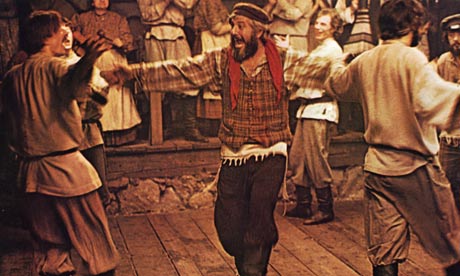 16. Fiddler on the Roof (1971)
Directed by Norman Jewison
Signature Song: "If I Were a Rich Man" (http://youtu.be/UeSSxIJGkPQ)
Adapted from the 1964 Broadway musical, Fiddler on the Roof centers on Tevye (Topol), a Jewish milkman living in Russia before the revolution. While the world around him changes and anti-Semitism becomes a growing problem, he finds it a struggle to marry off his daughters, by tradition using the local matchmaker to find them husbands for him to approve or disapprove. And so it goes – his oldest daughter is arranged to be married, but she wants to marry another and he agrees. His second daughter wants to marry a revolutionary and he has to accept their marriage. When his third daughter wishes to marry a non-Jew, he cannot give his blessing in good conscience. This all happens in context of growing fear in the household, while this title fiddler accompanies the actions with his instrument of choice. The center of all of this is the performance from Topol, originally playing the part of Tevye in London to great acclaim, despite subsequent memoirs claiming he was a difficult performer to work with. Regardless, the vim and vigor with which Topol portrayed Tevye is what sells the film and the musical numbers, specifically the brilliant performance of the signature song above, for which he was nominated for an Oscar (he lost to Gene Hackman for The French Connection).
15. All That Jazz (1979)
Directed by Bob Fosse
Signature Song:"Bye Bye Life" (http://youtu.be/bNcl0L7eJUY)
What's a list of musicals without a Bob Fosse entry? The Palme d'Or winner at the 1980 Cannes Film Festival, All That Jazz is a semi-autobiographical fever dream from Fosse, inserting Roy Scheider as his stand-in, starring as Joe Gideon. Gideon is overworked and on the verge of a nervous breakdown, struggling to finish his Broadway show while editing a film he has directed. His steady diet of drugs, sex, and Vivaldi is catching up to him, while his girlfriend, ex-wife, and daughter try to keep him afloat. Without the musical aspect to the movie, this is an incredibly depressing film. It's still an uncomfortable sit in places, but the flare of Fosse's imagination and the brilliance of Scheider's performance gives the film a wholly entertaining value. It's an uproarious story that borders on the insanity of Fellini's 8 1/2, though with a much more tied together story. It garnered mixed reviews, but not without recognition of the spectacle and the unapologetic self-indulgent approach to the film. Death is imminent throughout the entire film, but it still feels like an ego trip, littered with jazz hands and detailed choreography. Of all the films on this list, All That Jazz may be the most difficult to choose a signature song, since the numbers all meld together in memory. For the first time, it's not a song or performance that jumps into my mind immediately when I remember this film (so I chose the finale – Ben Vereen!). It's Scheider and the energy it took to deliver that powerhouse performance.
14. Amadeus (1984)
Directed by Milos Forman
Signature Song: "Non più andrai march" from "The Marriage of Figaro" (http://youtu.be/P5n0pkNpDWY)
Maybe this one is more difficult from which to choose a signature song. The 1984 Best Picture winner is also the least lyric-filled entry on the list (though it does include a number of operatic performances). Amadeus is the fictional retelling of the life and career of the great Wolfgang Amadeus Mozart (Tom Hulce) through the eyes of his nemesis Antonio Salieri (F. Murray Abraham), who is relaying the story to a priest during a "confession" at the end of his life. The film centers on Salieri's conflicted perspective on Mozart: he is appalled that such a young, immature man would have a gift that he strives to possess, yet he is enamored by the brilliance of his art. Salieri masks his contempt for Mozart and works side-by-side with him through much of the film, a witness to the brilliance, all the while stewing in his own comparative lack of talent. In the end, the film is about one man's warped relationship with God and himself. Salieri cannot understand why such a petulant child would be blessed with such divine talent while he, a student of music for his entire life, is left in the squalor of mediocrity. The signature song above puts that in the forefront, as Mozart takes a march Salieri has written and transforms it effortlessly into a song which would eventually appear in one of his most famous operas. And that laugh…oh, that laugh.
13. Nashville (1975)
Directed by Robert Altman
Signature Song: "I'm Easy" (http://youtu.be/Fj6bvtylW9I)
Robert Altman + musical doesn't sound like it should work, but if this list was going strictly by quality, Nashville would probably be in the top five. Written by Joan Tewkesbury, the film is structured like most Altman films: multiple characters (24, to be exact), multiple storylines, and for this one, a lot of musical numbers. The film spans 5 days in the title city, all in preparation for the political rally for a candidate the audience never actually sees. Within the crowded list of characters, we meet a number of women who are enamored with womanizing country musician Tom (Keith Carradine), though he finds himself taken with gospel singer Linnea (Lily Tomlin), a married woman. Meanwhile, Linnea's husband Del (Ned Beatty) is planning a fundraiser for the campaign, popular singer Barbara Jean (Ronee Blakely) is trying to recover after an accident, and everybody comes together and fades apart over the 5-day period. To detail the rest of the characters is useless, as this is an Altman film and there's only so much space. But the through-lines that hold the film together are the musical numbers, the relationships that get so clearly defined, and the ongoing theme of a desire to be seen. For some, that means financial success. For some, it's political recognition. For others, that means love. And for some, it's just a wink and a warm bed. Few musical numbers have the impact the signature performance above does (it won the Best Original Song Oscar), as Tom sings to a crowd, eyes fixed on Linnea as she sits in the back of the room. In a crowded town of wanna-be singers and ruthless fans, that one-to-one connection is hard to find, even if for only one night.
12. A Star is Born (1954)
Directed by George Cukor
Signature Song: "The Man That Got Away" (http://youtu.be/UzyPMRo8ZUQ)
Forget the atrocious 1976 remake and, while respectable, glaze over the 1937 original. The most complete picture of a the titular star's rise to fame came in 1954, directed by George Cukor and starring the great Judy Garland. Garland was 4 years removed from her previous work under contract for MGM, leading to this film largely being pitched as her return to stardom. After Esther (Garland) saves a fading idol named Norman (James Mason) from embarrassment, he becomes a mentor of sorts to her, pushing her to chase her dream to perform professionally. A series of missed communications and mistakes later, Norman and Esther are separated, eventually coming together after Esther's studio has changed her name to "Vicki Lester." A Star is Born is less about Esther and her rise to fame and more about her maturity and the way she rescues Norman from utter failure. While her career is flourishing and her determination has never been greater, she shows more strength by refusing to believe Norman is a lost cause. Despite all the naysayers, her greater battle is to stand by Norman when he hits his cellar, but having enough sense to keep him from holding her back. It's about forgiveness and what it takes to be a successful anything: singer, spouse, person. A Star is Born is more about Esther's personal patience than it is about her professional willpower.
11. Cabaret (1972)
Directed by Bob Fosse
Signature Song: "Cabaret" (http://youtu.be/5QS1l1mSDSo)
Another Fosse film – easily his most famous – and a nice transition from Judy Garland in the starring role to her daughter, Liza Minnelli, as the star here. Based on the 1966 Broadway musical of the same name, the film is about American Sally Bowles (Minnelli) as she forms a relationship with British writer Brian (Michael York). The two become romantically involved, though eventually become unfaithful to one another, each sleeping with the same person behind each others' backs. Sally and Brian have trouble overcoming the infidelity and their disagreement about the future, leading to nightmarish representations for Sally about what a "normal" life would look like. The film grabbed 10 Oscar nominations, winning eight; it still holds the record for most Oscar wins without winning Best Picture (it lost to The Godfather). Cabaret is stylish and engrossing, despite its wickedly unbalanced musical numbers and composition. Joel Grey won the Oscar for Best Supporting Actor, basically serving as a narrator for the film (the style was borrowed in 2002's Chicago, with Taye Diggs in a similar role), as it twists in and out of musical set pieces and dramatic moments in Nazi Germany. Still, it's Minnelli's best performance (she won the Oscar) and Fosse's most critically acclaimed achievement on film.
–Joshua Gaul