Part of the list provides a few Best Picture nominees, a number of Oscar winners, and a childhood favorite that still pops up now and again. In reality, this list could be half-full of music documentaries, but for that reason, I stayed away from them. Plus, I did my best to include only films that really are musicals in every sense of the word. Plenty of films have lots of musical components, but only true musicals have performances in the film that truly drive the story forward. The songs in movie musicals have a purpose, if there could be a true definition.
40. Coal Miner's Daughter (1980)
Directed by Michael Apted
Signature Song: "Coal Miner's Daughter"
Michael Apted certainly has a dicey filmography, this probably being his best: a biographical  piece featuring a breakout adult role from Sissy Spacek, winning her the Oscar for Best Actress. Coal Miner's Daughter is the story of the great Loretta Lynn, iconic country singer, and the struggles for her to break free of a difficult childhood, one of eight children to a poor coal miner (Levon Helm, in his screen debut) doing his best to eke out a living with his wife and family. Loretta marries her husband Oliver (Tommy Lee Jones) when she is only 15 and he is 22,  beginning a life of popping out children, having four before she's 20. Meanwhile, she yearns to perform, playing shows on the weekend and on the radio occasionally. She finds her husband surprisingly supportive, pushing her to uproot and take the family to go on a publicity tour after her first record gets released. The film is littered with moving, wonderfully realistic musical performances including Spacek's, but Coal Miner's Daughter's real depth comes from the exploration of Loretta and Oliver's marriage and the never-ending dedication to each other, despite the ongoing stress and nervous breakdowns. Just seven years after she burst onto the screen in Badlands and four years after Carrie, Sissy Spacek proved she was so much more than a child star and hasn't quit since.
39. Gigi (1958)
Directed by Vincente Minnelli
Signature Song: "Thank Heaven for Little Girls" (http://youtu.be/rRsb9qyvofU)
Another Best Picture winner, this one from way back in 1958. A Lerner and Loewe musical brought to the stage in 1973, Gigi focuses on a young girl named Gilberte – or Gigi – played by Leslie Caron. Gigi has been sent to etiquette school with her grandmother and aunt, who believe that the only way for her to have any success in turn-of-the-century Paris is to marry into the upper class. From there, it follows Gigi's relationship with Gaston (Louis Jourdan), who has publicly shamed himself after mistreating his mistress. It's an attempt at a female empowerment story, as Gigi herself is relatively progressive – she refuses to be someone's mistress and wants to fall in love on her own terms, if at all. The film is one big parable of love conquering all, with Paris serving as one of the best backdrops you can ask for. The music itself is less than memorable, but Maurice Chevalier's beautiful opening dedication to why the world truly needs the youth that grows up to become the women that we love and respect is at once a gorgeous little lullabye of truth.
38. Fame (1980)
Directed by Alan Parker
Signature Song: "Fame" (http://youtu.be/nqMmquNLnHg)
Originally titled "Hot Lunch" until director Alan Parker discovered a pornographic film by the same name, Fame is the overwrought story of students at the New York High School of Performing Arts, following them from auditions all the way to senior year and graduation. The film follows a number of different characters, each trying to find a way to prove they belong in show business, whether as an actor, singer, dancer, or songwriter. Starring a bevy of no-name actors and actresses, the real standout is young Irene Cara, who performed the theme for the film (which won the Best Original Song Oscar) and earned a Golden Globe nomination for her role (she would go on to win her own Oscar for Original Song for co-writing "Flashdance…What a Feeling" in 1984). It's still one of the more beloved high school films, spawning a short-lived television show in 1982, starring a number of the same performers, which spawned a spinoff show titled Fame L.A. It was remade in 2009 to middling effect, despite having a much stronger cast (of teachers, anyway). What Fame did above all was create a truly 80's inspirational story that is forever of the decade. It tackled themes of independence and homosexuality, but framed it in a way that didn't overtake the narrative. In the end, it's a nice, harmless little musical that, if anything, serves as a decent intro to the genre.
37. Chicago (2002)
Directed by Rob Marshall
Signature Song: "Cell Block Tango" (http://youtu.be/KA6R1DMb-Z8)
It was unreasonably big – musicals had always been made, but their appeal was minimal in the decade or so before. But, in 2002, the iconic Broadway show was brought to the screen, directed by stage and TV movie director Rob Marshall, who'd won an Emmy for his work directing the 2001 Kennedy Center Honors. Chicago won Best Picture (and had 13 nominations) and reworked the genre a little. Instead of musical numbers coming within the plot of the movie, most of the performances came from shifts out of the story – characters performing on a sort of dream stage to no real audience. The cast was phenomenal, providing a platform for one of Renée Zellweger's better performances, great work from Queen Latifah and John C. Reilly, and a deserved Oscar for Catherine Zeta-Jones. While the signature song from the Broadway show may be "All That Jazz," the true standout moment comes from the staging, direction, and performance of "Cell Block Tango," a wonderfully dramatic number that provides six distinct female voices. The film probably won't hold up in due time, but it's still one of the best musicals of the this millennium.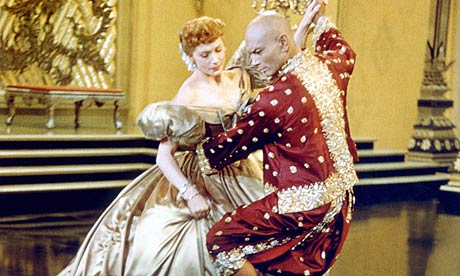 36. The King and I (1956)
Directed by Walter Lang
Signature Song: "Getting to Know You" (http://youtu.be/1o1t-PhkFAQ)
Rogers and Hammerstein comes to the big screen with the help of screenwriter Ernest Lehman with The King and I, based on the musical, which was based on Margaret Landon's book Anna and the King of Siam. The film stars Yul Brynner (he won an Oscar) as the King of Siam and Deborah Kerr as schoolteacher Anna Leonowens. Anna is summoned to Siam to educate the King's children. As you might expect, Anna and the King repeatedly come to blows about how she educates the children, where she will live while she is there, and the vast difference in politics between her home and Siam. From imperialism to slavery, many heavy topics are touched on, but only in the context to develop the push-pull relationship between the two. It's a love story, yes, but the most touching and memorable moments come between Anna and the children, both the King's and her own son Louis, like the clip linked to above. Kerr didn't sing any of the songs in the film – that honor went to Marni Nixon, who supplied the voice for many other iconic musical performances on film, which will appear later in this list. For The King and I, she received a whopping $420. Nominated for nine Oscars and winning five, The King and I is a more beloved stage show than a film, but Brynner's work as the King lives on as one of his best performances in a long, impressive filmography.
35. The Muppet Movie (1979)
Directed by James Frawley
Signature Song: "The Rainbow Connection" (http://youtu.be/S2DTLbTQj0I)
The first feature film from the felt fantastics, The Muppet Movie brought Jim Henson's puppet creations to a much wider audience, delivering a style of comedy that was more British than American, more Monty Python than Saturday Night Live. Littered with wacky, bizarre comedic moments, dozens of cameos, and wonderfully dramatic and poignant musical numbers, The Muppet Movie was a road movie for the entire family, despite containing a lot more meta commentary and humor than was normal for 1979. It's truly a movie-within-a-movie, beginning with the Muppets sitting together to watch the movie we see. While we eventually meet the Muppets one by one, we first meet Kermit and his first encounter with Fozzie Bear, when they set out in a Studebaker together. Insanity follows, where we meet every Muppet we've come to love, as well as run into human characters that change the fate of our heroes, most importantly the Hollywood studio executive Lew Lord, played by the great Orson Welles, who signs them to a contract (which would come into play in the 2011 reboot). But, at the very beginning, it's the song that sets the entire film (and Muppet influence) in motion: Kermit the Frog, alone in his swamp strumming his banjo, delivering one of the simplest, yet beautiful original songs in movie history, earning an Oscar nomination (it lost to "It Goes Like It Goes" from Norma Rae). It's still a high point for the Muppet franchise that lost its way in the 90's and 00's; most importantly, it gave the world "The Rainbow Connection."
34. Dreamgirls (2006)
Directed by Bill Condon
Signature Song: "And I'm Telling You I'm Not Going" (http://youtu.be/S0wU38NIzxo)
In Oscar history, it's an incredibly fascinating story, whether it was just dumb luck or there was truly a race-related issue at play. Dreamgirls grabbed eight Oscar nominations, the most of any film in 2006, but wasn't nominated for either lead acting category or Best Picture, even after it won the Golden Globe for Best Musical/Comedy (where it beat Little Miss Sunshine, which was nominated for the Best Picture Oscar). The story of an African-American all-girl singing group and their rise to fame is the most expensive film of all time featuring an all Black cast and gave the platform for a young American Idol reject to shine, as Jennifer Hudson stole the show as Effie White, winning the Best Supporting Actress Oscar (though it was honestly a leading part). Alongside her was a revitalized Eddie Murphy, giving his best performance in over a decade, earning an Oscar nomination also. Throw in Jaime Foxx, Danny Glover, and Beyonce Knowles, and Dreamgirls became an overstuffed, but wonderfully enjoyable trip through Motown for the novice viewer. The song above became the go-to song on every singing competition show for about two years after; though, truthfully, if I may be candid, it's one of the least entertaining of the film.
33. The Blues Brothers (1980)
Directed by John Landis
Signature Song: "Sweet Home Chicago" (http://youtu.be/m0zyuc_2UVg)
It's tough to pick a signature song from this one, since the musicality is so ingrained in the protagonists' story. One of the rare Saturday Night Live sketches that actually works better as a movie, Jake and Elwood Blues (John Belushi and Dan Aykroyd, respectively) return to their childhood home where they learn that the orphanage is on the verge of closing. In response, they decide they can raise the money to save it by reforming their blues band and heading out on their perpetual "mission from God." The film is filled with cameos and guest performances from blues and R&B artists, like Ray Charles and Aretha Franklin. The film's production was easily one of the most trying for any comedy, with Aykroyd taking 6 months too long to finish a script that John Landis had to rewrite anyway and filming continuously slowed by Belushi's partying and drug use. That doesn't even include the property damage they had to pay for after destroying large portions of Chicago filming sites, thanks in part to the iconic car chase. When all is said and done, it was all worth it – The Blues Brothers was such a successful concept and movie that the band still exists today, despite its rotating members, with Aykroyd still in the lead.
32. Yankee Doodle Dandy (1942)
Directed by Michael Curtiz
Signature Song: "Yankee Doodle Dandy" (http://youtu.be/StDpLge_ITM)
Before he was forever associated with mob movies of the studio era, the great James Cagney was a brilliant song and dance man, no more on display than in his fantastic lead performance in Michael Curtiz's 1942 biopic Yankee Doodle Dandy. The story of George M. Cohan (Cagney) is, as most studio films were, relatively whitewashed, but a wonderfully entertaining trip nonetheless. At the beginning of World War II, Cohan comes out of retirement to star as President Franklin Roosevelt on Broadway. Just before his first show, he is invited to meet Roosevelt and ends up telling the story of his life to the president, the entire film told in flashback, beginning at the early days, when Cohan was a child watching is father perform on stage. He joins his family performing act, eventually getting too big for his britches, until he one day writes the iconic American war song "Over There." Yankee Doodle Dandy is the Cagney show. He may have made a bigger impact on the film industry as the star of films like White Heat and Angels with Dirty Faces, but this is probably his best overall performance, showing a range of drama, comedy, and some of the most inventive dance moves of the era.
31. Willy Wonka and the Chocolate Factory (1971)
Directed by Mel Stuart
Signature Song: "Pure Imagination" (http://youtu.be/r2pt2-F2j2g)
It's simultaneously an uplifting story about trying to be a good person and a fiendish nightmare of the perils of poor parenting, but the film adaptation of the Roald Dahl novel remains a nostalgic reminder of what you could get away with in children's films in the 1970's. Dahl never cared for the adaptation, but anyone who saw this psychedelic imagination of the novel most likely counts it among their favorite childhood experiences in the theater. When little Charlie Bucket (Peter Ostrum) finds a golden ticket, he and his Grandpa Joe (Jack Albertson) are awarded a trip to the London-based chocolate factory of the ingenious shut-in Willy Wonka (Gene Wilder). Along with four other children, Charlie learns about how the delicacies are made and what happens when you aren't a "good child." In the history of Wilder's brilliant comedic performances, this one is one of his most twisted – a man in charge of bringing happiness to countless children, but with a streak so demented that he scoffs at the idea of a child not paying for his/her sins. There are probably four songs that could be chosen as the "signature," but Wilder's playful performance of "Pure Imagination" as he waltzes through this candy room is what sticks out the most. Tim Burton's remake/reimagination has its merits, but nothing can rival Wilder, the original Oompa Loompas, and the darkness that lived just below the surface of this playful film.
–Joshua Gaul