The top 20. The scripts by which all others are defined and to which all others are compared. Brilliant scripts can be wordy. Brilliant scripts can be confusing. Brilliant scripts can be sweeping or intimate. This section runs the gamut, ranging from first time writers to established writing vets. It only gets better from here.
20. Easy Rider (1969)
Written by Dennis Hopper, Peter Fonda, and Terry Southern
They'll talk to ya and talk to ya and talk to ya about individual freedom. But they see a free individual, it's gonna scare 'em.
This portion's "anybody can write a film" segment comes from 1969, with a landmark film that truly doesn't have much weight. A road movie if there ever was one, Easy Rider follows Wyatt (Peter Fonda) and Billy (Dennis Hopper) as they ride their motorcycles across the country to New Orleans for Mardi Gras. Along the way, they pick up a hitchhiker, a lawyer (and town drunk) named George (Jack Nicholson) who, despite being a "square," gets pulled into and fascinated by their lifestyle. The counter-culture hadn't been so clearly depicted on screen as it was in this independent film, a smattering of philosophical discussion about what it means to be "free" and a cynical outlook on the American way, as it were in the 1960s. Somewhere within this relatively lightweight screenplay was truth for the American citizen: a look at a way of life that most weren't familiar with and the fallout when you judge men by their look and belief system. Sure, it encourages drug use as a way to open the mind, but that was never the point. What Easy Rider stood for was a need for the freedom to live as you choose, even if it means upsetting the status quo. All that from two men who would go on to star in Super Mario Bros. (Hopper) and Ghost Rider (Fonda).
19. Annie Hall (1977)
Written by Woody Allen and Marshall Brickman
I don't want to move to a city where the only cultural advantage is being able to make a right turn on a red light.

It may not be Woody Allen's best screenplay, but it's certainly the one that brought him the most acclaim, setting the stage for the rest of his active career. 1977's Annie Hall still stands as one of the greatest romantic comedies ever put on screen, mostly thanks to Allen's witty dialogue and how he characterizes his two leads. The title character, played by Diane Keaton, is an early example of what has become the "manic pixie dream girl" in today's cinema: a seemingly unattainable women who lives in a separate world of quirks and eccentricity, only adding to her allure. Keaton's work is phenomenal, but it's how Allen writes her and how his other characters play off her that makes the film such a success. As in many other Allen films, New York City becomes another character. In Annie Hall, we not only meet one of the most iconic original screen characters ever conceived, but one of the better portrayals of the Big Apple ever put on screen as a romantic world equally filled with happiness and despair.
18. Before Sunrise (1995)
Written by Richard Linklater and Kim Krizen
If there's any kind of magic in this world… it must be in the attempt of understanding someone, sharing something. I know it's almost impossible to succeed… but who cares, really? The answer must be in the attempt.
Relationships on film never feel realistic. Everything always bundles up into a nice little bow, whether good or bad. In 1995, Richard Linklater's Before Sunrise changed the game. Never before had a film about a romance felt so organic. Moments don't feel staged. Discussion doesn't feel forced. In the beautiful city of Vienna, two complete strangers – Jesse (Ethan Hawke) and Celine (Julie Delpy) – depart from a train and spend one night together, walking the streets and revealing themselves to one another in a way that some couples married for decades don't. The simplest plot outline on this list – two people just walking around talking – may be the most fascinatingly honest portrayal of two lead characters ever shown on film. Not only that, but it managed to leave the door open for sequels, while standing on its own easily. The film has been followed by two of them, but only in name. They are the same two characters, but begin and end years later, only building on the original in a way that makes this offering a beautiful place to return. Before Jesse and Celine became what they are in Before Midnight, they had to build backstory. Before Sunrise does that and more.
17. Groundhog Day (1993)
Written by Danny Rubin and Harold Ramis
You want a prediction about the weather, you're asking the wrong Phil. I'll give you a winter prediction: It's gonna be cold, it's gonna be grey, and it's gonna last you for the rest of your life.
It's a comedy that's more about mortality than it is about laughs. 1993's Groundhog Day takes places in Punxsutawney, Pennsylvania, home of the renowned Punxsutawney Phil, as his February 2nd prediction is being covered by self-centered Pittsburgh weatherman Phil Connors (Bill Murray), his producer Rita (Andie MacDowell), and cameraman Larry (Chris Elliott). Phil wakes up on February 2nd and does his work in his typically cynical fashion. When they can't leave due to a snowstorm, he wakes up the next morning in Punxsutawney again, once again on February 2nd. And so on. The specific passage of time is never clarified, but Phil relives Groundhog Day dozens and possibly hundreds of times, going through various existential crises. Is he God? Is this Hell? Eventually, the arrogance and disdain for the town and his go-nowhere life gives way to personal growth and the importance of becoming a better man, despite your surroundings. Danny Rubin and the late, great Harold Ramis wrote a script that has become one of the greatest parables of self-actualization and philosophical reasoning…and it took place on the most arbitrary of holidays.
AUTHOR'S NOTE: I grew up about 50 miles north of Punxsutawney. It's even more barren than the Illinois town used for the film. I did tend to play well against them in basketball, though.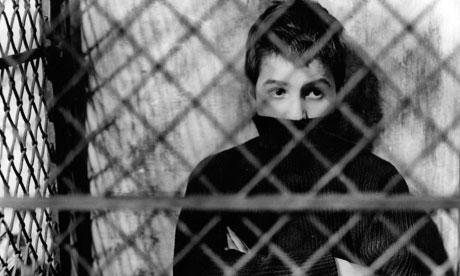 16. The 400 Blows (1959)
Written by François Truffaut and Marcel Moussy
Now, Doinel, go get some water and erase those insanities, or I'll make you lick the wall, my friend.
François Truffaut's defining French New Wave film is easily one of the most beautiful coming-of-age dramas to see the screen, following its main character Antoine Doinel (Jean-Pierre Léaud) as he navigates a negative home life, an insufferably strict school life, and a world of misunderstanding to try to break free of his perceived chains. The 400 Blows has become a landmark film in terms of its semi-autobiographical feel and was one of the first to show the mistreatment French juvenile offenders went through at the time of the film's release. Technically, while the title translates directly to English as The 400 Blows, American audiences were never familiar with the French phrase "faire les quatre cents coups," which is basically slang for "raising Hell." And that's what Truffaut and Moussy were conveying with their misrepresented protagonist: a young boy who, despite his persona, is a good kid trying to succeed in a world that feels like it's working against him. He isn't the one raising Hell, despite how his superiors view him. He's trying to escape the Hell he is going through. For him, Hell is the control his parents, the school, and his classmates have over him. Freedom is not far away, and Truffaut's young protagonist will get there, to the unseen beach where his happiness resides. But where does he go from there? The character would appear in later films, but Antonie's first journey is the stand out.
15. The Sting (1973)
Written by David S. Ward
Luther said I could learn something from you. I already know how to drink.
Technically, Ward based the screenplay on real-life con men Fred and Charley Gondorff, which was documented in the book The Big Con: The Story of the Confidence Man, written by David Maurer (it wasn't directly adapted from the book, though, so it's still "original"). Set during the Great Depression, The Sting follows Johnny Hooker (Robert Redford) as he cons a victim out of cash, only to see one of his partners retire from "the game." He is suggested to seek out an old friend named Henry Gondorff (Paul Newman) to learn about how to pull off "the big con." When it turns out the original con victim was a courier for a crime boss named Doyle Lonnegan (Robert Shaw), Hooker has no choice but to flee to Chicago, where he meets Gondorff, whom he asks for help to take down Lonnegan. The film twists and turns with excitement, betrayals, and cons that beget other cons. The film won Best Picture (sandwiched between The Godfather films) and Best Original Screenplay for Ward, responsible for the first great American con artist picture. American Hustle could learn a thing or two from this brilliant script. Even Steven Soderbergh's Ocean's Eleven owes a debt of gratitude to The Sting.
14. Fargo (1996)
Written by Joel Coen and Ethan Coen
Say, Lou, didya hear the one about the guy who couldn't afford personalized plates, so he went and changed his name to J3L2404?
The behemoth that is the Coen brothers began in the 1980's with Blood Simple and Raising Arizona. But they exploded with 1996's modern noir Fargo, starring Best Actress winner Frances McDormand. In 2006, it became one of only five films to be inducted into the United States Film Registry for preservation in its first year of eligibility. The Coen brothers were always the masters of meshing comedy and drama and Fargo is their best offering to date (arguments invited). The film follows pregnant police chief Marge (McDormand) investigating some homicides near Brainerd, Minnesota, finding her way to a car salesman's plan to blackmail his father-in-law by having his wife kidnapped. The way the Cohen brothers draw their characters makes it feel like a foreign film, but with a protagonist you could relate to. Not only is this crime drama subtly injected with comedy, but it gave us one of the most important and memorable characters in the last 30 years, if not film history. It took home Best Original Screenplay and Best Actress, but lost out on the big prize to The English Patient. One of the major Oscar travesties in recent history, for sure.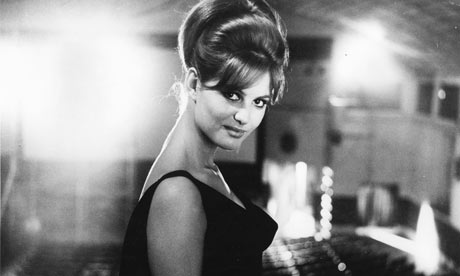 13. 8 1/2 (1963)
Written by Ennio Flaiano, Tullio Pinelli, Federico Fellini, and Brunello Rondi
The truth is: I do not know… I seek… I have not yet found. Only with this in mind can I feel alive and look at you without shame.
If you thought La Dolce Vita was a cutting look at fame and insecurity, Fellini dials it up here even further here. Again starring Marcello Mastroianni as Guido, 8 1/2 is a parable about a film writer/director struggling with his fading interest in his craft, stemming from artistic difficulties and problems with his marriage. Guido finds himself going through the motions, flashing to various past successes and failures in his life, floating between reality and dreams. Meant as a dark comedy, the film's lack of narrative structure turns the audience on its head, becoming both seamless and incredibly disjointed at the same time, reflecting the subconscious struggle our protagonist has with his sometimes thankless artistic endeavors. It's probably Fellini's most personal film, providing a window into his dreams and his somewhat distorted memories, giving further insight into a man who was much more sentimental than he typically gets credit for. And that closing scene…
12. Dog Day Afternoon (1975)
Written by Frank Pierson
You handled yourself real well, Sonny. A lot of men would've choked, and we might have had a death or a multiple death on our hands. But you handled it. I respect that. Now don't you try to take Sal. We'll handle him. Just sit tight and you won't get hurt.
So, despite the fact that Sidney Lumet's brilliant hostage film won the Best Original Screenplay Oscar, Dog Day Afternoon is still technically based on a newspaper article written by P.F. Kluge and Thomas Moore, though the larger script and screenplay was fictitious. Either way, the film that gave us what is still Al Pacino's greatest performance (again, arguments invited) is a standard of how to write a claustrophobic crime-gone-wrong film. When Sonny (Pacino) enlists two of his friends to help him rob a bank, one loses his nerve, leaving Sonny and Sal (John Cazale) to take the whole operation on themselves, only to find that the bank is nearly cash-less. Being first-time criminals, Sonny and Sal make mistake after mistake, drawing authorities to the scene, only to create what becomes the definition of a media circus, with the crowd of spectators showing allegiance to the would-be convicts. It's not easy to keep a story moving that never leaves one place – Pierson does it brilliantly, assisted by his talented cast and director. Audiences will always remember the reveal of Sonny's reason for the crime and his "Attica!" outburst, but what really gives the film life is the script – a fire-breathing indictment of the media's relationship to crime and the people – both victims and perpetrators – involved.
11. Butch Cassidy and the Sundance Kid (1969)
Written by William Goldman
I couldn't do that. Could you do that? Why can they do it? Who are those guys?
The studio system made Westerns that drummed up confidence in the "man's man:" a sheriff who does good, no matter the cost and villains who always wore the black hat. That began to change in the 50's and 60's, when the Western morphed into a grey area of ethics, thanks to films like The Wild Bunch and this 1969 gem. Written by William Goldman and directed by George Roy Hill, Butch Cassidy and the Sundance Kid is the story of the title pair's return to their Hole-in-the-Wall gang hideout, only to learn that Butch (Paul Newman) has been replaced as the leader. After a cleverly handled knife fight, Butch and Sundance (Robert Redford) set out to rob a Union Pacific train, followed by another, with the end goal to retire to Bolivia. Unfortunately, the local sheriff has assembled a gang to track the two down, instructed to catch and kill them. The film is really a character study and a bromance before they existed, analyzing the male relationship, while also serving as a Western/road movie/buddy flick. Newman and Redford give the film the life and personality it needs, but without Goldman's iconic script, it's just another forgotten dramedy.
— Joshua Gaul