As we continue to move forward through the list, let us consider: how do you define an original screenplay? In theory, everything is based on something. Woody Allen's Blue Jasmine is basically a modern A Streetcar Named Desire. But, somehow, Jasmine is classified as an original screenplay. When a film is wholly original, nothing like it had been done before, and others have tried to copy it since. Plenty of original screenplays (some in this list) take on tired genres, but flip the script. But the ones that really catch the audience by surprise are the ones that feel imaginative, creative, and different.
40. Spirited Away (2001)
Written by Hayao Miyazaki
That's a good start! Once you've met someone, you never really forget them. It just takes a while for your memories to return.
No writer/director on this list may be more fantastical than the great Hayao Miyazaki, who could have 5-10 films included for their sheer dreaminess alone. Of his screenplays, his 2001 Oscar winner for Best Animated Film Spirited Away is the most daring and engaging. A sharp contrast to his beloved 1988 masterpiece My Neighbor Totoro, Spirited Away is so intricate and detailed in plot that it's mind-blowing. When a little girl wanders into the woods at her family's new home, she is whisked away to a world where people become animals, witches and monsters are a regular occurrence, and a bathhouse in the middle of town is a place of refuge for these creatures. Chihiro begins to work at the bathhouse to earn her way home, only to become more engulfed in this unbelievable world. Miyazaki's films take child-like emotions and build elaborate worlds out of them almost as therapy for the children involved, but even the least plot-heavy films have more impact than the standard Disney fare. And, of all his films, Spirited Away may be the most unreal, but enlightening offering.
39. The Sixth Sense (1999)
Written by M. Night Shyamalan
And the tiny hairs on your arm, you know when they stand up? That's them. When they get mad… it gets cold.
Talk about peaking too early. M. Night Shyamalan wrote and directed two forgettable films before blowing the world away with his suspense thriller The Sixth Sense. Starring Bruce Willis and Haley Joel Osment, in an Oscar-nominated role, the film centers on a psychologist who befriends a young boy who claims to communicate with the dead. In retrospect, the film's over-publicized twist ending feels too easy to figure out, especially when explained by the filmmaker in detail. But if you look closely, what feels like simplistic cues here and there are extremely difficult to spot upon first viewing. What Shyamalan did was re-energize the ghost story to prepare it for the 21st century. We have since shifted into the found-footage ghost stories a bit too much and, while some really intelligent horror films have come since, The Sixth Sense was a well-thought-out suspense thriller that came out of nowhere to blitz audiences, thanks to its script and the performance of its young star.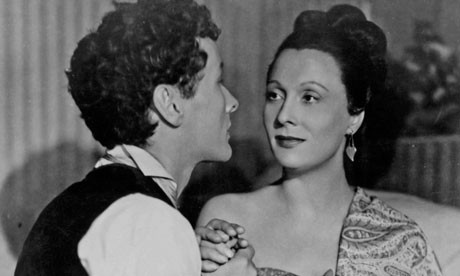 38. Children of Paradise (1945)
Written by Jacques Prévert
The mere thought of them killing each other, over a woman, because of me, comforts me.
One of the rare foreign screenplay nominees for Best Original Screenplay without grabbing any other nominations, Jacques Prévert's sweeping love story centers on Baptiste (Jean-Louis Barrault), a mime, and his love affair with Claire (Arletty), who goes by the name of Garance. Meanwhile, Garance is also loved by a group of other men: a snooty actor, a criminal, and a count. In addition to that, another actress is in love with Baptiste. The 3+-hour epic centers on the weaving webs of these characters, each having to depend on the others at various moments, with those favors leading to romantic complications going forward. The film shifts ahead in time, further emphasizing the separation between Baptiste and Garance, becoming one of the great film stories of love, dedication, and, in turn, misery. Director Marcel Carné never made another film that had the impact Children of Paradise did, mostly thanks to Prévert's unbelievably heartbreaking script of love and loss.
37. The Discreet Charm of the Bourgeoisie (1972)
Written by Luis Buñuel and Jean-Claude Carrière
Finally, if you think about it, the only solution to starvation and poverty is in the hands of the army. You'll realize it in Miranda, when you have to open your pretty thighs to an infantry battalion.
In a world of simple narrative and overly complicated attempts at originality, Luis Buñuel somehow managed to make surrealism in cinema look extremely easy. Buñuel shifted from genre to genre, making somewhat commonplace films and surrealist ones, but this is the only film he directed and wrote that won the Best Foreign Language Oscar. And it's probably the strangest feature length film he made. The Discrete Charm of the Bourgeoisie is a basically plotless satire about six middle-class people in France who can't ever seem to meet for dinner. It intertwines four dreams of the main characters with moments set in their current time, each resulting in no one ever eating together, despite their best efforts. Always the political and religious activist, Buñuel made Bourgeoisie (and plenty of other films) as a sharp criticism of the upper class and their unending pretentiousness. Of all Buñuel's brilliant satires, Bourgeoisie  feels the most cutting, ending with the six protagonists lost and wandering down an empty road, still unable to eat together. It's fascinating image: six well-dressed people at their wits' end. A great Buñuel companion piece is 1962's The Exterminating Angel, in which the group of an upper-class dinner party learn they are unable to leave.
36.Y Tu Mamá También (2001)
Written by Alfonso Cuarón and Carlos Cuarón
Truth is cool but unattainable… the truth is totally amazing, but you can't ever reach it.
Twelve years before Alfonso Cuarón took us into the silence of outer space, he was adept at writing and directing personal and family dramas. His best came in 2001, with Y Tu Mamá También, a Mexican road trip movie. The film follows two teenage friends – Tenoch (Diego Luna) and Julio (Gael Garcia Bernal) – as they grow more disconcerted with their impending adulthood, especially since their girlfriends are spending the summer in Europe. The two young men meet an older woman named Luisa (Maribel Verdú) and convince her to come with them on a road trip to an invented location. The trip is eventful, to say the least. Cuarón's somewhat broken narrative includes what can only be described as footnotes – occasional breaks from action to allow a narrator to describe unrelated things about characters, places, and things in the film. In a world full of coming-of-age films, Cuarón's quiet masterpiece stands out as a look at these boys as they begin to see the world around them; the poverty of Mexico, and the troubles and transgressions they never discussed during their long friendship. When we see the light at the end of tunnel that is adulthood shackled with heavy responsibility, the bets thing we can do is look at those around us who made us who we are. While Y Tu Mamá También is a testament to how different your world could be if looked at it through a new lens, it's also a lesson in how moments of sheer passion and emotion can either strengthen or destroy everything you've made up to that point.
35. The Red Balloon (1956)
Written by Albert Lamorisse
Could you hold my balloon while I'm in school?
A Best Original Screenplay Oscar winner that is only 34 minutes long and has almost no dialogue at all. And the main character is a balloon. The film surrounds Pascal (Pascal Lamorisse) on his way to school when he finds a beautiful red balloon. He discovers, as he plays with his new toy, that it seems to have a mind of its own, following him everywhere he goes around Paris. What results is a simple, but magical trip through areas of Paris as Pascal draws funny looks, punishment at school, and attacks from bullies, all because of his new balloon. A true example of how a screenplay without words can function in a world of thick dialogue, The Red Balloon is an almost Christ-like parable about faith in humanity, in your home, and in the world eventually becoming a better place. The closing cluster balloon journey is one of the most beautiful images in film history, and has influenced plenty of work since then, being remade into a feature film and, of course, Pixar's Up.
34. The Producers (1967)
Written by Mel Brooks
Not many people know it, but the Fuhrer was a terrific dancer.
Mel Brooks is the undisputed king of movie parody, doing it better than most other filmmakers ever have. But, despite a career filled with intelligent spoofs, his best writing effort may have come in a purely original story about a struggling theatrical producer and his accountant. The Producers follows Max Bialystock (Zero Mostel) having trouble finding funding for his theater projects, resorting to romancing older wealthy women. When his accountant Leo Bloom (Gene Wilder) tells him how bad he is doing financially, they decide the only way to make money is to produce a musical that is sure to flop, overcharge investors, and flee the country. The show will be "Springtime for Hitler: A Gay Romp with Adolf and Eve at Berchtesgaden," a play written sincerely as a tribute to the dictator by an ex-Nazi. To ensure the flop occurs, they hire a bad director, awful actors, and find every possible way to sabotage the production. We follow the entire process, as sure as the protagonists that this show will never succeed. But stranger things have happened. Brooks won an Oscar for the screenplay, and the movie was made into an acclaimed Broadway show that gave birth to a second movie (nowhere near as good) based on the musical. It also inspired one of the best episodes of "Curb Your Enthusiasm," guest-starring Brooks, which played on the same concepts as the movie.
33. The Apartment (1960)
Written by Billy Wilder and I.A.L. Diamond
When you're in love with a married man, you shouldn't wear mascara.
One of the greatest romantic comedies conceived, Billy Wilder's The Apartment is a wonderful mixture of the workplace comedy and the romantic drama. Starring Jack Lemmon as C.C. Baxter, the film centers on his attempts to move up in his insurance agency by lending his apartment to managers for them to have their extramarital affairs. Unfortunately, he falls for his supervisor Sheldrake's (Fred MacMurray) latest fling, an elevator girl in the building named Fran (Shirley MacLaine). She, blind to Sheldrake's other transgressions, holds onto his promise that he will leave his wife for her, while C.C. can't fathom her attraction to him. What makes this fairly simple story so endearing is the quick-witted dialogue put on paper, delivered by some of the greatest actors of their time. Wilder's screenplays are typically sharp, but The Apartment rise to the top. Wilder's America is the happier one – the one where the good guy always wins, the bad guys are always made to look the fools, and common decency always wins out. But of all his films, The Apartment feels like the most realistic portrayal of the world we live in and the struggles we go through, even if the happy ending predictably arrives.
32. E.T. the Extra-Terrestrial (1982)
Written by Melissa Mathison
You must be dead, because I don't know how to feel. I can't feel anything anymore.
It goes without saying that Steven Spielberg has directed plenty of memorable films. But there was something about his 1982 science-fiction family film that jumped off the screen. E.T. the Extra-Terrestrial is every child's story – when a world that you feel doesn't understand you begins to fall apart, you always need someone to lean on. For most of us, it's a sibling. Or a friend. For Elliott (Henry Thomas), it's an alien. Written by Melissa Mathison (although based on an imaginary friend Spielberg created as a child when his parents were going through a divorce), E.T. takes the common alien invader theme and turns it around: we, the humans, may very well be the enemy. At the heart of the drama is a little boy looking for some kind of faith in something or someone and finding it (and a subconscious, almost telepathic connection) in a visitor from another world. It's been over 30 years since E.T. was the blockbuster it became, but it still stands as one of the best science-fiction films of all time and one of the best coming of age stories in a decade overstuffed with "growing up" movies.
31. The Wild Bunch (1969)
Written by Walon Green, Sam Peckinpah, and Roy N. Sicker
We all dream of being a child again, even the worst of us. Perhaps the worst most of all.
After the studio system began to dissolve a little, the Western became a sort of go-to genre for filmmakers, especially in a world filled with war and conflict. America needed likable heroes on screen. The Western gave us the blue-collar hero – the man who would stand up for what is right, whatever the cost. Then came Sam Peckinpah and The Wild Bunch. Unlike the good-guy Westerns that came before it, The Wild Bunch focused on a group of outlaws and their leader Pike (William Holden), as they try to rob a railroad office and enter into "retirement." When it goes awry, the group flees to Mexico and holds up in member Angel's (Jaime Sánchez) hometown, only to find it run by a Mexican army man named Mapache (Emilio Fernández). What results from all of this is a constant need for these men to survive, whatever means necessary. That means killing innocent people – citizens, women, etc. Among all the bloodshed, Peckinpah and writers Walon Green and Roy N. Sicker clearly defined who each member of the bunch was. The Wild Bunch changed the Western into something that could be much more complicated than just a man and his gun and his honor. It showed that, despite the desolate terrain and farming lifestyles, the people of the Old West can make for complicated stories of betrayal, violence, and more blood than 1969 audience's were prepared for.
— Joshua Gaul