We've reached the near mid-point of this Definitive List; 20 down, 30 to go. As we move forward, the story of "boy meets girl" becomes more complicated, as plenty of stumbling blocks stand in the way: lack of experience, insecurity, unsupportive parents, and, as in most cases, ego. So, when we watch all these films, what do we learn? Hundreds of romantic comedies end happily, but none end in the same way. Perhaps there's a method to the madness, but the more we tread through these highlights, the more it's clear that to make an impact, you have to change the game or perfect the existing one.
#30. Bull Durham (1988)
Baseball movies had worn out their welcome a bit in the mid-80s and audiences weren't clamoring for a romantic comedy based around the national pastime. Enter writer/director Ron Shelton, who decided to write a film based on his experiences in the minor leagues. The movie was Bull Durham, the story of a baseball groupie named Annie (Susan Sarandon) and her yearly goal to seduce one of the players on her local team, the Durham Bulls. As she romances stud pitcher Nuke LaLoosh (Tim Robbins), she slowly starts to fall for veteran catcher Crash Davis (Kevin Costner), brought in to teach LaLoosh the art of the game. After the dust settled, Bull Durham offered up more laughs than any other baseball movie and provided a solid love story behind it, thanks to the chemistry between Sarandon and her two leads. It will always stand up as a great film for fans of baseball, love stories, and anyone who believes in long, slow, deep, soft, wet kisses that last 3 days.
#29. Eternal Sunshine of the Spotless Mind (2004)
It's not the funniest romantic comedy, but this film is funny enough to fall into that shaky category. It's one of the most original, that's for sure. When Joel (Jim Carrey) finds out his ex-girlfriend Clementine (Kate Winslet) had him erased from her memory, he decides to do the same to her, slowly traveling through his memory of their courtship and learning why, despite the bitter end, its existence should be sustained. Teaming director Michel Gondry with screenwriter Charlie Kaufman will always produce fascinating results, and Eternal Sunshine is one of the most critically loved films of the past 20 years, thanks to the imaginative writing, daring direction, and brilliant lead performances from Winslet and Carrey, at his career best. It doesn't hurt to have a supporting cast including Tom Wilkinson, Kirsten Dunst, Mark Ruffalo, Elijah Wood, and David Cross, either.
#28. There's Something About Mary (1998)
Let's get dirty for a moment. For years, the "romantic comedy" sat in the realm of PG and PG-13, never really fraying from that rating. That is, until the Farrelly brothers decided to put a grossout spin on it. It had been raunchy before, but never this raunchy. There's Something about Mary took budding star Cameron Diaz and made her a household name, as the object of desire for a bounty of men, namely Ben Stiller's Ted and Matt Dillon's Healy. Ted finally gets to date Mary years later, after a disastrous high school experience with her involving a stray zipper. He hired Healy to track her down, only to see him also fall for Mary. The movie takes ridiculous twists and turns, as more and more possible suitors for Mary reveal themselves, including NFL star Brett Favre. The Farrellys managed to take the old trope of an old flame reemerging and spun it on its head, adding plenty of fart jokes and f-bombs along the way.  Most importantly, we'll never look at hair spray the same again.
#27. The Seven Year Itch (1955)
Billy Wilder (who appears plenty more on this list) made a career out of the clever romantic comedy. In 1955, he worked with the world's favorite pinup girl Marilyn Monroe, for The Seven Year Itch, a silly rom-com about a man's mid-life crisis. Richard (Tom Ewell) is a publishing executive who meets an actress who rents an apartment upstairs from him. His psychiatrist had informed him of the concept that a large percentage of men tend to have affairs in the seventh year of marriage, so he sees this as "normal." A good portion of the film involves Richard's fantasy conversations with his wife and his strange, imagined irresistible nature. Wilder had to be discrete – according to production codes, he couldn't actually show a man committing adultery. Of course, Richard eventually comes to his senses, but not before this well-received rom-com gave us one of cinema's most memorable images, with Monroe standing over a subway grate. For that image alone, it belongs on the list.
#26. The 40-Year-Old Virgin (2005)
Eight years after the Farrelly brothers brought off-kilter humor to the romantic comedy and the mainstream, Judd Apatow emerged from years of critically acclaimed, yet commercially ignored work to co-write, produce, and direct The 40-Year-Old-Virgin. Starring Steve Carell, the film shows the life of Andy, a friendly, but socially ignorant middle-aged man who has yet to experience one of life's greatest pleasures. What makes this film a success is the funny, yet honest portrayal of the dual importance/unimportance of sex in a relationship and how missing out can make you both a warped and well-rounded individual. Andy's romance with Trish (Catherine Keener) is touching and believable, but what sets the film apart is how Andy's "friends" are the ones who eventually go through as much growth as the lead couple. Plenty of throwaway jokes abound (as in all Apatow films), but the emotional core is what makes this one his most affecting.
#25. About a Boy (2002)
A surprisingly nice double feature with The-40-Year-Old-Virgin, About a Boy stars the ever-charming Hugh Grant as Will, an immature man nearing middle-age who finally grows up, thanks to a little boy named Marcus (Nicholas Hoult). Based on a best-selling novel by Nick Hornby, About a Boy follows Will as he tries to serve as a "plaything" for single mothers, only to meet Marcus and have his world turned upside-down. He eventually finds himself serving as a surrogate father to this pre-teen, who spends his time trying to cheer up his emotionally disturbed and chronically depressed mother (Toni Collette). Enter Rachel (Rachel Weisz), a single mother who Will can't help but fall for, despite the dishonest manner in which they met. Grant gives one of his better, more layered performances here, as he shifts between a man who feels image is of utmost importance to one who begins to care deeply about others, even if those others feel like a burden. Hornby's novels tend to make good films if in the right hands – About a Boy is no exception, with an Oscar-nominated screenplay.
#24. (500) Days of Summer (2009)
It literally begins with "This is a story of boy meets girl, but you should know upfront, this is not a love story." So begins the nonlinear narrative story of Tom (Joseph Gordon-Levitt) and Summer (Zooey Deschanel). Summer begins working at the greeting card writing company at which Tom is employed, though he dreams of being an architect. The story focuses on Tom's unwavering belief that Summer is the "one," despite her constant statements that she doesn't want anything serious and may not even believe true love exists. What results is an imaginative jump between happy days and sad days, re-imagining memories Tom believed were positive, but were simply clouded by his vision of love. Few romantic comedies can boast an ending that isn't quite a happy one, but can still make the audience smile. (500) Days of Summer manages to do that, with the help of a fine "indie" soundtrack. Also: look for an early performance from Chloe Grace-Moretz as Tom's younger sister, who steals every scene she's in.
#23. Roman Holiday (1953)
Audrey Hepburn has seen her fair share of criticism, but behind that gorgeous facade, there was a pretty solid actress, if given the right part. She earned her only Oscar win in 1953 for Roman Holiday, the story of a princess getting away from her royal lifestyle. While away from her caretakers, she meets and falls in love with an American journalist, played by Gregory Peck. The story sounds old hat at this point, being redone in the forms of movies like Chasing Liberty and, in a twisted way, Eddie Murphy's Coming to America. But the chemistry between Hepburn and Peck (not to mention the beautiful shooting locations) is enough to win over even the coldest of hearts. Delineating from the norm and avoiding a perfectly happy ending, Roman Holiday is exactly what it sounds like: a nice vacation away from typical rom-coms, breathing just enough charm and whimsy to make for a joyous experience.
#22. Bridget Jones' Diary (2001)
Helen Fielding's 1996 novel was a book for the modern insecure woman: a story told from the point of view of a thirty-something British woman who obsesses about her love life, drinks a bit too much, and documents all of it in a diary (how the book is delivered). Inspired in part by Jane Austen's Pride and Prejudice, Fielding's work was adapted for the screen in 2001 by Fielding, with help from Andrew Davies and, you guessed it, Richard Curtis. The movie starred Renée Zellweger as Bridget; at the time, this seemed like an odd choice, given she wasn't British, in a film based on an award-winning British novel. But it turned out to be perfect casting, as Zellweger gave what may be her best (or, at least, most memorable) performance, earning an Oscar nomination while showing excellent comic timing and going toe to toe with England's most recognizable talents at the time, Colin Firth and Hugh Grant. The film follows Bridget through a series of misadventures with the men in her life, her job, and her family, all while documenting  her experiences in an attempt at self-preservation. If anything, Bridget Jones' Diary managed to bridge a gap between British and American romantic comedies, proving they aren't that different. We all have the same problems, right?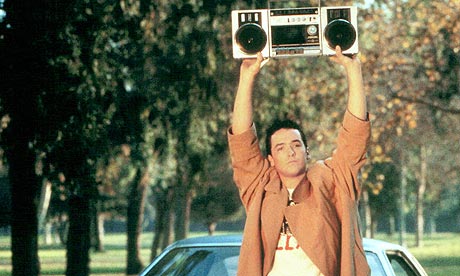 #21. Say Anything… (1989)
Lloyd Dobler (John Cusack) screwed up hundreds of high school boys with that stupid boombox, didn't he? Cameron Crowe's directorial debut told the story of Lloyd as he sets his sights on Diane Court (Ione Skye), the class valedictorian, in the summer after graduation. Lloyd is average at best, setting his goals on very different things than Diane, first and foremost his dream to be a professional kickboxer. But, even as Diane skirts his attempts at her heart, his persistence and unending pursuit eventually wins her over, eventually being her support when her father (John Mahoney) falls into trouble with the IRS. What Say Anything… does better than any other rom-com is making that "never give up" mantra seem like a realistic pattern of behavior. Sometimes the normal guy wins out, yes. But not like this. Cameron Crowe's screenplay is what makes Lloyd such a lovable character and makes Diane such an unattainable end game. But that boombox. Rarely is a song used as a plot device so clearly (in a non-musical, mind you) than here, as Peter Gabriel's "In Your Eyes" became the love song to end all love songs. Briefly.
So, we're through 30. Only 20 more to go, where we all begin to fall into the trap of "this could happen!" It's nice to have a positive outlook.
— Joshua Gaul