We all have predisposed notions about the infamous "romantic comedy." As with other genres, there's a large subsection of offerings, giving it a bad name. But, for every tired, cliché-driven comedy, there is another impressive offering that redefines the genre, garners plenty of laughs, and tells an honest story about love and relationships, however warped they may be. In the coming weeks, we'll take a look at the fifty romantic comedy films that should be seen. These may not all be classic films, but they certainly put a stamp on the industry and the genre we affectionately call "rom-coms."
 #50. Moonrise Kingdom (2012)
Most of Wes Anderson's films could be described as romantic comedies, but his 2012 effort stands out, as its central story focuses on young love and the need to find acceptance. In Anderson's world, while quirks abound, true connections between characters are commonplace. With Moonrise Kingdom, Anderson chose two child actors to lead his film, Jared Gilman and Kara Hayward, as they run away together through an Anderson-esque version of New England. While the film adds a bevy of Anderson regulars (Bill Murray, Jason Schwartzman) and new additions (Tilda Swinton, Edward Norton) to the universe, his ever-present focus on these two youths is what makes the film a testament to storytelling. There isn't a second of the relationship between Sam and Suzy that doesn't feel genuine, in its own outlandish, pastel way.
#49. That Obscure Object of Desire (1977)
Director Luis Buñuel made a career of creating absurdist cinema. From his famed collaboration with Salvador Dali, Un Chien Andalou on, Buñuel consistently criticized the class system through his adventures in filmmaking insanity. For his final film, Buñuel turnd his camera onto the absurdity of romantic obsession with Cet obscur objet du désir (That Obscure Object of Desire). Centering around an aging Frenchman Mathieu (Fernando Rey) and a beautiful Spanish dancer named Conchita, it is told almost entirely in flashback, as we see how Mathieu has been brought to wit's end by Conchita and his obsession with her. While it sounds, on the surface, like a typical rom-com, Buñuel refuses to be underestimated, casting two separate women (Carole Bouquet and Angela Molina) as Conchita, who look and act nothing alike. They never appear in a scene together, but play Conchita in various pieces of the story. Buñuel's probably right – we fall madly in love, but can't remember the exact person who brought us to our knees.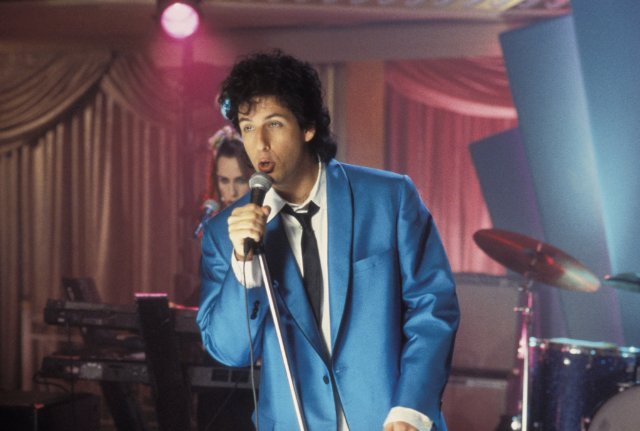 #48. The Wedding Singer (1998)
Romantic comedies have a habit of putting the same story in different time periods, then juicing up the meta humor to say "Look how different things were. Isn't it funny?" None may have done it better than The Wedding Singer,  the first film to give Adam Sandler a role that showed the mild range he would later realize in Punch Drunk Love. Sandler plays the title singer, Robbie, a idealistic musician who can't seem to catch a break. Enter Julia (Drew Barrymore), a new waitress who Robbie quickly falls for as she plans her own wedding. One-dimensional characters abound and topical 80's humor overshadows most of the film's aspects, but the first pairing of Sandler and Barrymore reveals a chemistry they would try to duplicate multiple times going forward, for diminishing results. Here, they do it right, despite the overly sappy elements of the film. Besides, Billy Idol is in it.
#47. Silver Linings Playbook (2012)
Detractors  be damned: David O. Russell's 2012 foray into rom-coms worked on enough levels to escape from the "crazy characters fall in love" trash heap. Headlined by Bradley Cooper and Jennifer Lawrence in her Oscar-winning role, Silver Linings Playbook details Pat Solitano's (Cooper) return home after a stint in a mental ward, determined to get well simply by eating right and exercising. Through extenuating circumstances, he ends up striking a deal with Tiffany (Lawrence), agreeing to help her in an upcoming dance competition if she helps him try to reconcile with his wife. The film goes where you expect it to go, but Cooper and Lawrence give phenomenal lead performances, along with fine supporting turns from Robert De Niro and Jacki Weaver. It's not a prestige film by any means, but an example of what a rom-com can be if it's written and directed well and the actors go for broke.
#46. The Shop Around the Corner (1940)
Long before Meg Ryan had to close her bookstore thanks to money-hungry Tom Hanks and you could have a romance over instant messenger, Ernst Lubitsch produced and directed this adaptation of the Hungarian play Parfumerie by Miklós László. The Shop Around the Corner stars James Stewart as Alfred, the top salesman at a local gift shop, who argues with his boss over the sale of a cigarette box. After their disagreement, Klara (Margaret Sullivan) enters the shop, looking for a job. After she successfully sells one of the boxes, she is hired and a rivalry forms between Alfred and Klara. Simultaneously, Alfred tells his friend that he has been anonymously exchanging letters with a woman he found in the newspaper. As you can guess, Klara is this mysterious woman. It seems old hat now, but in 1940, the secret-admirer romantic comedy had yet to get its day in the sun, until this little gem hit the screens. It was remade by Nora Ephron in 1998 as You've Got Mail – a good movie in its own right. But it'll never touch the original.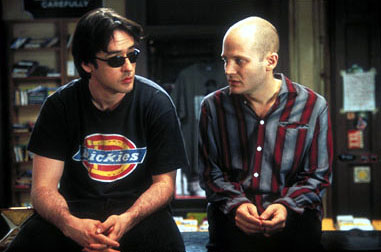 #45. High Fidelity (2000)
The first of writer Nick Hornby's novels to come to the screen, High Fidelity stars John Cusack as Rob Gordon, a recently dumped record store owner recounting all his failed relationships in an attempt to figure out what he's doing wrong. Paired with his contempt for popular music and his "musical moron twins" (Jack Black & Todd Louiso), he spends his time making music-themed lists and ridiculing customers who don't share their tastes. Eventually, he sets his sights on reconciling with his most recent ex Laura (Iben Hjejle), trying to figure out ways to win her back. Directed by Stephen Frears, High Fidelity finds a wonderful balance between the two sides of Rob – a self-indulgent snob and a needy man-child. As always, Cusack walks a fine line between likable and unlikable, but manages to get the audience on his side as he tries to piece together a life full of loves lost and lack of self-realization. Few films can embed a soundtrack into a rom-com, but refuse to let it overshadow the story the way this one does.
#44. Clueless (1995)
If Jane Austen moved to Los Angeles, the result would be this Amy Heckerling romantic comedy. Clueless, based on the Austen novel Emma, takes us into the life of Cher (Alicia Silverstone) as she navigates Beverly Hills in her designer clothes and good looks. Standing at the top of her popularity empire, Cher plays matchmaker for the new girl Tai (Brittany Murphy), only to find her schemes unsuccessful. All the while, she bickers with her ex-stepbrother Josh (Paul Rudd), setting the stage for the slow burn that becomes their "courtship." Let's not split hairs – Clueless is lightweight, sometimes stupid, and a little full of itself. But it's also supremely entertaining and gave birth to a laundry list of terminology that made itself into the American lexicon in the mid-1990's. It may only be loosely inspired by Austen's work, but don't ignore the fact that love and friendship haven't changed all that much since the 1800's.
#43. As Good As It Gets (1997)
James L. Brooks made a career writing brilliant screenplays for both movies and television, but has only sporadically stepped behind the camera as a director. In 1983, his film Terms of Endearment swept the Oscars with Brooks taking home Best Director and Adapted Screenplay. But it wasn't until 1997 that he would make another Oscar-winning film, with As Good As It Gets. The strange pairing of Jack Nicholson and Helen Hunt certainly made for interesting conversation, but at the center of it all was Nicholson's performance as Melvin, an author with a serious case of OCD, who hates almost everyone. Melvin becomes a fully conceived character thanks to his involvement with Hunt's Carol, his gay neighbor Simon (a career high for Greg Kinnear), and, of all things, Simon's dog. A strong script, meticulous direction, and plenty of funny lines of dialogue make this romantic comedy a necessary venture.
#42. Shakespeare in Love (1998)
So, what does it take to beat a Steven Spielberg-directed, Tom Hanks-starring film about World War II? A British romantic comedy/drama about William Shakespeare (Joseph Fiennes) and his love affair while writing Romeo and Juliet. This Best Picture winner, directed by John Madden, tells a fictionalized story of Shakespeare, as he rises from a poor playwright to a literary legend, thanks, in part, to his falling in love with, ironically, a woman who auditioned for the role of Romeo in another play. Viola (Gwenyth Paltrow) inspires him to completely rewrite the play, eventually becoming his most famous work. Shakespeare in Love will long be remembered as the film that beat Saving Private Ryan, but look again: this is a well-written, well- acted story that deserves a better reception that it has historically received in critic circles.
#41. Amélie (2001)
The full French title is Le Fabuleux Destin d'Amélie Poulain, but English-speaking audiences know it as Amélie. Starring Audrey Tautou in her star-making role, Amélie follows the title character as she navigates a world of wonder, thanks to her incredible imagination. Having been raised by eccentric parents who sheltered her from other children, she goes on a quest of discovery after she finds a metal box of memorabilia left by a previous tenant. She decides to track him down to return the box. What results is a strangely episodic, wondrous film that moves from character to character, with Amélie being our eyes and ears. While the film does not really begin as a love story, exactly, we slowly see Amélie evolve as she meets more and more people and finds more and more beauty in the world outside of her imagination. We all may end up in love with someone else, but we must first love our world as it stands on its own.
Well, that's #50 through #41. Coming up, #40-#31, an eclectic mix of love stories that have no business being associated with each other. Outside of this list, anyway.
— Joshua Gaul