A rather precious thing happened in Montreal in the mid 1970s. Canadian cinema had been dominated by the National Film Board since its formation in 1940, and the generally-perceived character of Canadian film was all educational documentary, and not a lot of fun. Directors such as Claude Jutra, Don Owen, and Gilles Groulx struck off on their own to make the first Canadian new wave fiction films (A tout prendre [1963], Nobody Waved Goodbye, and Le chat dans le sac [both 1964] respectively), on the back of independents like Sydney J. Furie's groundbreaking A Dangerous Age (1959) and Larry Kent's student feature The Bitter Ash (1963), but for all their youthful, semi-bohemian trappings, these were still quite po-faced affairs. Then came the "genial loser" films of the 70s, led by Owen's Goin' Down The Road (1970), and others such as The Rowdyman (Peter Carter, 1972) and Paperback Hero (Peter Pearson, 1973), for the first time really reflecting blue-collar life back to Canadians through fiction. Yet still there wasn't much joy to be found, even in the much-lauded The Apprenticeship of Duddy Kravitz (Ted Kotcheff, 1974). For the first time, however, there did seem to be a viable future for Canadian fiction feature making, so the government, in its wisdom, upped the Capital Cost Allowance tax break for film investment to 100%. This basically created a tax shelter whereby anyone with some cash could write it off against production of a film, which didn't even need to be finished, let alone exhibited or make back its money. So a free-for-all ensued, sleaze and genre holding the day and, amongst other things, launching the career of one D. Cronenberg – his Montreal-set Shivers (1975) earned a magazine article entitled "You Should Know How Bad This Movie Is. After All, You Paid For It" (Saturday Night 83, September 1975).
It was in this environment that a gang of bohemian semi-dropouts, congregated round Montreal's St Laurent Boulevard, the city's de facto main street, decided to start making films (not, in fact, under the tax shelter scheme, although the first was partially funded by the Canadian Broadcasting Company). Allan Moyle and Frank Vitale had met as students at Montreal's McGill University before both ending up in New York, to soak up the newly-alternative '60s atmosphere typified by Warhol, as well as the underground film tradition of Amos Vogel's Cinema 16, and the more recent Film-Maker's Co-Operative and Cinematheque, spearheaded by Jonas Mekas. When the pair returned to Montreal, they fell in with the St Laurent crowd, and started a free-wheeling art gallery.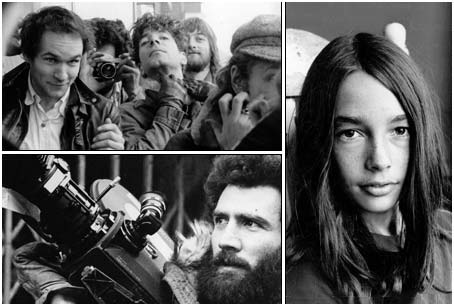 It seemed no great leap for Vitale to set to making a film more or less documenting their surroundings. Written by Vitale, Moyle, and local personality Stephen Lack, Montreal Main (1974) has little pretense to narrative, more concerned with portraying the milieu and way of life, the actors performing under their own names, and spending much of their time simply hanging out, chewing the fat, and going about their usual, inconsequential business. The plot, such as it is, involves Vitale's photographer Frank, and his ambiguous friendship with an androgynous 12-year-old boy, to the bemusement of his friends (including "Bozo" Moyle and motormouthed Lack), and eventual discomfort of all. Quite aside from the subject matter – the restrained and sensitive depiction of a young man and a boy, neither of whom quite knows what he wants, or why he does what he does; and the unhung-up depiction of a mostly homosexual group – the film was significant for its unprecedented form, described by Cinema Canada magazine, as "Imaginary Documentary", the free-flowing, partly truth and partly fiction, self-portrait of a subcultural community theretofore unseen on screen.
Montreal Main went down well locally and played briefly in New York, but was never destined for high profile success: no deterrent, however, to the gang's doing it again. 1976's East End Hustle, directed by Vitale and co-scripted by him and Moyle, utilised the same sort of street-level realism but to more genre-oriented ends, for the tale of a gang of prostitutes getting their own back, released by Troma, no less. The film is interesting in part for neatly representing Canadian cinema's 1970s' transition from personal, documentary-inflected film-making, to straight-up exploitation fare like Diary of a Sinner (Ed Hunt, 1974), Stone Cold Dead (George Mendeluk, 1979), or the über-sleazy Cross Country (Paul Lynch, 1983), which in turn gave way to 1980s' Hollywood-apeing with titles such as Meatballs (Ivan Reitman, 1979), Prom Night (Paul Lynch, 1980), My Bloody Valentine (George Mihalka, 1981), and Porky's (Bob Clark, 1982). As an aside, an even more apposite example is Denys Arcand's debut fiction feature Gina (1974), which juxtaposed a stripper's revenge story with a Montreal film crew earnestly documenting the exploitation of boondocks textile workers, utilizing footage from a previous, banned Arcand NFB doc.
The true spiritual sequel to Montreal Main, however, was Allan Moyle's The Rubber Gun (1977). Moyle and Lack again co-scripted (with editor John Laing) and Vitale, who had left Montreal to pursue commercial film-making, was coaxed back to man the camera. The subject was once again the small, introspective, drug-addled, and semi-communal environment casually peopled by artists, bohemians and homosexuals, with which they were acquainted first-hand. Where Montreal Main had provided more of a portrait of the place, however, with innumerable shots of Vitale's VW bus cruising up and down St Laurent, and frequent visits to the Frites Dorées cafe, The Rubber Gun is more of a psychological portrait of the community, albeit filtered through a more fictional lens. Lack starred this time, supported by Moyle himself as a sociology student writing a master's thesis on this (as-then) underexplored counter-cultural milieu; Lack is the tart, charismatic father hen of a loosely-bound family of bohemian drug dealers, waiting around for a chance to pick up their stash, which is trapped in a railway station locker under surveillance from the pigs. In the meantime, they again hang out and chew the fat, mostly about nothing in particular, whilst Bozo becomes gradually more enamoured of the group, their lifestyle, and Lack in particular. The cast once again appeared under their own names, and the apparently improvised dialogue in the service of an obviously fictional framework, presented with a Direct Cinema style of filming, had the NFB gnashing its teeth at the admixture of documentary and drama, a perceived belittling of, if not outright disrespect towards, the country's venerated tradition. Indeed, the film has a semi-ironical tone, mostly conveyed through Lack's charmingly arch goofiness,
nonsensical drug slang, and the somewhat wooden presentation of the plot-demanded scenes (particularly those involving the cops), as opposed to the more off-the-cuff episodes; but the atmosphere and lifestyle are, broadly, a faithful documentary record of the time and place, and certainly afford a rare glimpse into the geographically-specific, free-living subculture that was unexplored by anyone but this small group of independent film-makers.
In her background coverage of The Rubber Gun for Cinema Canada magazine in 1978, P.M. Massé-Connolly attributes the title to a local anecdote, involving forced entry to a night club and demands for repayment of a loan. At one stage, however, Lack compares the group's lifestyle to a sideshow, complete with rubber gun, ersatz, useless, and without meaning. As he wonders about the worth and sustainability of such an existence, the urge to feel five years younger, and foretelling the inevitable break-up and dispersion of their circle, the film emerges as a surprisingly engaging and quietly melancholy work. Made with a tiny crew, barely a script, and a non-budget of CA$90,000 (approximately US$325,000 in 2015) The Rubber Gun enjoyed a brief November 1978 release in Montreal and New York, before dropping off the radar almost immediately, despite two nominations (best actor and screenplay) at the first Genie awards in 1980. Vitale more or less disappeared, but Moyle went off to Hollywood and distinguished himself with teenage-runaway new wave pic Times Square (1980), another valuable document of time and place, in pre-Giuliani New York; the John-Hughes-with-teeth Pump Up The Volume (1990), with a star-making turn by Christian Slater as a rebellious high school pirate radio DJ; and the fondly-remembered but rather bland Empire Records (1995). He returned to Canada for an appealing portrait of small-town Cape Breton life with New Waterford Girl (1999), notable for being that (then-)rare beast, a proudly Canadian comedy. Lack, meanwhile, quit acting to be a painter, but not before achieving a higher profile as star of David Cronenberg's Scanners (1981). There is a remarkable discrepancy, however, between his assured and personable performances for Moyle and Vitale, and his wooden presence in Cronenberg's film. Lack has always put it down to being asked to "act", as opposed to simply being himself on camera; legend has it, however, that Cronenberg never cottoned to Moyle and Vitale's foolproof method of getting a lively performance from him, namely hopping him up on coffee and doughnuts before turning the camera.
Lack was quite a figure on the scene – described by Massé-Connolly as entering a Christmas party, late and unkempt, to declare "I know you've all been dying for me to get here so you can get stoned, but really, I don't have anything." He wasn't especially interested in acting, appearing in only one other picture (Head On [Michael Grant, 1980]) between The Rubber Gun and Scanners, preferring to concentrate more on photography and painting. Around the time of The Rubber Gun, however, he did have a memorable single-scene appearance in another quasi-Montreal film – Gilles Carle's L'ange et la femme (1977). Set in the countryside outside the city, it is a rather ponderous but engaging tale of a murdered young woman brought back to life by the angel Gabriel, and recovering herself in an isolated farmhouse (beautifully photographed by François Protat who would, improbably, go on to photograph Weekend At Bernie's [1989] and Johnny Mnemonic [1995]). Carle was another of the breakout directors from the NFB in the 60s whose career very much had its ups and downs – L'ange et la femme was considered a down, in part for some controversial, explicitly unsimulated sexual activity between its stars, Lewis Furey and Carole Laure (Miss Canada in Makavejev's Sweet Movie [1974] and Furey's future wife). Furey is the other connection to the Moyle/Vitale gang – he was a Montreal-based musician who provided the idiosyncratic, gypsy Dr John-esque songs on the soundtrack of The Rubber Gun (by contrast, his score for L'ange et la femme is rich with intriguing 12-tone compositions for viola and piano). To complete the circle, Lack photographed and designed Furey's first two LP jackets, and co-wrote a song on the second ("Top Ten Sexes", the preceding track being "The Rubber Gun Show"..) It was a charmingly free, fertile, collaborative moment in time and space, destined of course not to last, but at least we have a fraction of it fascinatingly preserved in these films. Tom Newth