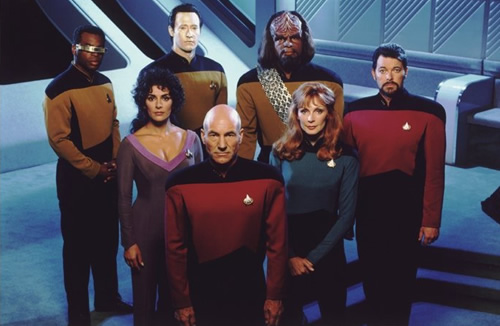 The Televerse #31- Star Trek TNG with Eric Mendoza
It's a light week this episode as Simon and Kate skip the spotlight in favor of an extended DVD Shelf. After talking through the week's TV, with particular focus on Justified, Awake, the Spartacus finale, Mad Men, and, once again, Smash, we welcome Eric Mendoza from Sound on Sight's Doctor Who podcast on to talk about that seminal sci-fi relaunch, Star Trek: The Next Generation.
Other shows discussed this week include New Girl, Happy Endings, Community, 30 Rock, The Vampire Diaries, Supernatural, Fringe, Bob's Burgers, Lost Girl, the first live round of The Voice, and Werner Herzog's On Death Row.
Download m4a — Download mp3 — m4a RSS feed — mp3 RSS feed
Follow Kate on Twitter
Like The Televerse on Facebook
Rate/Review The Televerse on iTunes: m4a — mp3