1. The Hammer: Grade C
Blunt, trite, cheesy, oddly funny.
2. Goon: Grade C-
Liev Schreiber is somewhat frightening in this typical poster.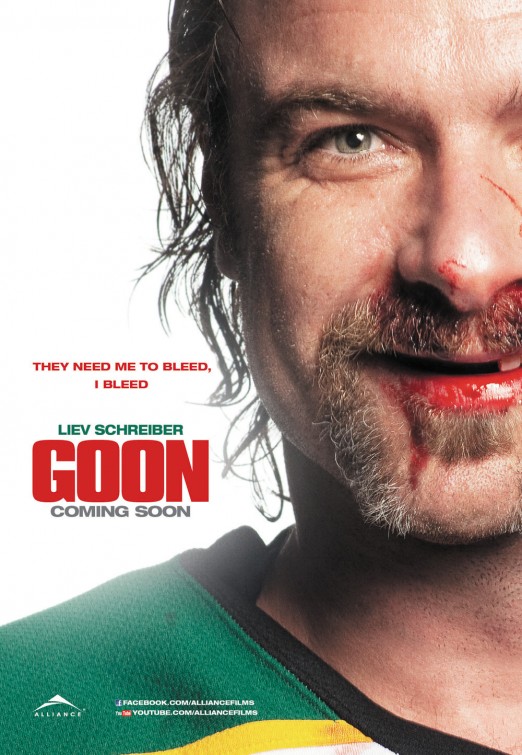 3. Ice Age: Continental Drift: Grade B

How many of these scientifically inaccurate films are they going to make? With every new Ice Age film released, my seventh grade science teacher accidentally chokes himself with his tie.
4. Hell and Back Again: Grade D

This poster is optically dysfunctional. It makes me involuntarily crane my head to the side.
5. The Sitter: Grade C
I think I am getting tired of the poster featuring the protagonist with a dumb look on his or her face. Let's take a moment to thank The 40 Year Old Virgin.
6. The Deep Blue Sea: Grade B
The muted colors give it an aged, discovered in the attic, type of look.
7. Detachment: Grade B
I like Adrien Brody, and I'm rooting for him with this film, but unfortunately in the last 10 years the movie posters of his films have been more compelling than many of the films themselves (I still love The Darjeeling Limited). But, let's think of it more as a tribute to Brody's unique facial features, rather than an indictment on the films.
8. Perfect Sense: Grade B
Intimate, yet cold. Both characters seem to know something the other doesn't.
9. Martha Marcy May Marlene: Grade B+
I have yet to see a bad poster for this film. Each one has a quiet dread lurking beautifully just below the surface.
10. Los Muertos no Se Tocan, Nene: Grade A
I love the playful illustration, reminiscent of an old comic strip. The text that borders it is a little much, but not enough to distract.
– James Merolla