Toronto – On July 31st, the 37th annual Toronto International Film Festival announced its second wave of features and documentaries to be added to this year's already promising lineup.
The 'Midnight Madness' programme, which showcases up and coming genre films, will return for a second year, with The Raid winning the inaugural audience choice award in 2011.
TIFF Programmer Colin Geddes says that the audience should expect "everything from outrageous horror comedies to mock-doc-eco-apocalypse thrillers, featuring trans-dimensional bugs, lewd Catholic priests, meat monsters and dog-snapping psychopaths that will animate the Ryerson Theatre when the clock chimes 12."
Returning for its fourth edition this year is the 'City to City' programme, which puts a spotlight on filmmakers working and living in a certain city, introducing audiences to local independent films from around the world. This year's city of choice is Mumbai.
Artistic Director Cameron Bailey says, "Mumbai's cinema today is entirely different from what it was even a few years ago", adding that this year's programme will represent "the evolution of their city in an interesting way" and that "Toronto audiences are in for a treat this fall."
The festival's documentary lineup this year will include Moon lovers, extreme surfers and disco dancers. High profile figures are also slated to appear as the subject of documentaries, including Jared Leto and Thirty Seconds to Mars, Olympic runner Ben Johnson, playwright Sam Shepard, Snoop Dog and Iceberg Slim.
For those interested in a more provocative form of cinema, the festival's 'Vanguard' programme will tap into the bold and dangerous world where genre movies meets art house.
Geddes promises diversity this year saying, "From Tijuana caves to the dawn of the Spanish civil war, this programme takes genre junkies to extreme depths of storytelling that push the boundaries of filmmaking."
Here is a sample of what you will expect to see:
Midnight Madness
The ABC's of Death (World Premiere)
Kaare Andrews, Angela Bettis, Adrián García Bogliano, Bruno Forzani & Hélène Cattet, Ernesto Díaz Espinoza, Jason Eisener, Xavier Gens, Jorge Michel Grau, Lee Hardcastle, Noboru Iguchi, Thomas Cappelen Malling, Anders Morgenthaler, Yoshihiro Nishimura, Banjong Pisanthanakun, Simon Rumley, Marcel Sarmiento, Jon Schnepp, Srdjan Spasojevic, Timo Tjahjanto, Andrew Traucki, Nacho Vigalondo, Jake West, Ti West, Ben Wheatley, Adam Wingard, and Yûdai Yamaguchi
Like V/H/S, The ABC's of Death is a yet another horror anthology. This time, there will be 26 directors.
Aftershock (World Premiere)
Nicolás López, USA/Chile
Starring Eli Roth and Selena Gomez
An American tourist's vacation in Chile seems to be going well when he meets some beautiful women travelers, but when an earthquakes ravages the underground nightclub they're in, they must try to fight their way to the surface, where the nightmare really begins.
Come Out and Play (World Premiere)
Makinov, Mexico
Starring Ebon Moss-Bachrach, Vinessa Shaw, Daniel Gimenez Cacho
A young expecting couple set out to a beautiful island, only to find it abandoned, except for a legion of killer children.
Dredd (World Premiere)
Pete Travis, USA/UK/India
Starring Karl Urban, Olivia Thirlby, Lena Heade
Based on the legendary British comic book icon, the masked police officer Dredd takes on a vicious drug empress in this futuristic neo-noir action film shot in 3D.
Hellbenders (World Premiere)
JT Petty, USA
Starring Clancy Brown, Clifton Collins Jr., Robyn Rikoon, Andre Royo
A Brooklyn Parish of lecherous and blasphemous Catholic priests, known as the Order of Hellhound Saints, battle demonic forces that need to be dealt with in non-Vatican-approved methods.
John Dies at the End (Canadian Premiere)
Don Coscarelli, USA
Starring Chase Williamson, Rob Mayes, Clancy Brown, Glynn Turman, Doug Jones, Fabianne Therese, Jonny Weston, Paul Giamatti, Daniel Roebuck
A drug that takes users to different dimensions inadvertently brings on an otherworldly invasion when the people that come back are no longer human.
The Lords of Salem (World Premiere)
Rob Zombie, USA/UK/Canada
A radio DJ opens up a Pandora's box of violent flashbacks when she receives a record that was sent by Salem witches from the 17th Century.
No One Lives (World Premiere)
Ryuhei Kitamura, USA
Starring Luke Evans, Adelaide Clemens, Lee Tergesen, Derek Magyar, America Olivo
The tables are turned when a group of killers find themselves outsmarted when they discover that their latest victims are not as helpless as they seem.
Seven Psychopaths (World Festival Premiere)
Martin McDonagh, USA/UK
Starring Sam Rockwell, Gabourey Sidibe, Woody Harrelson, Abbie Cornish, Colin Farrell, Christopher Walken
A struggling, alcoholic screenwriter gets mixed up in a dognapping scheme involving the Los Angeles criminal underworld.
City to City
Gangs of Wasseypur – Part One(North American Premiere)
Anurag Kashyap, India
Starring Manoj Bajpayee, Richa Chadda, Reema Sen, Tigmanshu Dhulia, Nawazuddin Siddique
Part one of this gangster epic follows the bloody turf war between two competing criminal families during the era of Indian independence and industrialization.
Gangs of Wasseypur – Part Two(North American Premiere)
Anurag Kashyap, India
Starring Manoj Bajpayee, Richa Chadda, Reema Sen, Tigmanshu Dhulia, Nawazuddin Siddique
Part two follows the amoral criminal clans of Wasseypur as they careen towards their bloody date with destiny.
Miss Lovely (North American Premiere)
Ashim Ahluwalia, India
Starring Nawazuddin Siddiqui, Niharika Singh, Anil George
Two brothers produce sex-horror films in the 1980's.
http://www.youtube.com/watch?v=oklphL5bITE&list=PL2FFDD69CFC4DBEE4&index=7&feature=plpp_video
Mumbai's King(World Premiere)
Manjeet Singh, India
Starring Rahul Bairagi, Arbaaz Khan, Tejas Parvatkar, Dhanshree Jain, Aftab Khan, Salman Khan
Two boys that deal with gambling, roasting stolen potatoes, stealing auto rickshaws and chasing girls come of age in the slums of Mumbai.
Peddlers(North American Premiere)
Vasan Bala, India
A rookie cop, a streetwise orphan and a beautiful young ex-teacher collide in the drug underworld of Mumbai.
Shahid(World Premiere)
Hansal Mehta, India
Starring Raj Kumar, Prabhleen Sandhu, Baljinder Kaur, Tigmanshu Dhulia, K K Menon, Yusuf Husain, Prabal Panjabi, Vinod Rawat, Vipin Sharma, Shalini Vatsa, Paritosh Sand, Pavan Kumar, Vivek Ghamande, Akash Sinha, Mohd Zeeshan Ayyub, Mukesh Chhabra
The story of slain human rights activist and lawyer Shahid Azmi chronicles his attempt to become a terrorist, his wrongful imprisonment, and his metamorphosis into a messiah for human rights.
TIFF Docs
9.79* (World Premiere)
Daniel Gordon, UK
The eight athletes that participated in the men's 100-meter sprint final in the 1988 Seoul Olympics talk about the legacy and scandal of that race, when Canadian sprinter Ben Johnson won the gold medal but tested positive for anabolic steroids.
Artifact World Premiere
Bartholomew Cubbins, USA
Jared Leto and his band, Thirty Second to Mars, are embroiled in a bitter lawsuit with EMI over their album, This Is War.
A World Not Ours (World Premiere)
Mahdi Fleifel, UK/Lebanon/Denmark
Three generations of exiles live in the refugee camp of Ain El-Helweh, in southern Lebanon.
http://www.youtube.com/watch?v=0nHBVD_xuvs&list=PL2FFDD69CFC4DBEE4&index=27&feature=plpp_video
The Act of Killing (World Premiere)
Joshua Oppenheimer, Denmark/Norway/UK
Former members of Indonesian death squads are challenged to re-enact some of their many murders in the style of American movies they love.
As if We Were Catching a Cobra (World Premiere)
Hala Alabdalla, Syria/France
Cartoonists from Egypt, Algeria, Syria and Palestine use their comic strips and caricatures as a catalyst for dissent and a voice for freedom of expression in the Arab world.
Camp 14 — Total Control Zone (North American Premiere)
Marc Wiese, Germany
Twenty-nine-year-old Shin Dong-Huyk, a man born and raised in a North Korean labour camp, discovers the 'outside world' for the first time.
The Central Park Five (North American Premiere)
Ken Burns, David McMahon and Sarah Burns, USA
An investigative look at how five black and Latino teenagers were wrongly convicted of raping the Central Park Jogger.
Far Out Isn't Far Enough: The Tomi Ungerer Story (North American Premiere)
Brad Bernstein, USA
Depict's a man's subversive art that tested societal boundaries.
Fidaï (World Premiere)
Damien Ounouri, France/Algeria/Qatar/China/Kuwait
A tribute and intimate portrait of El Hadi, a seventy-year-old veteran of the Algerian War of Independence, told by recreations.
First Comes Love (World Premiere)
Nina Davenport, USA
Davenport documents her own quest to have a baby as an over-forty single mother.
The Gatekeepers (International Premiere)
Dror Moreh, Israel/France/Germany/Belgium
Six former heads of the Shin Bet, Israel's intelligence and security agency, agree to share their insights and reflect on Israel's decades-long counter-terrorism campaign.
The Girl from the South (International Premiere)
José Luis García, Argentina
A search for an activist known as 'The Flower of Reunification' who, 20 years ago, swore to cross the border between North and South Korea.
How to Make Money Selling Drugs (World Premiere)
Matthew Cooke, USA
Top-ranking government officials and such celebrities as Woody Harrelson, Susan Sarandon and 50 Cent provide insight into the world of drug dealing and enforcement.
Iceberg Slim: Portrait of a Pimp (World Premiere)
Jorge Hinojosa, USA
Chris rock, Ice-T, Snoop Dog and Quincy Jones all pitch in to tell the story of legendary pimp/author Iceberg Slim.
London – The Modern Babylon (International Premiere)
Julien Temple, United Kingdom
A time traveling voyage though London's history, from the city's musicians, writers, artists, political thinkers, radicals, immigrants and bohemians.
Lunarcy! (World Premiere)
Simon Ennis, Canada
A group of dreamers and schemers talk about their shared obsession with the moon.
Mea Maxima Culpa: Silence in the House of God (World Premiere)
Alex Gibney, USA
Another exposé on the abuse of power of the Catholic Church and a cover-up that starts in Wisconsin, leads to choirs in Ireland, and ultimately ends at the highest office of the Vatican.
Men At Lunch (International Premiere)
Seán Ó Cualáin, Ireland
The untold story behind the iconic 1932 photograph of workers taking their lunch while perched on a girder high above New York City.
http://www.youtube.com/watch?v=4yyfKUOci30&list=PL2FFDD69CFC4DBEE4&index=8&feature=plpp_video
More Than Honey (North American Premiere)
Markus Imhoof, Germany/Austria/Switzerland
A global examination of the decline and endangerment of bees.
No Place on Earth (World Premiere)
Janet Tobias, USA/UK/Germany
Thirty-eight Ukrainian Jews survive World War II by living in a cave for eighteen months.
The Secret Disco Revolution (World Premiere)
Jamie Kastner, Canada
Argues that the disco genre represented a moment of mass liberation for women, African-Americans and gay men.
Shepard & Dark (World Premiere)
Treva Wurmfeld, USA
Sam Shepard and his close friend Johnny Dark prepare forty years of their correspondences for publication.
Storm Surfers 3D (World Premiere)
Christopher Nelius and Justin McMillan, Australia
Two of Australia's great surf legends hunt down and ride the biggest and most dangerous waves in the Pacific.
Vanguard
Painless (World Premiere)
Juan Carlos Medina, Spain/France/Portugal
Starring Tomas Lemarquis, Alex Brendemühl, Derek De Lint, Juan Diego, Silvia Bell
In his search for his biological parents, a young neurosurgeon discovers a dark secret about a series of bizarre pre- Spanish Civil War experiments conducted on children.
Peaches Does Herself (World Premiere)
Peaches, Germany
Starring Danni Daniels, Sandy Kane, Peaches
Canadian performance artist Peaches stars in a wild transsexual rock opera.
Pusher (North American Premiere)
Luis Prieto, UK
A remake of Nicolas Winding Refn's 1996 cult classic about a drug pusher in London.
Sightseers (North American Premiere)
Ben Wheatley, UK
Starring Alice Lowe, Steve Oram, Eileen Davies, Jonathan Aris, Richard Glover, Monica Dolan
Two sad-sack lovers go on a Bonnie and Clyde inspired killing spree while on their romantic getaway to the English countryside.
Thale (Canadian Premiere)
Aleksander Nordaas, Norway
Starring Silje Reinåmo, Erlend Nervold, Jon Sigve Skard, Morten Andresen
In the concealed basement of a remote Norwegian cabin, two forensic clean-up men find a strange woman with a tail.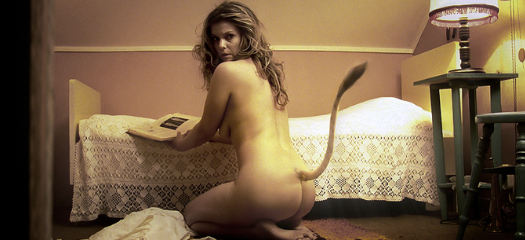 The We and the I (North American Premiere)
Michel Gondry, USA
On the last few days of school, a group of kids from the Bronx take an unusual bus ride home.
–
Trailers and photos courtesy of TIFF
The Toronto International Film Festival runs from September 6-16
For more information and tickets, please visit the official website