12 Years a Slave
Written by John Ridley
Directed by Steve McQueen
USA, 2013
With Hunger and Shame, Steve McQueen crafted two highly divergent, yet equally distinctive character studies of men whose respective physical existences are defined by extremity. Hunger's Bobby Sands stays true to his political convictions in the face of death by refusing all sustenance; Shame's Brandon feels he has no choice but to indulge every one of his body's countless sexual whims, at the expense of any and all honest interpersonal connection. With 12 Years a Slave, McQueen shifts thematic gears somewhat, while staying in his typically anguished wheelhouse. Where Hunger and Shame honed in on men whose state of existence is, to a certain degree, a matter of choice or internal imperative, 12 Years a Slave's Solomon Northup (Chiwetel Ejiofor) is a blameless victim of a fiercely racist system that seeks to tear away his humanity and identity forever. The increased externalization of the forces at work in 12 Years a Slave, not to mention the greatly widened scope, sometimes obscures McQueen's gifts.
Based on Northup's autobiography of the same name, 12 Years a Slave opens with Northup a free man in Saratoga, NY, a violinist living happily with his wife and two children. Before long, he's been tricked into captivity and sold at auction in Louisiana to a plantation owner (Benedict Cumberbatch) who seems to take a liking to him, much to the chagrin of one of his crueller employees (Paul Dano). Later, Northup is passed to another master, Edwin Epps (returning McQueen collaborator Michael Fassbender), who serves as the film's primary antagonist. Unshakeable, brutal, and fiercely superstitious, Epps manages to make Northup's life even more miserable, particularly when Epps takes a shine to a particularly hardworking young slave, Patsey (Lupita Nyong'o), a union that has dire consequences.
Despite the title, and McQueen's previous history of doggedly single-minded character studies, 12 Years a Slave finds time for a dozen or so peripheral characters, most of whom are present to act as too-neat counterpoints to Northup's stubborn idealist streak. Very brief appearances by familiar faces (Michael Kenneth Williams, Paul Giamatti) are distracting, but not nearly as destabilising as a late-film appearance by co-producer Brad Pitt as a Christlike abolitionist from Canada. It's a stunningly misguided decision on several levels.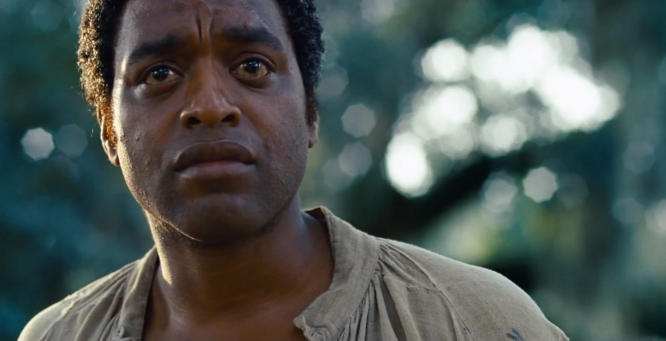 The diffuse focus – which also short-sells some supporting players, like Alfre Woodward's spirited Mistress – makes 12 Years a Slave paradoxically less intense and demanding than its predecessors, when the subject matter begs for McQueen's startling flair for depictions of physical degradation. Only a prolonged sequence in which Northup is nearly hanged, only to be left for hours to survive on his tiptoes in the mud, sufficiently repels viewers, thereby viscerally evoking the abominable conditions that made Northup's terrible fate possible. In that scene, and select other moments, McQueen's almost perverse sense of patience manages to creep in, but for most of the runtime, John Ridley's pedestrian screenplay mutes the proceedings.
It also mutes the potential impact of Chiwetel Ejiofor's performance. A sterling usually-supporting player long overdue for a showcase, Ejiofor is an ideal fit for Northup, convincingly cowed by his fate while being unable to completely hide his compassion and intelligence for very long. While the film's closing moments can't help but be quietly devastating, given the inevitable circumstances, there's still a distinct sense that 12 Years a Slave represents a missed opportunity in terms of telling Northup's story in the most effective manner possible. A tale this incredible, a fate this cruel, should produce far greater inner tumult and aesthetic discord; instead, it winds up feeling like an only slightly-auteuristic take on a well-worn cinematic form.- Simon Howell
The Toronto International Film Festival runs from September 5th to 15th, 2013. For a complete schedule of films, screening times, and ticket information, please visit the official site.