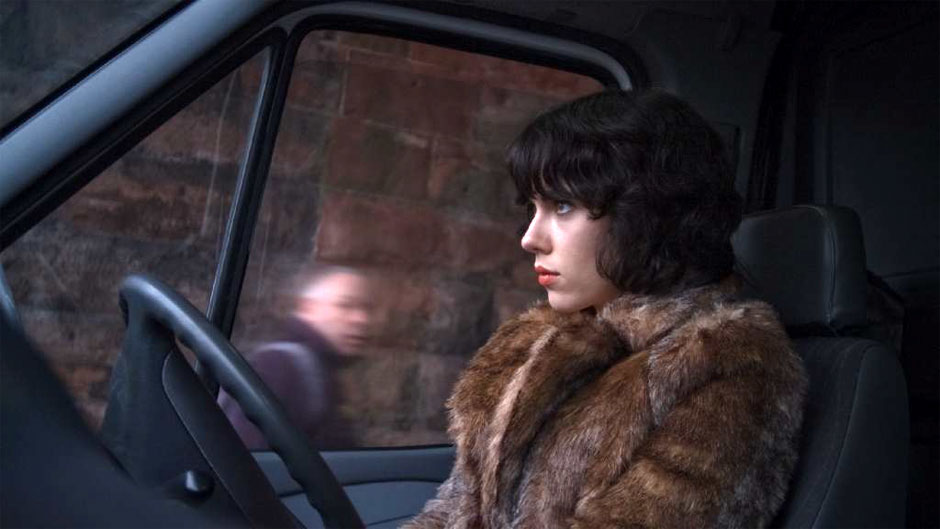 Under the Skin
Written by Jonathan Glazer and Walter Campbell
Directed by Jonathan Glazer
UK, 2013
It's not difficult to see why Jonathan Glazer′s 9-year hiatus from the big screen has been so protracted given the deeply uncommercial nature of his extremely disquieting new film Under The Skin. Carried aloft on a wave of five-star reviews from its Venice premiere, the film is based on the cult novel by Michel Faber, and on first sight seems to be a Lynchian reworking of Roeg's The Man Who Fell To Earth, with Scarlett Johansson perfectly cast as a porcelain succubus, all raven hair and deadly crimson lips.
We gaze at the murky wastelands of Glasgow and the mist-drenched lochs through her unyielding eyes, an alien amongst us who may or may not be an extraterrestrial, or may just be from somewhere else. She preys on the young men of the city by luring them to her mysterious bolt-holes scattered around the city, occasionally accompanied by a similarly taciturn and strange motorcyclist accomplice who may be her mate, her collaborator, or her master. Many such elements in this film are left pendulous and garbled, like the fading purlieus of a poisonous nightmare.
Preferring fluidity to coherence, Under The Skin (and the film certainly achieves that goal in a prickly, narcoleptic sense) moves from encounter to seduction like a softly rotating fever dream, jettisoning the novel's overt themes of corporatism, agronomy, and environmental dissolution in favour of an intensive excavation of sexual identity, social isolation, and wraithful dissolution. Cinematographer Dan Landin sculpts the rain-sodden streets of Glasgow with an infecting stream of inky blacks, distressingly accompanied by Micachu′s distorted nails-sliding-down-a-blackboard score, a tendrilous merging of the visual and aural to create at times a quite uncomfortable viewing experience, with little in the way of clarity or humor to leaven the droning atmosphere. Johannsson is a quiet revelation; her tensile movements and ability to emanate the feeling of crawling uncomfortably in her own skin complete the film's vigorous lure. This is a career-best physical performance that stands in stark symbiosis with Jeff Bridges' Oscar-nominated poise in Starman.
Repeated viewings will be required to crack the film's obsidian carapace, as Glazer is obviously not in the business of handholding or signaling his overt intentions with this enigmatic return to the screen. The uncompromising intensity and storytelling ellipsis of Under the Skin seems sure to alienate potential viewers who may prefer their material more solidified and homogenized, but the film is destined for cult classic status, an uncompromising, haunting symphony on the paralyzing gaze of lust.
— John McEntee

The Toronto International Film Festival runs from September 5th to 15th, 2013. For a complete schedule of films, screening times, and ticket information, please visit the official site.