One of the key aspects of the Toronto International Film Festival is the City to City Programme, which takes a look at a specific city every year, screening films that focus on the events of that specific city, as well as showcasing the latest projects by filmmakers from the city. The 2015 incarnation of the festival will focus on London, England, with eight films in the TIFF programme this year.
The films that will be part of the lineup have now been announced, alongside an additional set of films that will be part of the TIFF Wavelengths Programme, joining the previously announced entries in the programme. The complete list of films in both programmes, along with their official synopses, can be seen below.
CITY TO CITY
Couple in a Hole, directed by Tom Geens, making its World Premiere
A middle class British couple end up living like feral creatures in a camouflaged hole in the middle of a vast forest in France.
The Hard Stop, directed by George Amponsah, making its World Premiere
Over several years The Hard Stop features Marcus and Kurtis, childhood friends of Mark Duggan, the young man whose death ignited the UK riots in 2011. Marcus was sentenced for starting the riots in Tottenham that turned into the worst civil unrest in recent British history. The film reflects the current class divisions in British society as it charts the everyday challenges Marcus and Kurtis face as they grieve the loss of their dear friend, and negotiate incarceration and unemployment while the media debate about who their friend was and the inquest into his killing plays out in the background.
Kill Your Friends, directed by Owen Harris, making its North American Premiere
Set in 1990s London, Kill Your Friends follows a 27-year-old A&R man — Steven Stelfox — slashing his way through the music business. Fueled by greed, ambition and inhuman quantities of drugs, Stelfox searches for his next hit record. But as the hits dry up and the industry changes, Stelfox takes the concept of "killer tunes" to a murderous new level.
Kilo Two Bravo, directed by Paul Katis, making its International Premiere
Set in Afghanistan in 2006, a group of British soldiers find themselves trapped in an unmarked minefield, setting into motion a desperate rescue mission. Based on a harrowing real life event, this suspenseful drama sheds light on the bravery, selflessness and heroism soldiers must have to avoid severely tragic consequences.
London Road, directed by Rufus Norris, making its International Premiere
A film adaptation of the National Theatre's ground-breaking musical by Alecky Blythe and Adam Cork about the "Suffolk Strangler" murders in Ipswich in 2006. London Road follows the community who found themselves at the epicentre of these tragic events, and uses their own words set to an innovative musical score.
Northern Soul, directed by Elaine Constantine, making its North American Premiere
John and Matt are changed forever when they discover American soul music. No longer satisfied with the prospect of a dead-end factory job, they dream of finding the American soul record which will make them famous DJs. Northern Soul was phenomenally popular with British youth in the 1970s, taking the north of the country by storm. This is the story of a youth culture that changed a generation and influenced songwriters, producers, DJs and designers for decades to come. This is the story of Northern Soul.
The Ones Below, directed by David Farr, making its World Premiere
Kate and Justin are a successful working couple in their mid-30s whose lives are destined to change forever when the seemingly charming Teresa and Jon move into the flat downstairs. Kate and Teresa become especially close when they both discover that they are pregnant. But when Teresa loses her baby in an accident, she blames Kate. After that, nothing is ever the same.
Urban Hymn, directed by Michael Caton-Jones, making its World Premiere
Urban Hymn is a redemptive coming-of-age story which follows a neglected and wayward teen, Jamie, whose incredible singing voice offers an escape to a better life until she finds her loyalties torn between her inspiring, unconventional care worker and her possessive and volatile best friend.
WAVELENGTHS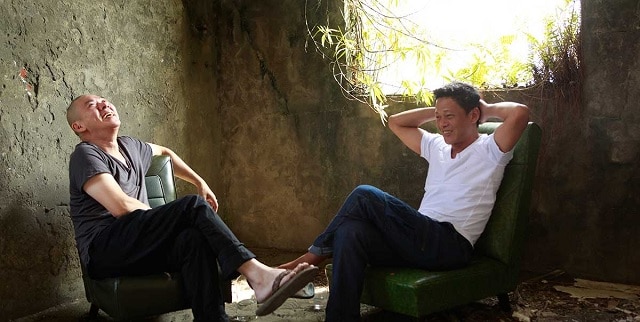 Afternoon, directed by Tsai Ming-liang, making its North American Premiere
A disarmingly candid, insightful and ultimately very moving conversation between Taiwanese auteur Tsai Ming-liang and his muse, actor Lee Kang-sheng, whose storied relationship represents one of the great collaborations in cinema history.
Arabian Nights: The Restless One, directed by Miguel Gomes, making its North American Premiere
A major hit at this year's Cannes, this epic, three-part contemporary fable by Portuguese auteur Miguel Gomes (Tabu) adopts the structure from the Arabian Nights texts in order to explore Portugal's plunge into austerity. The first volume of this thrillingly inventive and wildly ambitious triptych includes appearances by cunning wasps, virgin mermaids, an exploding whale, erection-inducing potions and a talking rooster.
Arabian Nights: The Desolate One, directed by Miguel Gomes, making its North American Premiere
Part Two of Portuguese auteur Miguel Gomes' majestic, mutating modern-day folk tale relates how desolation has invaded humanity through stories involving a distressed judge on a night of three moons, a runaway, a teleporting murderer, a wounded cow, a sad, chain-smoking couple in a concrete apartment block, and a ghost dog named Dixie.
Arabian Nights: The Enchanted One, directed by Miguel Gomes, making its North American Premiere
The third and concluding volume of Portuguese auteur Miguel Gomes' Scheherazadean triptych brings this epic to a close with the sound of birdsong and the promise of the ineffable.
Eva Doesn't Sleep, directed by Pablo Agüero, making its World Premiere
One of Argentina's most visionary and politically engaged cinematic voices, director Pablo Agüero takes the unbelievable story of the transport of the embalmed body of beloved First Lady Eva Perón, and transforms it into a strangely riveting cinema experience, with a supremely creepy performance from Gael García Bernal.
The Event, directed by Sergi Loznitsa, making its North American Premiere
Ukrainian filmmaker Sergei Loznitsa follows his monumental documentary Maïdan with this found-footage epic about the failed coup of August 1991 that signaled the fall of the Soviet Union.
Lost and Beautiful, directed by Pietro Marcello, making its North American Premiere
Part fable, part documentary, part film poem, the latest exquisite feature by Pietro Marcello (La bocca del lupo) pays homage to a humble shepherd who became a symbol of hope and generosity for a struggling and conflicted Italy.
No Home Movie, directed by Chantal Akerman, making its North American Premiere
Shuttling between fiction, adaptation, documentary and essay film, Belgian filmmaker Chantal Akerman has created one of the most original, daring and influential oeuvres in film history. No Home Movie is a sober, profoundly moving portrait of Akerman's mother in the months leading up to her death, when she was mostly confined to her Brussels apartment. A Polish Jew who survived Auschwitz, her mother suffered from chronic anxiety, an affliction that shaped Akerman's thematic preoccupations with gender, sex, cultural identity, existential ennui, solitude and mania.
The Other Side, directed by Roberto Minvervini, making its North American Premiere
In turns tender and disturbing, Italian filmmaker Roberto Minervini produces a powerful hybrid docu-fiction film, profiling drug addicts and private militia in Louisiana, who live on the fringes of society.
The Sky Trembles and the Earth is Afraid and the Two Eyes Are Not Brothers, directed by Ben Rivers, making its North American Premiere
Partially inspired by Paul Bowles' short story A Distant Episode, the latest feature by British filmmaker Ben Rivers (Two Years at Sea, A Spell to Ward Off the Darkness) charts a mysterious transformation from observational making-of to inventive adaptation shot against a staggering Moroccan landscape.
The 2015 Toronto International Film Festival will run from September 10th to the 20th.