C'est arrivé près de chez vous (
Man Bites Dog
)
Written by André Bonzel, Benoît Poelvoorde, Rémy Belvaux and Vincent Tavier
Directed by André Bonzel and Benoît Poelvoorde
France, 1992
Rémy Belvaux, André Bonzel and Benoît Poelvoorde set out to make their first feature film with little resources and little money. In the tradition of filmmakers who can't afford much film stock, the trio settled for a faux-documentary-style approach – the result is a high-concept satire of media violence which would spoof documentaries by following around a fictitious sociopath named Ben as he exercises his lethal craft. While the cinematic tradition of presenting villains as suave, charming, attractive, and intelligent individuals is nothing new, Man Bites Dog was still in many ways, ahead of its time. Much like the great Hitchcockian villains such as Joseph Cotten in Shadow of a Doubt or Anthony Perkins in Psycho, Ben is a man of action and a man of ideas. He expounds on art, philosophy, poetry, music, nature, society, and life as he slaughters housewives, children, mailmen, pensioners, and other random bystanders he meets along the way. Every frame of this film is shot documentary-style in grainy black-and-white, and the pseudo-realism, complete with rough uneven editing and shaky hand-held camera work, gives a frightening air of legitimacy to the events that unfold. As a critique of our crime-saturated media and violence-dominated lifestyle, Man Bites Dog is a truly compelling indictment.
Over the years Man Bites Dog surely has lost its bite, but for the time it was somewhat revolutionary, pre-dating such 90's hits as John Waters' Serial Mom, Oliver Stone's Natural Born Killers and Gus Van Sant's To Die For. Like it or not, this Belgian award-winning film has gone on to influence everything from found footage hits like The Blair Witch Project to ridiculous mocumentaries such as Borat.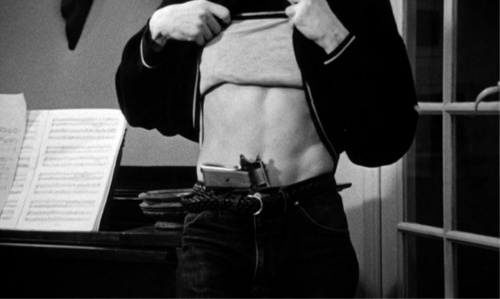 Man Bites Dog boasts graphic displays of violence. Yet what's most disturbing about the mayhem is not so much its explicit presentation, but the actual attitude and tone surrounding the events. In fact, much of the violence takes place off camera or out of frame; but the way the movie presents these events with its own nonjudgmental point of view is what makes it disturbing. As the killing spree intensifies, it becomes clear that the camera crew following Ben at all times is equally responsible for the heinous acts documented. When the fictional crew (led by Belvaux and Bonzel) runs out of money, they rely on Ben to finance the rest of the picture. Eventually they become active collaborators, and their mere presence alone incites Ben to continue his brutal savagery. At one point they even participate in the film's most disturbing scene, which depicts the gang-rape and disembowelment of a young woman.
Smart, deviant, scary, provocative, Man Bites Dog is a satirical stab at serial killers, and our continued unhealthy obsession with them. In short, Man Bites Dog is profoundly disturbing – as it should be.
– Ricky D