This year, I will be attending my first ever New York Comic Con with a press pass from Popoptiq.com. I am very excited and a little nervous about getting the chance to rub shoulders with 150,000+ comics, sci-fi, fantasy, anime, and video game fans. (Sorry if I forgot your specific niche.) This year, New York Comic Con is really bringing their A-game as far as panels, guests, and even afterparty opportunities. This year's guests range from Naruto creator Masashi Kishimoto to the casts and writers of upcoming genre TV shows like Sword of Shannara, Ash vs. the Evil Dead, and Legends of Tomorrow and of course, a stacked comics creator lineup from living legends like Chris Claremont and Brian K. Vaughan and relatively new stars like Batgirl artist Babs Tarr and Unbeatable Squirrel Girl and Jughead artist Erica Henderson.
In preparation for this article, I've sifted through mounds of press emails, panel listings, and way too many Twitter searchs featuring the "NYCC" hashtag. It's completely subjective, but shows the range of interests represented at New York Comic Con. From indie romance comics to Teenage Mutant Ninja cartoons and TV shows based on fantasy novels or cheesy Vin Diesel and Elijah Wood films, there really is something for every kind of fan.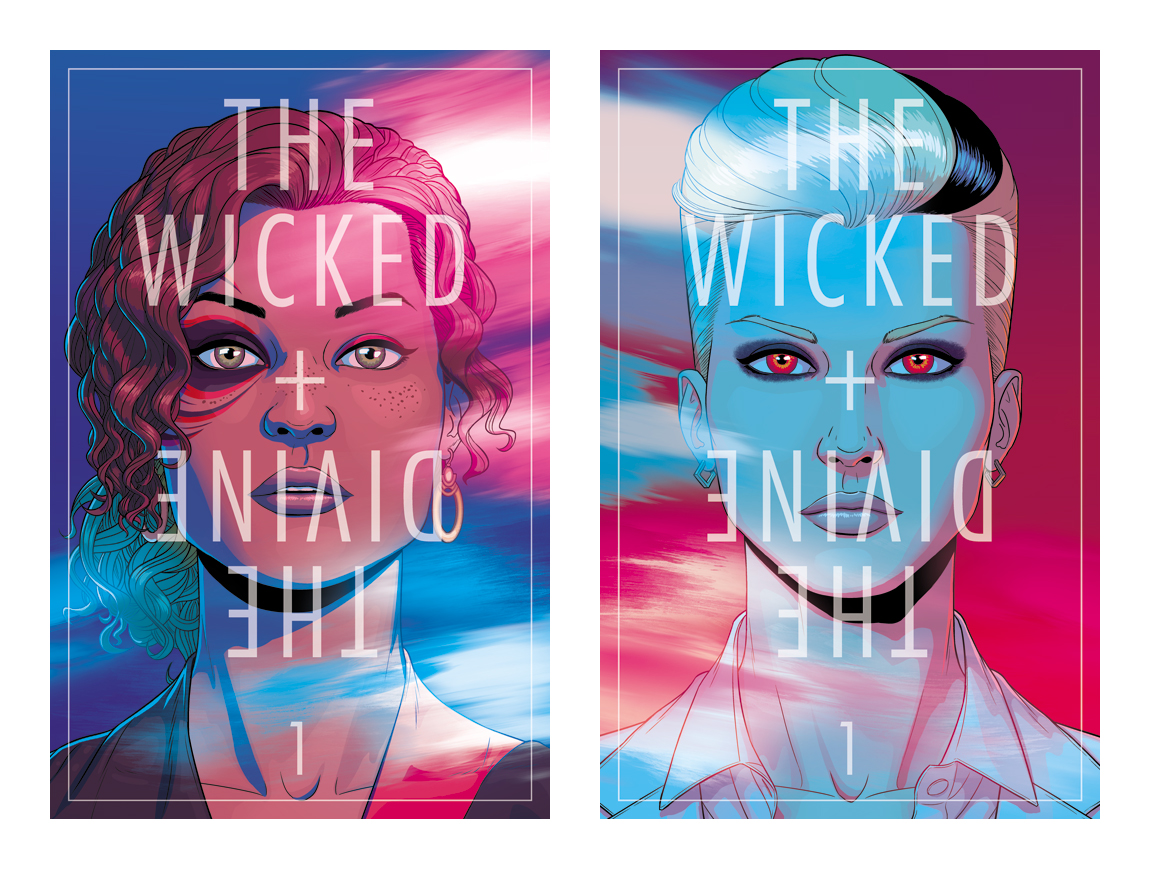 1. Meet Team WicDiv
If you've read my writing, you know that The Wicked + the Divine by Kieron Gillen, Jamie McKelvie, and Matthew Wilson from Image Comics is my current favorite comics. It's about ordinary teenagers and twenty-somethings, who become pop star gods for three years before dying and being replaced with another cycle of gods 90 years later. The comic examines the relationship between fans, critics, and artists in an entertaining and emotional manner, and McKelvie draws beautiful, fashion forward characters while colorist Wilson puts together a pulsating, energetic color palette to tie the whole book together.
I previously got to meet Kieron Gillen at C2E2 where I was only familiar with his work on Young Avengers and Uncanny X-Men, but am thrilled to meet him again after experiencing the glory of Phonogram and WicDiv as well as getting to chat with Jamie McKelvie and Matthew Wilson for the first time. WicDiv is a book that really stokes my critical fires and has everything I love, including pop music, erudite mythology references, and boys kissing. There is also an incentive for getting to their table at artist alley early because they will be selling the "Yolo" shirt Dionysus was wearing in WicDiv #8 or "the rave issue". Also, yours truly will be interviewing one member of the creative team, and that's a secret for now.
2. Attend the LGBT in Comics Panel (Thursday 5:15 PM, Room 1A21)

The first panel on my "must-see" list at New York Comic Con isn't one with huge announcements from Marvel, DC, or even one of my favorite indie publishers, like BOOM!, Black Mask, or Archie. It's a discussion between LGBTQ comics creators (or creators who have written or drawn LGBTQ characters) about their experience as  creators, their favorite LGBTQ creators, and the struggles and triumphs of LGBTQ representation in comics.
The lineup is full of creators whose work I enjoy and is probably the only panel to feature three bisexual men, which means a lot to me as a bisexual man. One of the panelists is Steve Orlando, whose Midnighter is arguably the best DCYou book. He also recently wrote the Image Comics graphic novel Virgil, which featured a black gay lead going on an exploitation film influenced vengeance quest to rescue his boyfriend from homophobic cops in Jamaica. Other panelists, include Jennie Wood, creator of the award winning comic Flutter (Voted by The Advocate as one of the best LGBT comics of 2013), Kevin Wada, who has created beautiful, high fashion inspired covers for comics like She-Hulk and Fresh Romance,  and James Tynion, whose indie comics Memetic and The Woods featured complex gay protagonists to go along with a survival driven narrative. They're rounded out by fantastic Batgirl artist Babs Tarr, who is getting ready to depict a lesbian marriage between Barbara Gordon's old roommate Alysia Yeoh and Jo and Kris Anka, who redesigned Captain Marvel's costume, wrote a fabulous shopping-centric issue of Uncanny X-Men, and draws the best male abs in comics. It'll definitely be a blast!
3.  Go to the #BlackComicsMonth: Diversity in Comics Panel (Thursday 6:30 PM Room 1A18)
Immediately following the LGBT in Comics panel is #BlackComicsMonth: Diversity in Comics panel. This panel is sponsored by BlackComicsMonth.com, a site dedicated to the year round celebration of comics creator of color and will be moderated by MizCaramelVixen, the founder of VixenVarsity.com and a tireless fighter for diversity in comics. She will also be providing free comics for all panel attendees, and I'm looking forward to expanding my comics horizons through this discussion.
There are quite a few panelists, including David F. Walker, who is currently writing the Cyborg solo series for DC; Jeremy Whitley, who was inspired by his multiracial daughter to write Action Lab's Princeless about a biracial princess named Adrienne that twists this genre's trope and is filled with many inspiring heroines; Shawn Pryor, who founded Action Lab in 2010 and is currently working on the fun middle school detective comic Cash and Carrie; Christine Dinh, an editor at BOOM! Studios; Scott Snyder, who is in the middle of a soon-to-be legendary run on Batman as well as creator owned horror darlings Wytches and American Vampire; Mikki Kendall, who made her comics writing debut on Dynamite's Swords of Sorrow: Miss Fury/Lady Rawhide; Mildred Louis, the artist of Agents of the Realm; the earlier mentioned Steve Orlando, and artist Afua Richardson, who won the 2008 Top Cow talent contest with her Genius comic. The diverse backgrounds of the comics creators on the panel should make for a lively and interesting panel.
4. Pretend it's 1986 at the Dark Knight 30th Anniversary Panel (Friday 11 AM Main Stage 1-D)
The first big panel on the Friday of New York Comic Con features an exclusive sneak peek at  the DC Comics miniseries Dark Knight III: The Master Race, the conclusion to the senior citizen Batman starring The Dark Knight trilogy that Frank Miller and company kicked off in 1986. DC is rolling out all the stops for the series with a new variant cover announced almost every day while staying hush-hush about plot details beyond some provocative art from series artist Andy Kubert ("Whatever Happened to the Caped Crusader") showing Batman stepping on a bleeding Superman, much like he did in the original Dark Knight Returns comics.
Hopefully, some more plot details will be revealed in this panel along with some of the creators for backup stories, which are set in the Dark Knight universe between Dark Knight Returns and Master Race. There's room for some dramatic situations in this backup, like showing Jason Todd died in this universe or how Batman and Dick Grayson grew apart and maybe how Carrie Kelly went from Robin to Catgirl. (Her costume in The Dark Knight Strikes Again was atrocious.) The panelists announced are Kubert, Klaus Janson (Inker on The Dark Knight Returns and Miller's Daredevil run), DC publisher Jim Lee, series writer Brian Azzarello (100 Bullets) and series editor Brian Cunningham. I am hoping for a surprise Frank Miller appearance because he is doing a small signing at the Dark Horse booth that day.
5. Camp Out with the Lumberjanes (Friday, 6:30 PM Room 1A24)
Over the past couple years, Lumberjanes has been my go-to all ages comic. It's about a group of girls named Jo, Mal, Ripley, April, and Molly along with their overprotective camp counselor Jen and mysterious scout-master Rosie, who end up getting into supernatural shenanigans at summer camp. The comic focuses on the nature of experience between substituting famous women for curse words, weird monster fights, and even lesbians riding dinosaurs in one arc. It has won multiple Eisner and Harvey Awards and might be getting a feature film adaptation soon from 20th Century Fox.
This is a smaller panel than the earlier ones I mentioned, and the panel lineup, includes series editor and current co-writer Shannon Watters, artist and co-creator Brooke Allen, and moderator Raina Telgemeier, who has written and drawn some best selling graphic novels for Scholastic, including Drama and Smile. It will be nice to celebrate the series with my fellow Lumberjanes and Scouting Lads and learn more about the ins and outs of this entertaining cult hit.
[button color="orange" size="medium" link="http://www.popoptiq.com/top-10-things-im-looking-forward-to-at-new-york-comic-con-2015-2/" icon="" target="false"]Part 2[/button]