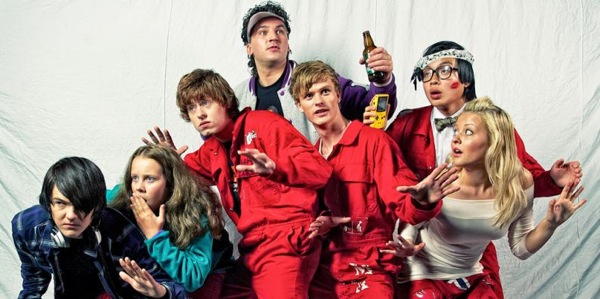 The producers o f tHE Norwegian Nazi-Zombie film Dead Snow and Tomme Tonner, are releasing their Norwegian teen sex comedy Hjelp, Vi Er Russ! –  an homage to 80s American teen sex comedies, like Porky's, Private Parts and The Last American Virgin. The new teaser was apparently judged too naughty for YouTube and they had it removed, but Twitch managed to get the trailer back online.
Here is the official plot synopsis:
Markus and Robert have finally reached their goal. 12 years of schooling are nearly over, and everything they've learned is to be washed away in an unprecedented celebration. Their only problem is that they reside in Ødvåg, Norway's tiniest and most windswept dump, and that the money they saved up for the celebration is nowhere to be found. So the challenge is to get together the greatest graduation celebration ever, without cash. And of course to get laid. Markus' target is Caroline. The most attractive broad at school.
Together with Truls, Kjell Arne and Vigdis – or Owlis as Kjell Bjarne calls her, they dig out a wreck of a minibus from an abandoned barn. And with a minor financial contribution from the Chinese exchange student Yao Ming, it looks like they might even get it on the road. The road to Nirvana: The graduation gathering in Stavanger!
Here is the trailer: