The Tuesday night comedy round-up takes a turn for the better this week as each show delivers in its own way. It's not perfect as of yet, but every episode does something right this week. Although the newer comedies continue to be the funniest, both New Girl and The Mindy Project step up this week with surprisingly entertaining episodes.
Brooklyn Nine-Nine, Season 1, Episode 6, "Halloween"
Directed by Dean Holland
Written by Lesley Arin
Airs Tuesdays at 8:30pm EST on FOX
We're treated to two more episodes dedicated to Halloween this Tuesday, which are much better than Super Fun Night's feeble attempt last week. Brooklyn Nine-Nine takes place in an interesting working environment, adding to the excitement, and with a strongly written and unusual array of characters, the show completely delivers with what can sometimes be a difficult holiday to pull off. If a Halloween episode doesn't take place outside of the show's regular continuity, it's often centred around events leading up to or happening at a Halloween party. This isn't necessarily a bad thing, some of the greatest Halloween episodes have taken place at a costume party, including Friends' "The One With The Halloween Party" and Frasier's "Halloween". Something a number of newer sitcoms are guilty of, Super Fun Night among them, is tackling a Halloween episode too early in the show's run. The only way most newer shows can pull these episodes off is if the Halloween party isn't the main focus and if it is, hopefully the setting is more creative than the usual network comedy party. A good example is New Girl's season one episode of the same name. Not only is their Halloween party setting extremely creative, it isn't the most memorable part of the episode. Part of what makes Brooklyn Nine Nine's "Halloween" work so well is that their party is the smallest part of the episode. 

A lot of petty crime takes place on Halloween so it's logical to assume that the episode will take this approach. To the audience's surprise it only plays a minor role. Instead, Brooklyn Nine-Nine continues to explore the extremely unconventional workplace dynamic these fantastic characters share. Similarly to The Big Bang Theory's standout episode this season, this week we see the show pair different characters together, most notably Amy and Charles. It's not as entertaining as TBBT's efforts but it works as a good platform for Amy and she is less annoying this week. The show has really found its format since the pilot, as each week the episode is set up almost immediately, letting the audience anticipate the payoff more satisfyingly and generally making for a better viewing experience.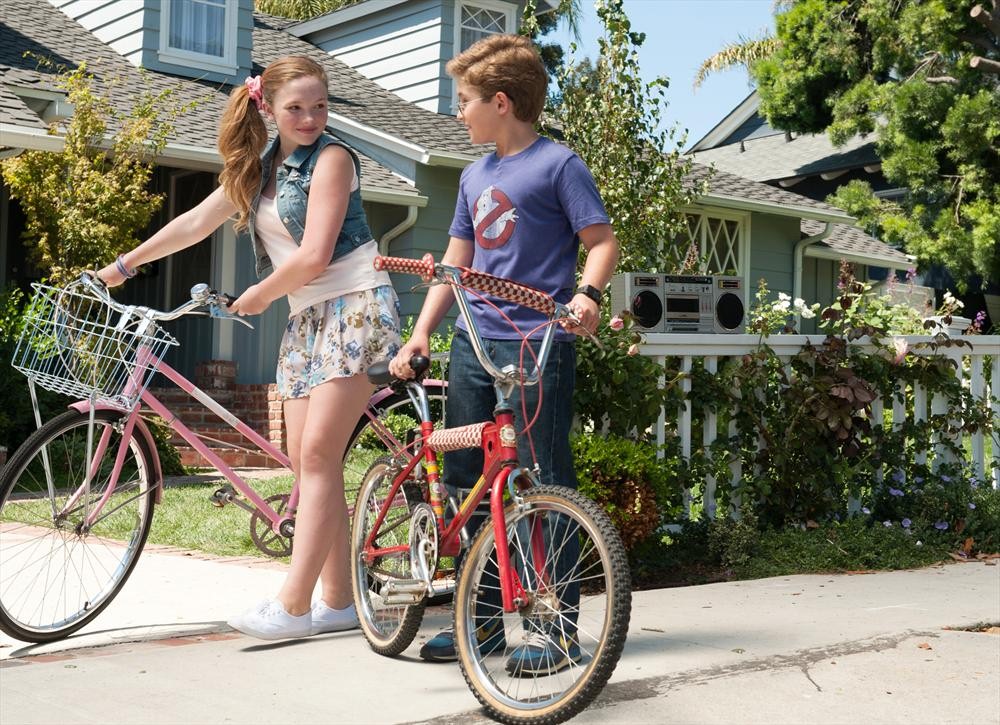 The Goldbergs, Season 1, Episode 5, "The Ring"
Directed by Seth Gordon
Written by Matt Tarses
Airs Tuesdays at 9pm EST on ABC
The Goldbergs is definitely one of the stronger contenders this year as far as family-driven sitcoms go. Much like Brooklyn Nine-Nine, the show has found its footing almost straight away. Each week the show delivers relatable comedy in an almost flawless fashion but this week The Goldbergs moves at a uncharacteristically slower pace. The show continues to tackle common problems found across families, depicting them tremendously well. This week the show does an excellent job of exploring the same theme within two different narratives, romance- the parents struggle to maintain it and the kids struggle to grasp it. The age contrast between the two works very well and as always, Pops knows best.
Both of the narratives work for very different reasons. Beverly and Murray's story arc provides the entertainment whilst Adam's allows the show to interestingly comment on romantic comedies. Upon discovering her ring in fact has a previous owner, the appropriated titled "The Ring" does a fantastic job depicting a woman hell-bent on making a point. Every week Beverly continues to proves she is the strongest character and this week she delivers through her efforts to make Murray feel as bad as possible. Particular highlights include the entire scene in the jewellers and the way she flaunts her "spite ring" at the dinner table.
Not only is Adam's storyline extremely relatable for guys everywhere, it's also one that provides a very accurate commentary on the romantic comedy film genre. Refusing help from his granddad, Adam decides to take a book out of Lloyd Dobler's (John Cusack in Say Anything) book and serenade the girl he likes. This would usually be a rather tiring parody because it's one we've seen so many times, but the fact that it backfires makes it work incredibly well. Later, Adam realises that romance in films are a false and glamourised representation, thus providing a real comment on the popular genre. It's a happy ending all round as Adam impresses the girl in a strange way and his filming comes in handy for once as he puts together a compilation that proves Murray does love and appreciate his wife. Overall this week's episode of The Goldbergs is good in terms of sentiment but is a little slow pace-wise. The show in general has been very strong so next week's Halloween episode could be the best Halloween episode this fall.
New Girl, Season 3, Episode 6, "Keaton"
Directed by David Katzenberg
Written by Dave Finkel & Brett Baer
Airs Tuesdays at 9pm EST on FOX
The second Halloween episode to premiere this week is on New Girl. Although it's nowhere near as good as the show's first attempt at a seasonal episode, it's a big improvement in comparison to the previous episodes this fall. New Girl's first Halloween episode, and the first season in general, did so much right that it would be hard to deliver an even better episode. "Keaton" takes place in a less creative setting than last year's "Halloween", but is enjoyable because loyal audiences finally get the development they deserve. Once again the setting is a Halloween party, but like Brooklyn's episode it only plays a minor role.
"Keaton" generally provides a more enjoyable viewing experience as it doesn't move at the unbearably slow pace the other episodes have. Admittedly the show once again fails to find its way back to the comedy audiences are missing, but "Keaton" provides us with a number of interesting moments and elements, the most notable being the way in which the flashback scene is presented. Flashbacks are something New Girl excels at and this week the writers and director take a different approach than normal, constructing the flashbacks as an eerie sequence with a voiceover instead of a hilarious past memory. "Keaton" is another Schmidt focused episode but it finally allows the character to grow a little. Schmidt is in terrible danger of becoming unlikeable forever as this break-up has turned him into a hate-fueled monster. An upsetting revelation stemming back from his childhood allows him to actually face his feelings. Although his choice to move out, only across the hall, is a little misguided, it provides hope that he can soon return to his hilarious douche-y ways instead of his currently mean douche-y self.
Other interesting aspects of this week's episode include Jess continuing to go against Nick's will. This is something that happened in the previous episode as well. It will be interesting to see if this is something that is going to happen frequently. What will make the show and their relationship even more interesting is if there will be bigger consequences for them to face and if they last. We haven't seen much from Cece, nor Elizabeth, since Schmidt broke their hearts. Cece has a cameo this week but it's likely Elizabeth will not return. The show would benefit from delivering an episode that is entirely focused on the aftermath of this unfortunate situation from their perspectives. Cece is quite an amusing character and New Girl should feature an episode focusing on her and how she's trying to  get over her breakup, perhaps filmed and constructed in the same way The League went about their "Rafi and Dirty Randy" episode.
The Mindy Project, Season 2, Episode 6, "Bro Club For Dudes"
Directed by David Rogers
Written by Jeremy Bronson
Airs Tuesdays at 9:30pm EST on FOX
The men of The Mindy Project continue to rule the roost this week as they provide the most entertainment once again. Throughout this week's episode Mindy struggles to regain control of the practice, her frustration providing amusement throughout. It's clear that during her departure the rest of the practice were left to build a new dynamic without her as the ruler. This is most evident from the beginning of the episode when the guys play a shooting game and ignore her protests. Adam Pally continues to be one of the better additions to the cast as he battles with Mindy this week. Although his character seems to have a more permanent role in the show, it's still unclear exactly how long he will be sticking around. Until the third episode, it seemed clear that James Franco was the new long-term doctor and the same quick departure could happen to Pally. Despite Glenn Howerton saying he'll be around for more episodes, his character has only appeared in frankly random situations. Adam Pally has made the biggest impact of the various guests this season and hopefully he's here for good.
The entire episode is focused on Mindy's attempts to get Peter to be less hostile towards her. Although it's a little unpleasant to watch, Peter is completely right about her. He states that she is too self-involved and Danny backs this up by telling her she needs to take an interest in something he likes. It's not nice watching the trio of doctors single her out but it does prompt her to make an effort. "Bro Club For Dudes" is similar to this week's episode of New Girl as it does very little to move the story forward. However, The Mindy Project provides more comedy this week than New Girl does. It always entertaining watching Mindy out of her comfort zone and this week the show really delivers.
There's an interesting B story for Morgan this week as he hits on Tamra out of the blue. It's a little uncomfortable to watch but it is something the show should definitely continue to explore.  The two are complete opposites and Tamra deserves more screen time anyway. Morgan is a nice guy, albeit a little weird, and if audiences lose interest in Mindy and Danny (since that seems to be going nowhere at the moment), Morgan and Tamra is a couple they could root for instead.
– Catstello