1. Hatchet II: Grade B
Let's get ready for horror season. This is a fun gritty poster. The tagline is a little unimaginative, and so is the rest of the poster, but it excites the horror fan in all of us, with its subtle homage to horror movies past, even if you didn't care for the first film.
2. Tangled: Grade C+
I feel like I say this about at least one poster a week, but this poster feels incomplete. However, unlike most posters I say that about, it works in this case. It's not crowded or muddled, it simply presents the main characters. It can use a little more color, but it's not a bad poster.
3. A Little Bit of Heaven: Grade F
Boring, derivative, and downright frustrating. Please stop using the same poster for every romantic comedy that comes out.
4. Fair Game: Grade D
There are so many posters that seem they were born out of laziness, whipped together in seemingly no time at all and appear sloppy and ill thought. This is one of those posters.
5. Thirteen: Grade F
What is this? It feels like the film, and poster were thrown together using leftovers from The Expendables. In fact, I don't believe this film actually exists. I think it is a product of fan fiction. Someone dreamed up the idea for this film and put the poster together in a few minutes, to show his friends.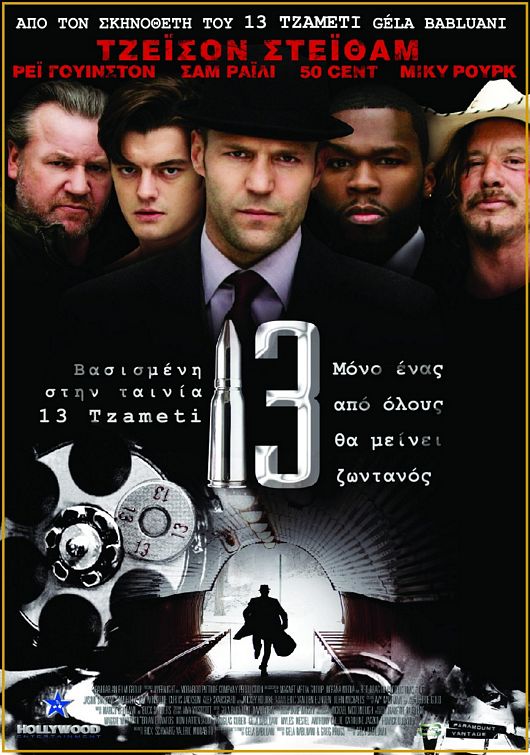 6. Megamind: Grade B-
Sometimes the most basic attempts at humor are enough to amuse. Every time I look at this poster I can't help but chuckle. The goofy hair and facial expression, the color, it is all silly and amusing.
7. Damping Malam: Grade C-
I almost let my excitement for the upcoming horror season get the best of me this week and pick about four or five posters for horror movies, instead, I settled on two. This one was probably one of the worst posters out of the bunch, but there is still a disturbing quality to it that drew me in. The eyes of both girls are creepy and ghoulish, and though it is cheesy, I like the smeared blood in the background. It is cheap and somewhat crude but has a bit of a horrific charm to it.
8. Trigger: Grade B
It's not a perfect poster, but the contrast between the pink title and the black and white image is very pretty. The downfall is the mess of credits at the bottom. There are so many cases of posters cramming in every bit of text that will fit, taking away from what is otherwise a very good poster.
9. For Colored Girls: Grade B+
All the posters for this upcoming film were interesting in the attention paid to detail, and use of color. This is the most beautiful one. The way Thandie Newton's skin so smoothly blends with the delicate yellows, browns, and reds is gorgeous. Points were taken off however, for some of the text being a little obnoxious and distracting, particularly the name of Newton's character.
10. Trust: Grade A
The Poster of The Week doesn't look like much at first glance, but it is gorgeous. All the blues seem to jump out at you, particularly the girl's eye. What also sets this poster apart from others is the open space. Rather than feel the need to fill it with something, it is left open, creating a mood that we can assume prevails throughout the film.