September tends to be a relative dead spot at the theaters. Multiplexes are still housing the last vestiges of the onslaught of the summer and quietly preparing for the slow march of prestige pictures that come with the fall and winter months. So instead of spending the time and effort to make your way out to your local theater to catch a screening of Dolphin Tale 2, why not stay in and watch one of these stellar movies from earlier this year on demand?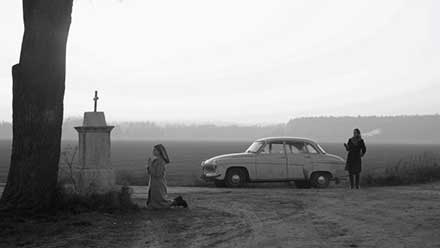 Director Pawel Pawlikowski made not only the most somber road movie of the year, but shot it in gorgeous black and white. The film follows its titular character (Agata Trezbuchowska), an orphaned nun, who must travel to visit her only living relative before she is allowed to take her vows. Pawlikowski uses this fish out of water tale to explore the complexity and sinful nature of the secular world with exceptional elegance, bolstered in every frame by cool and contemplative cinematography of Ryszard Lenczewski and Likasz Zal.
Like a more brutal Mad Max, David Michod's The Rover is a grueling tale of vengeance in a desolate Australia. Eric (Guy Pearce) is a loner whose car gets stolen by a gang of thugs and subsequently sets out to retrieve his car and exact revenge with the help of one of the criminals' brothers (Robert Pattinson). Pearce wears absolutely unhinged intensity well a delivers arguably his best performance to date, always simmering with rage; Pearce makes Eric less a man and more just another deadly creature that is waiting for an excuse to kill in the Outback. Michod matches Pearce's commitment and delivers a sharp and thrilling feature that rewards the viewer with a taste for subtly slick editing and a hard stomach.
Only Jim Jarmusch could cast Tilda Swinton and Tom Hiddelston in a movie as vampire lovers and spend the bulk of the film having them wallowing in boredom and growing ever out of touch with the world in which they inhabit. Luckily, Jarmusch is, unlike his characters, invigorated, taking the chance to play with a genre that has become stale and crafts it into a engulfing hangout movie, ripe with ennui and atmosphere. With a murders row of acting talent – Anton Yelchin, Mia Wasikowska, John Hurt, Jeffrey Wright – Jarmusch makes vampires vital again, by playing wonderfully with the weariness inherent in immortality and the staying power of romance.
Roger Ebert is a name as synonymous with movies as any personality that has stepped behind the camera or in front of the camera, and Steve James' biopic about the late film critic is an excellent documentary not only for detailing the smarts and charisma that led to Ebert becoming a household name, but for also showing an unflinching portrait of a man battling terrible illness and persevering in the face of great anguish and struggle. James is one of the great documentarians of our time, so it is only fitting that he would be the voice to bring the incredible personality and life of Ebert to the big screen. Along with Ebert's writings, Life Itself serves as a permanent and great work that will continue to inspiring cinephiles new and old alike.
The idea of watching a movie that focuses on a single man during a single drive for an unbroken 85 minutes sounds incredibly tedious. But when someone of the screen presence of Tom Hardy plays that man and that drive is written and directed by someone of great talent like Steven Knight, tedium gives way to powerful introspection and mulling over the very concept of masculinity. Watching Hardy as he has various conversations with various disembodied voices on speakerphone is a compelling one man show that brings the viewer into grappling the same moral and ethical quandaries that plague his character. Locke is irrefutable evidence that the form and definition of cinema is malleable and never concrete.