It's Always Sunny in Philadelphia, Season 9, Episode 3, "The Gang Tries Desperately to Win an Award"
Directed by Richie Keen
Written by Charlie Day, Glenn Howerton and Rob McElhenney
Airs Wednesdays at 10pm (EST) on FXX
In comparison with the first two episodes, this week's installment of It's Always Sunny is a bit of a dud. The season starts off hilariously and leaves high expectations for the following episodes, so it's disappointing when they don't live up to this. "The Gang Tries Desperately to Win an Award" does most things right, it follows the same formula and constantly shows how these people are truly terrible human beings, but it doesn't provide many laughs.
The premise for the episode and entire set-up is fine, but they could have done something a little more creative with the situation. It's the first time The Gang have shown any interest in the award, and in a bid to win it this time, a little more than just imitation is expected. Having said that, it is extremely entertaining watching them in a whole new environment. Their reactions to how friendly the Sudz bar staff are is great and their hostility in general is typically amusing. It's no surprise that by the end of that scene they actually embrace the atmosphere and admit they're enjoying themselves; it's particularly satisfying watching them comment on the dynamic of the bar staff like they're watching a television show. Throughout the episode there are hints to how It's Always Sunny gets overlooked for more structured and predictable sitcoms. From the moment The Gang arrive it's clear Sudz is exactly that sitcom, complete with a will-they-won't-they romance and the drink bell as the laughing track.
It's clear that adopting their technique and doing the same at Paddy's Pub will only end in disaster, but it's still fun watching the results. They're all absolutely incapable of being mainstream, so of course when they tried to imitate the bar, and be a network comedy, they failed. The Gang always over compensate and carelessly offend others, it's just the final outcome and payoff that's a little disappointing. The commentary is excellent, but it needed one of their usual, big, WTF moments. At least this time they learn something, and realise the problem is in fact them.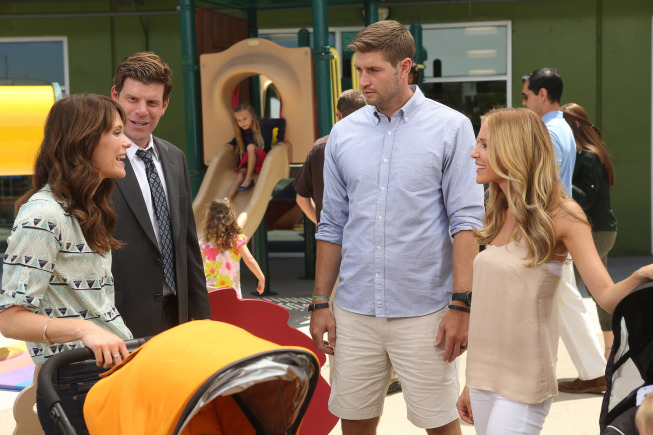 The League, Season 5, Episode 3, "Chalupa vs. the Cutlet"
Directed by Jeff Schaffer
Written by Jeff Schaffer & Jackie Marcus Schaffer
Airs Wednesdays at 10:30pm (EST) on FXX
There has been a clear decline in quality since season four with The League, and it doesn't seem to be changing any time soon with this fifth season. Last week it felt like this dry and unfunny spell was coming to an end as the wedding failed and Trixie departed, but this week's episode is even less entertaining than the last.
With Andre down in the dumps, a number of amusing moments are to be expected, with the guys trying to cheer him up. But Ruxin is nowhere to be found, Taco is virtually useless, and Kevin and Jenny are too preoccupied with trying to befriend the Cutlers, which leaves Pete to pick up the pieces. It's quite unusual and out of character for Pete to do something nice, especially for Andre, so not only is it strange, it's not really entertaining at all. The only amusing part to come from this story arc is Taco and Pete trying to resist the urge to mock Andre when he obliviously recites a number of innuendos. Snoop Dogg, or Snoop Lion, guest stars and arrives on a night out, but even that scene fails to inspire. The humor derived from Snoop's cameo is rather typical, and particularly dated at that. In other words, we get it- Snoop likes to smoke. Andre's depression could have had potential, but the guys don't bother with him and the dynamic isn't functioning properly.

It's always entertaining watching Kevin try so desperately hard to come across as cool. This week he is great, as he and Jenny try their hardest to win over Kristen and Jay Cutler and fail miserably. Taco's league runner is as intense as Rafi is, just without the same hilarity Rafi provides. Ruxin, Rafi, and Dirty Randy need to make a return so The League can go back to its usual, hilarious format.
– Catstello