Wednesday Comedy Roundup: Modern Family 4.14, Whitney 2.8 & Workaholics 3.14
The week of guest spots.
*****
Modern Family Season 4, Episode 14: "A Slight at the Opera"
Written by Paul Corrigan & Brad Walsh
Directed by Jim Bagdonas
Airs on Wednesdays at 9pm on ABC
This week's episode consists of a whole load of plays ranging from the obvious school production, a rehearsed game of golf, to Haley and Dylan building a fake life as parents and seeing crash around them all in an afternoon.
The fantastic Nathan Lane is back this week as Pepper, covered head to toe in golf attire. Joining him on the golf course is a focused Mitch who is intent on beating his father after months of practicing and "Pepper talks", and Jay trying to teach Phil. An interesting setup, Jay surprises us this week by being kind to Phil and bonding with his son. The jaunt teaches everyone a lesson and really comes together with the entertaining use of Cat Stevens' "Cats in the Cradle", which reduces all the men to tears. The execution of this scene is brilliant, in typical Modern Family manor.
Cam and Manny share a lot of screen time in this episode as we see them both prepare for the play. These two are great on their own, and even better together. The brilliantly overdramatic Cam acts as if the play is a West End musical, which is a perfect mirror of Manny, a kid whose maturity has always been radically high considering his age. Both running around in neurotic fashion, the two of them share outstanding comedic timing and bounce off each other perfectly. The moments Manny and Luke share are equally great because the contrast between the two. It's also wonderfully surprising to see that Luke can sing and even more wonderful to see a highly-strung Phil bawling.
Another heartfelt moment was when non-believer Alex, who was creating fake stories only for a psychic to agree, let Gloria continue to seek comfort instead of mocking the whole notion.
This is another good episode providing hilarity as well as an important message – there's no substitute for "moments".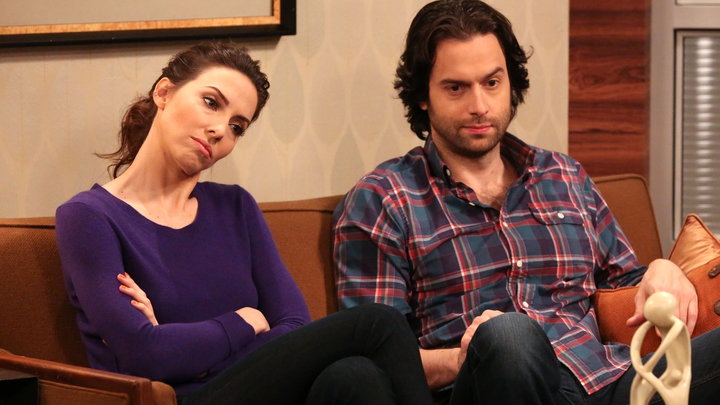 Whitney Season 2,Episode 8: "Space Invaders"
Written by: Zachary Rosenblatt
Directed by: Andy Ackerman
Airs on Wednesdays at 8/7C on NBC
Not a lot happens in this week's episode of Whitney, but we do get to see the fabulous John Cleese back in action as Whitney and Alex's couples therapist.
In a bid to score some alone time, Alex lies to Whitney about his whereabouts. This feels like a weak relationship issue to waste an episode on but Whitney should be praised for the choice of her accidently finding out, as opposed to being a stalking girlfriend.
It's the strong two female supporting characters, Lily and Roxanne who save the show with a much more interesting subplot. RJ's niece, Maggie came to visit and Lily, the babysitter, stepped up to look after her only to be outshined by our favourite borderline alcoholic Roxanne.
To everyone's surprise, and Lily's annoyance Maggie seems to take a shine to both Roxanne and Mark. It is great to see the two of them get on with a child and near each other. With romance on the cards, adding a kid and a misdirected L bomb into the mix is interesting development for these characters. Mark and Roxanne are very interesting should-be couple and the question of their future is hard to predict. They are more likeable and entertaining to watch than other should-be couples in sitcoms because the way Mark treats her is out of the character we saw in season one. However with this becoming a more common occurrence, it is debatable of the leeway that is left for Whitney.
Workaholics Season 3, Episode 14: "Fourth And Inches"
Written by Sean Clements & Dominic Dierkes
Directed by Kyle Newacheck
Airs on Wednesdays at 10/9C on Comedy Central
With the Super Bowl just gone by, this week's episode of Workaholics is fitting. The boys attend a high school football match with Jillian, as her nephew Billy (played brilliantly by Tyler Posey) is the star of the team.
Similar to the second season premiere, Adam, Blake and Anders are the objects of ridicule for more high school students: specifically Blake after using the short urinal he is taunted for his alleged micropenis (Bathroom 101 boys).
Anders is the only one of the trio who attempts to appear as thought he has changed since college, but with Adam and Blake around it's only a matter of seconds before he's back to his old gambling ways.
The success of the show is down to the pairing of unique and silly plot lines and familiar characters. A plot about getting in deep with gambling problems isn't the most original but by making the sports they are gambling on high school sports Workaholics takes a cliché, gets creative with it and makes it work. Taking bets on the over-under of a friend's size is another example of how Workaholics twists existing formulas and continues to entertain.
This is the third time the trio of man-child stoners has gotten mixed up with high school students and it's been fun to see a rivalry develop. With the adolescents more advanced than the trio, the ongoing competiveness has been hilarious to watch. Seeing the guys consistently humiliated and hearing them make references to their high school days is what makes these losers lovable. It's somewhat heart warming to see Adam finally be able to be on the football team (was always a mascot), even if it ends disastrously.
Tara Costello