Wednesday Comedy Roundup: Modern Family 4.17, Whitney 2.11, & Workaholics 3.17
Modern Family Season 4, Episode 17: "Best Men"
Written by Dan O'Shannon, Abraham Higginbotham and Bianca Douglas
Directed by Steven Levitan
Airs on Wednesdays at 9pm on ABC
This week we see the return of Sal, played brilliantly by none other than Elizabeth Banks, and this time she's getting married. Barging in late at night, Sal announces that she wants Mitch and Cam to be her "Best Men". The last minute announcement leads to a last minute hen party where Sal temporarily gets cold feet and makes out with a bar tender. Sal is a great character and Elizabeth Banks does crazy well, but the outcome feels a little disappointing. The episode is set out in a way that makes the audience expect, or hope, that Cam and Mitch end up getting married but the writers are probably saving this for a season finale. Lily is hilarious as always.
This is a fairly average episode as there is too much going on, which sadly means there aren't many laugh out loud moments. Manny is his usual self as he lusts after the new nanny and it really feels tiresome. At first it was adorable, endearing, and hilarious but with Modern Family approaching the end of its 4th season, can't Manny just be a normal pubescent teen?
To Claire's surprise she notices a change in Hayley when she asks her to go out for dinner. This feels odd too. Going to college and moving back seems to have changed Hayley but sitcoms usually start to decline when dynamics change. Over the past four seasons we have seen countless amusing arguments between Claire and Hayley and it feels wrong that they're getting on and Hayley is putting herself out. It's also strange that Alex is now acting like Hayley.
The best B story this week is Phil and Luke's; they're both silly and hilarious and the bond they share is adorable. Not sure what to say to his crush online, Phil writes for Luke and arranges a date for the two. Phil waits at the bar during the date and meets Valerie, the mother of Luke's date who turns out to be a horny divorcee. Matched with Phil's awkwardness, hilarity ensues.
Overall this episode feels quite weird and isn't that enjoyable, but hopefully these character changes are only temporarily.
Whitney Season 2, Episode 11: "Slow Ride"
Written by Linda Mendoza
Directed by Eric Zicklin
Airs on Wednesdays at 8/7C on NBC
This is another disappointing episode of Whitney, and the decline in content is upsetting.
Again there is minimal focus on Mark and Roxanne; in fact the only progress made is at the very end of the episode when Roxanne has an outburst- cute but nowhere near enough. Alex and RJ's desire to relive their college dreams and buy motorcycles drives the story. The majority of the episode is wasted on Whitney's disapproval but we do get more RJ time than usual. RJ is like New Girl's Winston, a hilarious character that doesn't get enough airtime or B stories.
The outcome of this episode is quite predictable, because no development of the side stories (i.e. Mark and Roxanne and Lily becoming an investor) are really made. This feels like a waste of an episode.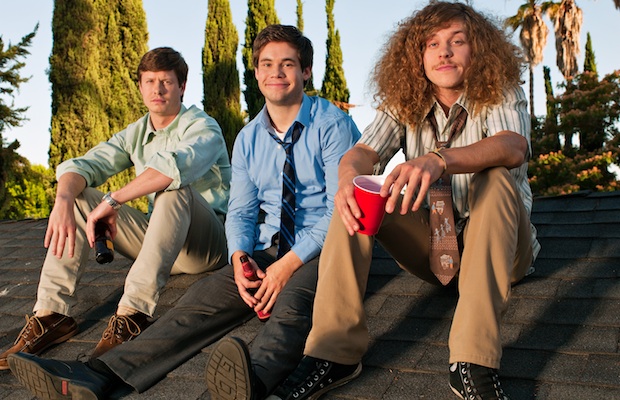 Workaholics Season 3, Episode 17: "The Worst Generation"
Written by Tony Goodman & Steven White
Directed by Ben Berman
Airs on Wednesdays at 10pm (ET) on Comedy Central
This week's episode of Workaholics shows the trio in yet another new location and it's a bit of a step down from last week's great episode. Our favourite stoner trio ends up at a nursing home this week as Adam hurts himself and needs to ask his granddad to put him back on his health insurance.
All three of them have a different goal at the nursing home and the episode follows each of them attempting to complete it. Anders uses his Flip Cam to film an episode of True Life throughout whilst Blake searches for a new granddad.
Adam is his usual self in this episode but it's far too much this week. The drive of the show is often Adam failing to live up to this over-exaggerated version of himself and making it his mission to impress people. When his granddad calls him a pussy, he spends the episode trying to prove he isn't through silly stunts, despite being already injured.
Blake's B story isn't that entertaining either. The concept is kind of sweet because we all love him but it just doesn't provide much laughter. He stumbles across a "cool" old man playing guitar and bonds with him by stealing prescription drugs.
It is Anders that steals the show this week with his encounter with an older woman trying to se-ders him. His dancing is the highlight of the episode and it's also good to see more Karl and Gillian, if only briefly.
Tara Costello