Modern Family Season 4, Episode 22: "My Hero"
Written by Abraham Higginbotham
Directed by Gail Mancuso
Airs on Wednesdays at 9pm (ET) on ABC
Last week I stated Modern Family had become a hit and miss comedy and this week's episode anchors that very statement. "My Hero" is better than "Career Day" but still not the show's best. The episode gets its title from an essay Manny and Luke are assigned and it appears to be about Cam's jealousy over Mitchell's ex, but "My Hero" subtly explores some of the other characters' relationships, particularly the children.
When Mitch and Cam run into Mitch's ex-boyfriend Teddy (the one before Cam), Cam goes out of his way to show how unbothered and not jealous he is by accepting his invitation to a charity fundraiser at the Skate-O-Rama. We all know and love Cam, it's obvious he is not okay with this and he knows Mitch loves being right, so when he acts like nothing is wrong it's obvious to the audience a number of things will build up and cause Cam to explode. The structure of this episode, and the show in general, is often predictable but Modern Family is just so damn good at it. The cast is superb and the situations they create are always executed flawlessly. We know what will happen but we get a kick out of watching it anyway for the cast, the dialogue, the camera angles, and the subtle breaking of the fourth wall. The essay and the Cam and Mitch drama bring the whole Modern Family gang to the roller disco and this makes for a good episode. The best part about having the whole family together is that they show up in the service of a gag. To Cam's surprise, Teddy has invited everyone and they seem to be well acquainted and hanging out on a regular basis. It's extremely entertaining to watch Cam's annoyance increase. Eric Stonestreet is fantastic; his body language, facial expressions, and dialogue are all spot on, particularly in this episode. Finding it impossible not to take offense at the way Mitchell's family is "cheating on him with [Mitchell's] ex-boyfriend", the joke really takes it to another level when listing the family members that are present he ends with "your cousin Pete!" and if this wasn't hilarious enough, right on cue we see Pete skating by happily in the background, giving a friendly wave. This is something else Modern Family excels at- subtle but hilarious visual gags.
The togetherness isn't just uncomfortable for Cam though. Claire has been avoiding her dad since he offered her a job at his company and continues to skate away from him at the fundraiser. She doesn't want to expose herself again to a number of putdowns and is trying to think of a way to say no and when she runs into her old boss there, she ends up manning the snack bar. Telling her father to go away again, Claire listens to her stressed out son Luke, who reveals he wrote about her for his personal hero essay. Though he says "Mom, you know me and homework – I didn't give it much thought", she takes it anyway and promises to talk to Phil and puts Luke at ease. After this ego boost, and sinking back into her old work routine expertly at the snack bar, she gets up the strength to tell Jay how poorly he treated her. It's great to see Claire multi-tasking behind the snack bar so quickly and effortlessly, especially when she guilt trips the customers into throwing their change into the tip jar as well as promptly ignoring her old boss' advances. She doesn't get many big wins on the show and this is a great moment for her; it's almost mesmerising to watch her move so quickly.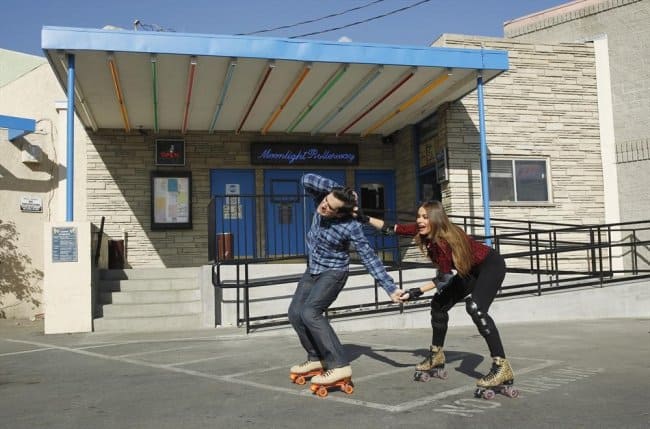 These are the two main plots in "My Hero", but there are some equally interesting subplots going on in the background. Luke's nervousness about his essay is great and a personal favourite is when Manny comes down to talk to him and he says, "I can't always be the loveable sidekick on the Manny show. Haven't you noticed I'm binge eating?". Manny and Luke don't get a lot of screen time together but when they do it's always pleasant and adorable. There's also a really interesting subplot between sisters Haley and Alex, another two that don't get that much screen time to themselves. Haley instructs Alex on how to flirt with a couple boys by not rubbing her superior intellect in their faces. Then when Haley states they need to go spend time with their family, Alex asks if she did anything wrong and Haley states it was never about them, it was about her and how she can use her new found technique on better guys. This is a nice moment between the two, and these are hard to come by. It's also a nice touch to end with Alex complimenting Haley on her intellect.
Of all of these moments it's Phil and Gloria's skating lessons that provides the most hilarity. Phil has always had an awkward and hilarious crush on her and it's always both cringe-inducing and funny when he is around her. When he momentarily freezes up when Gloria blurts out "I can't lie to that face. It's a good thing we're not married", it's just the beginning of a series of great Phil moments. Though the episode isn't actually that funny it's exceptional narratively wise. The subplots fit seamlessly within the Cam versus Teddy storyline and the best visual gag is when the minor fire announcement forces the family to chose between Teddy at the nearest exit and a distraught Cam motioning them toward a slightly longer route to safety.
Then unexpectedly (in what's becoming a regular occurrence on the show) Jay makes Cam feel a lot better about Teddy – as well as exposing a different side of him to a watching Claire – by telling him he brought out the worst in Mitch and that when Cam came along they knew this was the real deal. Though this episode doesn't provide much laugh out loud comedy, it's important to remember this season has been built on episodes like this one, where emotion and comedy emerge from an exceptionally talented group of people.
– Catstello