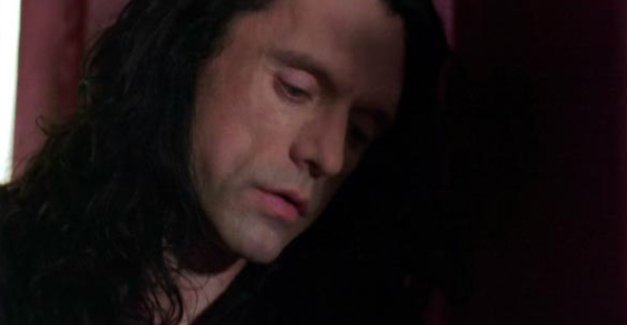 Week in Review rounds up the past week in film news in one easy place. Check back this weekend for round-ups for TV and gaming.  
Oh Hai Tommy Wiseau. You're making something of a comeback, aren't you? Several months back we reported that you were working on a TV sitcom that you had written, directed, and starred in (naturally) called The Neighbors, but that in the same way that you would start throwing around a football and then completely forget about it a moment later, it seemed like that was just a whim. Sure enough, The Neighbors was picked up on Hulu, and this week you did a Reddit AMA to promote it. Looks like people are finally starting to recognize your genius.
Stepping away from my conversation with Mr. Wiseau for a moment, if you've ever actually gotten an opportunity to attend a late night screening of The Room with Wiseau in attendance, you know just how crazy and amazing it is to see him compare himself to Orson Welles and see Greg Sestero standing awkwardly beside him wondering how he's still involved with this movie. That should give you an idea of just how great this Tuesday's Reddit AMA with him was. In it he mentioned that he keeps plastic dinosaur figurines in his home, he had a dog under contract for $100 during filming The Room, and that his sex life is something he enjoys "erryday"!
One of the juiciest tidbits however came when a user asked him if there was ever going to be a prequel or sequel to The Room. "Yes. We are doing sequel. And also 3-d, eventually," he wrote. Asked, "Who was the client at the bank," Wiseau teased yet again, "Oh, that's a big secret. Heheheheheh! You will find out in prequel," which he then we would find out more about "hopefully next year, MAYBE."
Apparently this isn't the only project in Wiseau's pipeline. He also mentioned, according to Yahoo, that there are 12 episodes of The Neighbors and that he's working on a film called The Foreclosure and another called The Vampire from Alcatraz: King of Vampires. Frankly, those sound awesome.
Wiseau also "100% perfect" supports a project picked up by James Franco, The Disaster Artist. The film, rumored to star Franco as Wiseau and Dave Franco as Greg Sestero, would be an adaptation of Sestero's memoir from 2013 of his time working on The Room. "He is very cool guy," Wiseau said. "But at this time, we have agreement, I cannot talk about it. He is very dedicate actor. We have a lot in common James Dean for example."
This year's Oscars were a mixed bag, aside from the fact that the wrong movie won Best Picture. Neil Patrick Harris should've been a home-run but had a half-baked idea about a mysterious suitcase that he forced Octavia Spencer to keep an eye on, as well as a rash of some cheesy one-liners that felt limp. But if you'll recall back in 2012, Eddie Murphy was set to host the Oscars, a movie that would've been huge. But he agreed to do so because Brett Ratner was directing the show. When Ratner got caught using a gay slur, both Ratner and Murphy pulled out, and the Oscars were left defaulting to Billy Crystal. Curiously however, Will Ferrell pitched an idea to the Oscar producers about being last minute replacements. In an interview with The Huffington Post, he recalled his idea: no Oscar host would be announced, and then Ferrell and Galifianakis, who were then starring in The Campaign, would host together as though they were lost on stage.
"We will host the Oscars if you do a campaign that you can't find an Oscars host up until the last second," Ferrell said via HuffPo. "It's going to be a surprise and we'll walk out on stage. The whole premise of our hosting was that we were asked at the last second. So we're always flustered. We don't know the jokes. We don't know where the cameras are. We do the entire show as if it's unrehearsed."
Sounds like a perfect Golden Globes premise to me.
Back in October, Bill Murray revealed to Variety that he was working on a TV Christmas special with his Lost in Translation director Sofia Coppola. In it he would be singing Christmas carols, but it would also have a light narrative thread to it. "It's not going to be live," Murray said to Variety. "We're going to do it like a little movie. It won't have a format, but it's going to have music. It will have texture. It will have threads through it that are writing. There will be prose." Now Coppola's production has added George Clooney, Amy Poehler, Maya Rudolph, and Miley Cyrus all playing themselves and additionally singing, according to THR. Though no other new details have been ironed out, it now seems as though the special is officially planned for XMas 2015.
Armando Iannucci is tackling yet another realm of international politics with his scathing, profane satire. The only difference is that this time, that political leader is long dead. The Veep and The Thick of It creator told an audience at London's British Film Institute that he was working on a film comedy about the death of Stalin, and that it was definitely to be a film rather than a TV series, according to The Hollywood Reporter.
See, we told you that Janis Joplin biopic was never going to happen. A biopic on the legendary singer's life called Get It While You Can had secured Amy Adams to star and Jean-Marc Vallee to direct, both of which seemed promising, but after years of complications, was likely to never come to fruition. Now a new nail in the coffin has been set, with a lawsuit delaying production on the film. A complaint filed and printed by The Hollywood Reporter revealed that screenwriter Ron Terry had shopped his script around to other production companies in violation of his current option agreement.
Also making news: