10. Poltergeist
Directed by Gil Kenan
Written by David Lindsay-Abaire
USA
Release Date: November 14th
Production recently wrapped on the Poltergeist remake with Gil Kenan (Monster House) in the director's chair and Sam Raimi (Evil Dead) producing. Little is known as they continue to put the movie together in post-production, but we do have a few details, beginning with the cast which includes Sam Rockwell (Moon), Rosemarie DeWitt and Jared Harris. We are also told that the psychic Angina (played originally by Zelda Rubinstein), isn't going to be revived for the remake. Instead, they are replacing her character with a team of paranormal experts. Based on a vague plot summary, it sounds like the central plot points of the original movie are intact but other characters are added in, such as Carrigan Burke, a host of a TV show called Haunted House Cleaners, who stands in as the movie's skeptic.
9. All Cheerleaders Die
Written and directed by Lucky McKee and Chris Sivertson
USA
Release date: TBA
Lucky McKee quickly acquired a cult following after his directorial debut May made a splash at film festivals back in 2002. Since, he's adapted Jack Ketchum's Red, a deliberately paced and downright thoughtful piece of work, as well as the strange and audacious The Woman. He's had his misfires (The Woods, Sick Girl) but he's never one to shy away from controversy, and juggles some interesting themes in each of his films. Taking the high school clique dynamics from Heathers and injecting them with a healthy dose of nightmarish antics, All Cheerleaders Die has already received critical acclaim from its premiere last year at the Toronto International Film Festival. Basing the film on their shot-on-video sophomore effort from 2001, McKee and co-director Chris Sivertson re-team to remake this grander version of their original story. All Cheerleaders Die looks hilarious, and scary enough to satisfy most bloodthirsty horror fans.
8. The Sacrament
Written and directed by Ti West
USA
Release Date: May 5th
The latest film by one of the more exciting up-and-coming horror directors, Ti West (The House Of The Devil, The Innkeepers), is loosely inspired by the 1978 Jonestown Massacre and makes use of the well-worn found-footage format to tell its story. Early reviews out of Venice, Toronto, and Fantastic Fest peg this as another slow burn, but most critics are calling it the director's most ambitious, emotional film to date. West has built a following on old-school 1970s-influenced horror, so it's a surprise to see him following the trend for Blair Witch storytelling— with Eli Roth as producer, to boot. But with Tyler Bates' score, West's direction, and a stellar cast, The Testament might just live up to the hype.
7. [REC] 4: Apocalypse
Directed by Jaume Balagueró
Written by Jaume Balagueró and Manu Diez
Spain
Release date: TBA
After earning a following with the first film and keeping the bar high with the second installment, Jaume Balagueró left the franchise in the care of co-writer/director, Paco Plaza, who took over for [Rec] 3, and ditched the found footage shooting style for a brighter setting, a wedding reception, some romance, and a blood-soaked bride with a steaming chainsaw. While [Rec] 3 is a prequel to the first two films, the upcoming [Rec] 4: Apocalypse is back in sequel territory and follows immediately after the events of the second film. Balagueró is set to return alongside the actress Manuela Velasco, who will reprise her role of Ángela Vidal.
6. Almost Human
Written and directed by Joe Begos
USA
Release Date: TBA
After successful screenings at TIFF, Almost Human is getting a spring release courtesy of IFC Midnight. Written & directed by Joe Begos, Almost Human is billed as a 80s-style throwback that prides itself on fun, low-budget effects, and strange alien abductions. The trailer gives the impression that this is a lean-and-mean horror flick, but the feedback I received tells me it has a lot of heart, and focuses on both friendship and love.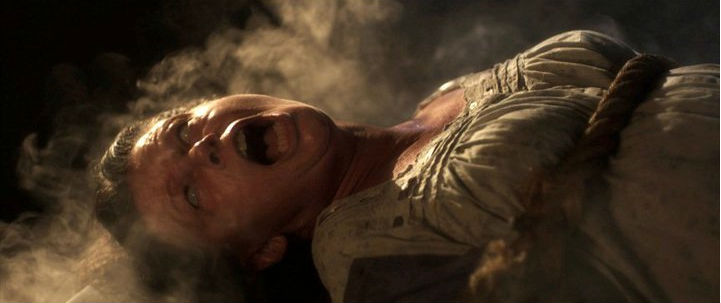 5. Torture Chamber
Written and directed by Dante Tomaselli
USA
Release date: January 28th
Dante Tomaselli has been a lifelong supernatural/horror aficionado and is known for subverting horror expectations and genre clichés with his three previous features, Horror, Discreation, and Satan's Playground. It probably helps that he's the cousin of director Alfred Sole, whose Alice, Sweet Alice, made its own mark in the world of Catholic-themed horror films in 1976. Torture Chamber is his fourth installment in his nightmarish journey exploring the imaginations of Hell and damnation, and it is already causing quite a stir with its graphic representations of torture enacted by teenagers. The film begins with a young boy, Jimmy (Carmen LoPorto), who is possessed by a demon and soon housed in a mental institution where he quickly escapes and begins to abduct the locals. Already described as an amalgamation of Children of the Corn, The Exorcist, and Bloody Pit of Horror, Torture Chamber is likely to shock sensitive viewers.
4. Hellions
Directed by Bruce MacDonald
Written by Pascal Trottier
Canada
Release date: TBA
Hellions focuses on a pregnant teen who must contend with trick-or-treaters from hell one Halloween night. But what makes Hellions even more interesting is that it's going to be the first film ever shot dominantly in infrared, to help emphasize that the movie takes place during a red moon. Maverick indie director Bruce McDonald (Hard Core Logo) is no stranger to horror. His 2009 low-budget indie hit Pontypool, was a welcome addition to the expanding zombie/virus canon, and now Hellions promises to bring the same winning combination of shuddery suspense and intelligent observations. Hellions was penned by Pascal Trottier (The Colony) and stars Chloe Rose and Rossif Sutherland. There is no release date yet, but we assume it will be hitting film festivals later in the year.
3. Only Lovers Left Alive
Written and directed by Jim Jarmusch
USA
Release date: April 11
Vampires have graced the big screen since the era of silent films, and some of the most respected auteurs have taken a stab at the iconic genre. In what marks a distinctive change of pace, noted indie director Jim Jarmusch directs his story Only Lovers Left Alive, starring Tom Hiddleston and Tilda Swinton as vampire lovers for centuries, whose relationship is tested by Eve's unpredictable sister (Mia Wasikowska). Regardless of the genre, the trailer for this idiosyncratic film bears all the trademarks of his work to date: hip, stylized, and acerbic in just the right ways. Perhaps the most promising aspect of the premise is the direct parallels between vampiric thirst and drug addiction – that and Tom Hiddleston playing a David Bowie-like rock star.
2. Grand Piano
Directed by Eugenio Mira
Written by Damien Chazelle
USA
Release Date: March 7th
Anyone who listens to our Sordid Cinema podcast or has checked out my list of 100 greatest horror films ever made, knows I am a huge fan of Eugenio Mira's directorial debut The Birthday. The film stars none other than Corey Feldman doing an odd, feature-length Jerry Lewis impersonation (a la The Bellhop), in an extremely unusual black comedy best described as the boy-version of Rosemary's Baby. It's a movie I've championed ever since I had the pleasure of watching it at the Fantasia Film Festival back in 2004. I've been waiting a long time for Mira to return to the horror genre, and now he has. Elijah Wood who stars, continues to flirt with genre material in this Hitchcockian thriller about a psychopath (John Cusack) who threatens to shoot pianist Tom Selznick (Wood) during his comeback live performance if he plays one wrong note. Mira may not be a name many recognize, but that will no doubt all change in 2014 as he brings Grand Piano to the big screen.
1. Oculus
Directed by Mike Flanagan
Written by Mike Flanagan and Jeff Howard
USA
Release date: April 14th
Director Mike Flanagan is back with his sophomore feature Oculus, about a woman who tries to exonerate her brother, who was convicted of murder, by proving that the crime was committed by a supernatural phenomenon. Flanagan, who showed tremendous promise with his directorial debut, Absentia, is one of the most exciting new voices working in the horror genre. Our own Simon Howell reviewed Oculus when it premiered at the Toronto International Film Festival, writing, "Oculus revitalizes supernatural horror with an essential dose of heart and smarts." He went on to say, "It's really in Oculus's final half-hour that Flanagan distinguishes himself as a horror filmmaker poised for greatness. As past and present become increasingly difficult to distinguish, and the threat becomes more invasive, making it impossible for Tim and Kaylie to trust even their most basic senses, the sensation of pure viewer disorientation takes hold. That's what makes it even more jarring when, soon after that fever pitch hits, the film just ends, albeit in gut-wrenching fashion". The concept for his new film is based on a short of the same name that Flanagan made in 2006, on which he artfully expands here, touching on the age-old trend of paranormal investigation in the vein of horror classics The Haunting and The Legend of Hell House.
– Ricky D
Chat Box - Go ahead, make my day and ask me questions about movies and TV shows...